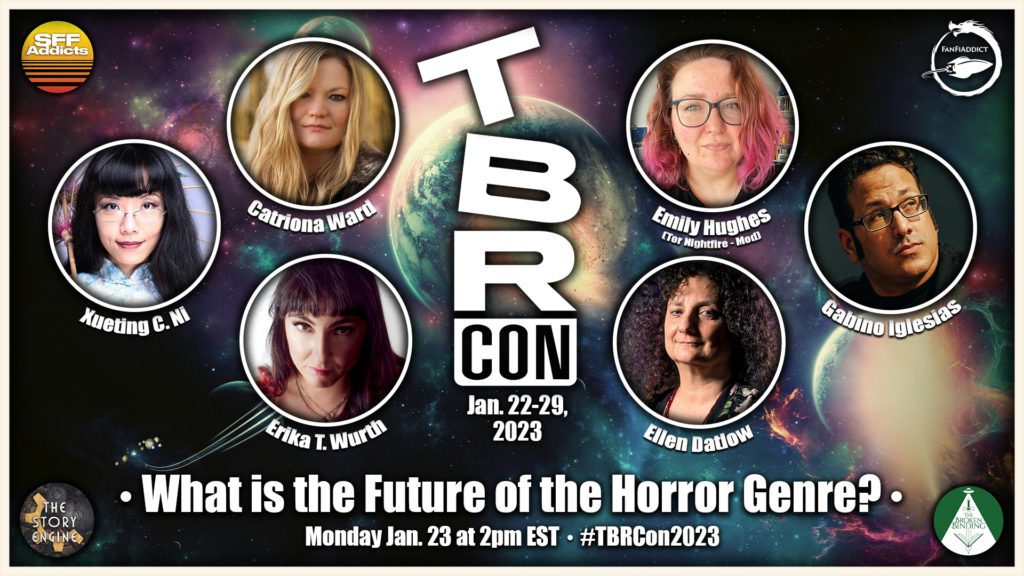 Every week, we are highlighting a panel from TBRCon2023, looking back on the amazing variety of panels that we had the honor of hosting.
This week, join moderator Emily Hughes and authors Gabino Iglesias, Catriona Ward, Ellen Datlow, Xueting C. Ni and Erika T. Wurth for a TBRCon2023 author panel on "The Future of the Horror Genre."
To check out all of our TBRCon2023 content, click here.
---
ABOUT THE PANELISTS:
Emily Hughes is a writer, blogger and editor. She was formerly the editor of Unbound Worlds and ran the Tor Nightfire blog. You can find her writing elsewhere on Vulture, Tor.com, Electric Literature, Thrillist, and more. Find Emily on ⁠⁠Twitter⁠⁠⁠ or ⁠⁠her personal website⁠⁠.
Gabino Iglesias is a writer, journalist, professor, and literary critic living in Austin, TX. He is also the author of the critically acclaimed and award-winning novels Zero Saints, Coyote Songs and more. Find Gabino on ⁠⁠Twitter⁠⁠ or ⁠Amazon⁠⁠⁠.
Catriona Ward is the author Little Eve, Sundial, The Last House on Needless Street and more. Find Catriona on ⁠⁠Twitter⁠⁠ or ⁠⁠Amazon⁠⁠⁠.
Ellen Datlow is an American science fiction, fantasy, and horror editor and anthologist. She is a winner of the World Fantasy Award and the Bram Stoker Award. Find Ellen on ⁠⁠Twitter⁠⁠, ⁠⁠Amazon⁠⁠ or ⁠⁠her personal website⁠⁠.
Xueting C. Ni is an author and editor. Her first book is From Kuan Yin to Chairman Mao, and her first anthology is Sinopticon: A Celebration of Chinese Science Fiction. Find Xueting on ⁠⁠Twitter⁠⁠, ⁠⁠Amazon⁠⁠ or ⁠⁠her personal website⁠⁠.
Erika T. Wurth is the author of White Horse, Crazy Horse's Girlfriend and more. Find Erika on ⁠⁠Twitter⁠⁠, ⁠⁠Amazon⁠⁠ or ⁠⁠her personal website⁠⁠.
---
The audio of this panel is available to stream and download on:
Anchor | Apple Podcasts | Spotify | Google Podcasts | Podcast Addict | Stitcher | Amazon Music | Overcast | RadioPublic | Pocket Casts | Breaker | Podbay
You can also watch the panel below via the FanFiAddict YouTube channel or stream the audio via Spotify.