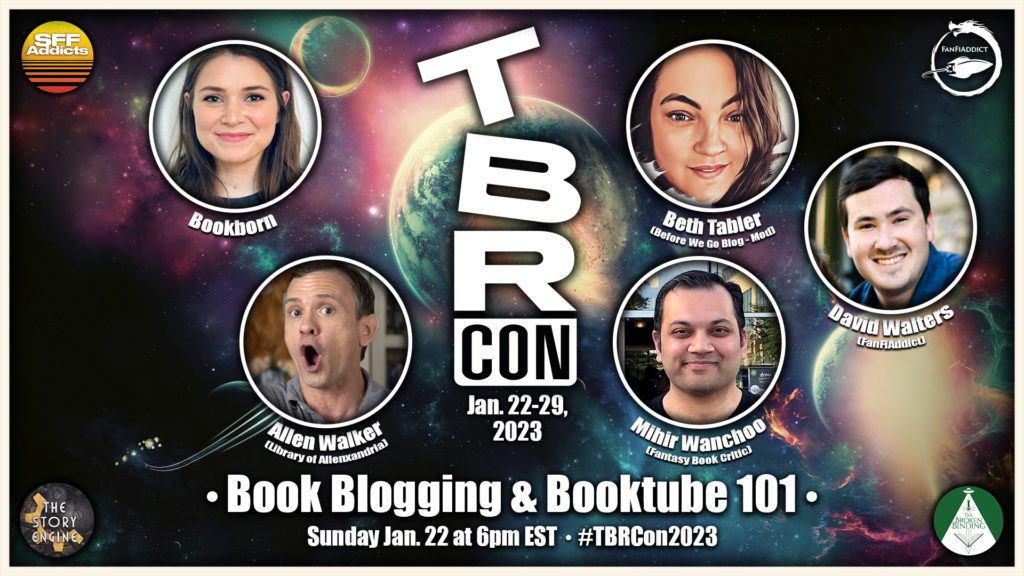 Every week, we are highlighting a panel from TBRCon2023, looking back on the amazing variety of panels that we had the honor of hosting.
This week, join moderator/blogger Beth Tabler and bloggers/booktubers Bookborn, David Walters, Allen "Library of Allenxandria" Walker and Mihir Wanchoo for a TBRCon2023 industry panel on "Book Blogging & Booktube 101."
To check out all of our TBRCon2023 content, click here.
---
ABOUT THE PANELISTS:
Beth Tabler is the founder of Before We Go Blog and an author for Grimdark Magazine. Find Beth on Twitter or BeforeWeGoBlog.
Bookborn is a book reviewer and creator of the Bookborn YouTube channel. Find Bookborn on YouTube or Instagram.
David Walters is the founder of the FanFiAddict book blog, as well as TBRCon. Find David on Twitter or FanFiAddict.
Mihir Wanchoo is the founder of the Fantasy Book Critic book blog. Find Mihir on Twitter or Fantasy Book Critic.
Allen Walker is the creator of The Library of Allenxandria YouTube channel. Find Allen on YouTube or Twitter.
---
The audio of this panel is available to stream and download on:
Anchor | Apple Podcasts | Spotify | Google Podcasts | Podcast Addict | Stitcher | Amazon Music | Overcast | RadioPublic | Pocket Casts | Breaker | Podbay
You can also watch the panel below via the FanFiAddict YouTube channel or stream the audio via Spotify.