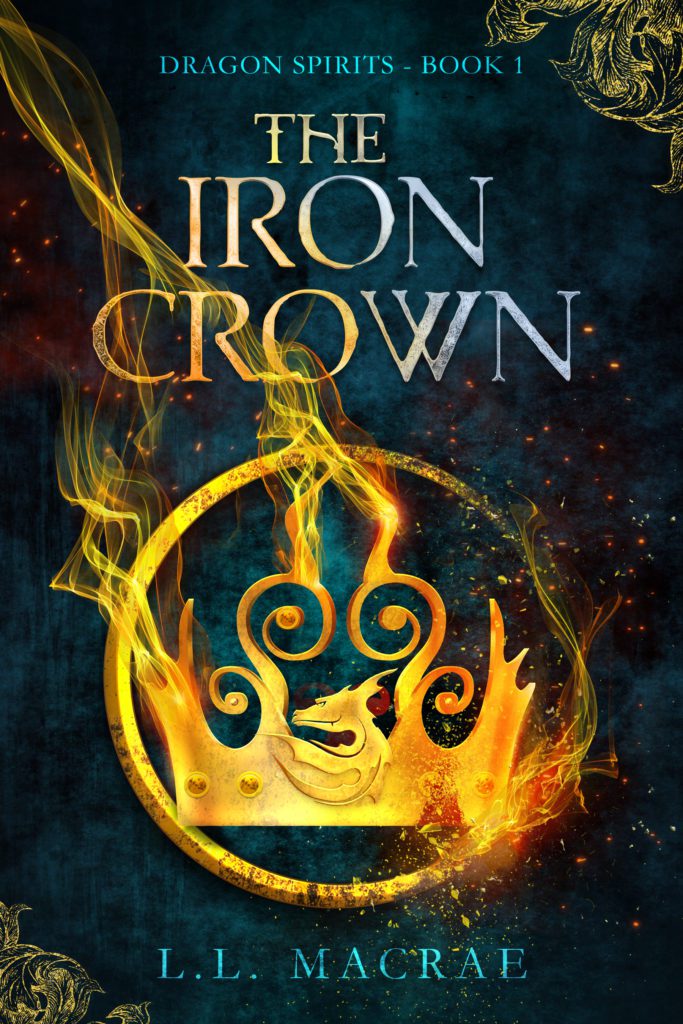 For my stop in the Iron Crown Book Tour with Escapist Book Tours I bring you an excerpt from the epic fantasy by L.L. MacRae. Enjoy! Grab your copy on Amazon or signed from L.L. MacRae's website https://llmacrae.com/shop/p/theironcrown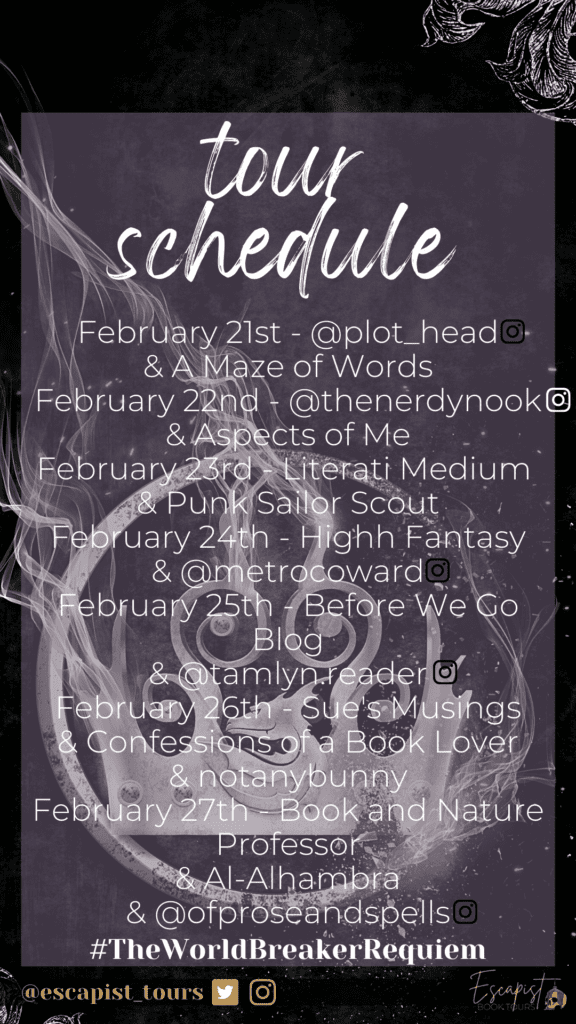 Synopsis
Fenn's first and only memory is finding himself in the middle of a forest, face to face with a dragon spirit mocking him, all knowledge gone apart from his own name.
Lost and confused, his only hope for answers is Calidra—a woman living on the edge of the world with her partner. Forced to return home when her father dies, Calidra has put off facing her estranged mother for seven years, and she begrudgingly helps Fenn, forging papers for him so he can avoid the Queen's Inquisitors.
But her mother is the least of her worries when they discover an ancient enemy is rising again. It should be impossible with the Iron Crown in power—and Fenn is terrified he might unwittingly be playing a part in the war's resurgence.
Surrounded by vengeful spirits and powerful magic, Fenn's desperate attempt to find his way home might well alter the fate of Tassar, and every power in it.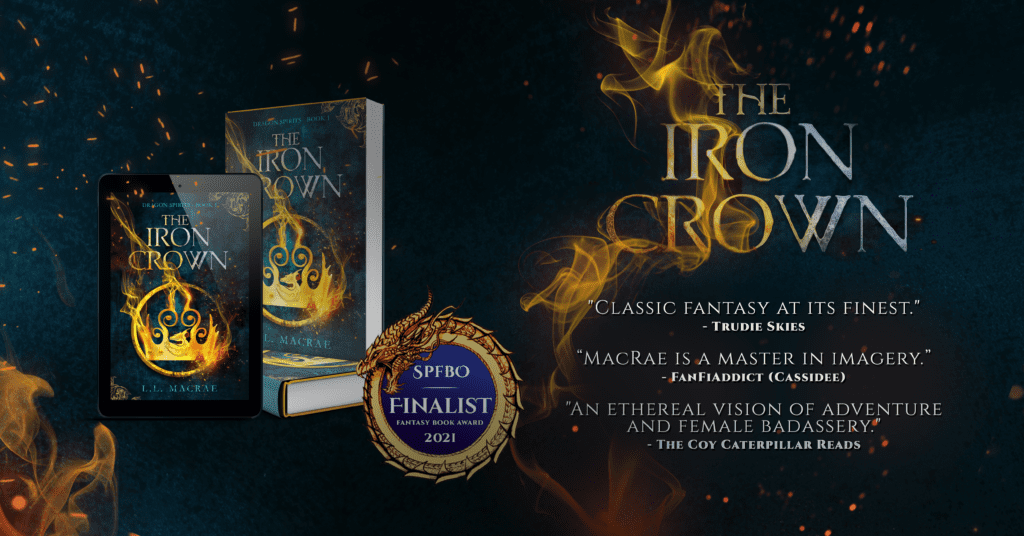 Excerpt
Varlot smiled and shook his head. 'You're a good lad, Fenn. Whatever you find out about yourself, I hope you know that.' He put his hand on Fenn's shoulder and squeezed gently, genuine warmth in his smile.
The moment Varlot touched him, Fenn's vision flared into life. All at once, the half-seen shadows rushed into full focus—living, breathing people wearing armour from head to toe. Most brandished swords or axes, but there was a line of men on horses holding lances at the farthest edge of the deadlands. Hundreds of them. No. Thousands.
Mouths were open in a wordless scream, lips moved to portray instructions, but Fenn couldn't hear a thing.
Suddenly, they were moving, a flagbearer waving his standard high and proud—The Iron Crown. It was the same insignia on the Inquisitors' uniforms, and on the back of the gold coins Fenn had seen before.
Dust and grass were thrown up underfoot as the waves of soldiers charged ahead, fury etched in every line on every face. Above them, the sky was a white mist which coalesced into black arrows. Countless lethal blades fell, and terror rained down.
Fenn shivered, watching, waiting. The Myr—for they could be nothing else—appeared on the edges of the deadlands, the first of their number falling to the arrows raining down upon them. They were a solid wave of cold shadow on the horizon. Grass wilted at their every step, lightning crackled, announcing their advance with flashes of blue and white.
Fenn's fingers twitched with the remembered touch of ice.
They bore no weapons, wore no armour, no clothes, no boots. They had no flags, no horns announcing their arrival. They moved as one—a single entity made up of a thousand, thousand parts. Every golden eye was fixed upon the waves of Porsenthian and Bragalian soldiers.
'Fenn? Speak to me!' Varlot shouted in his ear.
He'd collapsed, the hard ground digging into his back. His chest burned so much it was difficult to breathe. Fenn coughed, blinking as the vision faded. Only Varlot, Selys, Calidra, and Jisyel were there.
There was no army. There were no Myr.
Varlot offered him a hand up.
Fenn took it, grateful, only to be thrust back into the centre of the vision. Images flared outwards, bright and vibrant, their colours blurring together as if he was looking at them through water. It was later in the battle, now. The Myr had made their advance, and everything was chaos and motion. Fenn was glad he couldn't hear them, couldn't feel them. Blood coated the ground in deepening puddles, rivulets of crimson saturating what was left of the grass. Fire raged across the battlefield, gorging itself on the fallen.
One of the Myr approached Fenn—no, a man to Fenn's left—its gaping jaws open wide, revealing circular rows of teeth flashing in the fires. It shuddered, clawed hands outstretched, and the man dropped to the ground like a sack.
Fenn could see the lines of magic pouring from the Myr's fingers like a burst water pipe. It crawled over the Porsenthian armour, piercing flesh through the cracks, driving the life from his body. It was happening all across the field. People dropped to the ground, armour ineffective against the Myrish magic.
And beyond the waves of Myr were their spirits. Hulking monstrosities swarmed the battlefield, appendages bursting from their bodies to ensnare any who were unfortunate enough to be close to them. A man was decapitated. A woman was disemboweled. Blood rained down in an eternal deluge.
He trembled.
Another wave of Posenthians charged forward, their sheer numbers overwhelming the Myr. Blades were driven into flesh. Magic, once so effective, vanished as the Myr died. They pushed the Myr back in a surge of power, only for one of their number to eventually fall. Throwing themselves into the gap, the Myr and their spirits fought back, driving their aggressors away—splitting them up and picking off the isolated fighters.
More arrows rained down, bringing death by the hundreds.
Fenn wasn't sure he was breathing anymore.
Then, a darkness so complete Fenn thought he'd lost his sight, encompassed everything.
Fire blasted down in a column larger than any tree in the Spindle Woods, blindingly bright. He closed his eyes, but his vision had whited out.
If he'd been there, he was sure he'd have heard the dragon's roar. Felt the heat of the spirit as it grew near.
Seconds dragged past. He squinted, then gaped, at the sight of the dragon. Toriaken, Spirit of Iron, had arrived at the battle on wings so massive that Fenn couldn't see where they ended. Every scale was solid grey, dull, save where his flames made them glow orange and red.
Toriaken was too high up for Fenn to make out any details of the dragon's eyes or face, but his presence alone had changed the atmosphere of the battle. His fire did the rest.
The Myr didn't burn so much as explode in Toriaken's breath. Chunks of smoking flesh scattered, blasted out after impact. Many of their appendages were bladed and sharp, impaling those unlucky enough to be within the path of their death. Their spirits died in much the same way, every limb torn apart and disintegrated in the dragon's fire. Black smoke rose from the charred corpses, filling the sky with ash and blotting out the raging fires.
'Fenn!' Calidra grabbed him by the shoulders, steadying him as he swayed. 'Fenn, can you hear me? Say something!'
Dimly, he was aware of a thin line of drool trickling down his chin. Hurriedly, he wiped his face with the back of one sleeve and coughed again. 'Calidra?' She drifted in and out of focus, everything else outside his immediate view was dark.
'I'm here. Spirits take me, I don't know what's going on with you, but we have to get out of here.'
He tried to nod, but his headache surged back into life with such fury that he nearly blacked out. There was ice on his fingers again, slowly creeping up his forearms. Again, his chest tightened, a ball of fire driving the ice back.
'Do not lose focus.'
He blinked at the voice in his mind. He hadn't heard it before. It wasn't the Myr.
Had Varlot said something, and he'd just been too confused to understand it?
Calidra shook him roughly. 'Fenn. Come on. I don't want Varlot to carry you. Both times you've collapsed after he touched you. Spirits only know what's going on.'
Fenn leaned on her and took a shaky step forward. Thankfully, no more visions of battle accosted him. He could hardly believe the sky was still there, so vast were Toriaken's wings. It put Alnothen to shame, and that had only been a vision.
No. A memory.
He glanced at Varlot, who followed a few steps behind Calidra.
'Varlot? You were…is this where…where the Battle of Marlrush was fought?' Fenn's voice trembled.
'It was.'
'I saw it. I saw the Myr. Toriaken. All the people who fought…'
'How is that possible?' Calidra asked, not breaking stride as they continued across the dry lands. She dragged him more than led him, but he didn't care.
Selys paused, looking around intensely. 'I feel the remnants of the Myr here. Their magic is so strong. It's kind of…lingering.'
'So the people in Spindleford were telling the truth?' Calidra said, 'I thought it was just superstitious nonsense.'
Jisyel clamped one hand over her mouth. 'But…but the Myr aren't here now, are they?'
Selys turned to Fenn, as if he had the answers. 'I don't understand your…bond with the Myr. Whatever connection you have with them goes beyond a superficial level. The sooner we reach the Nethal Mountains, the better.'
'Keep going, lad. Come on. You're stronger than you think.' Varlot patted him on the back as he walked past.
Abruptly, Fenn was thrown back into the chaos.
The battle was over, dead bodies piled up in a smoking ruin. Torn flags and broken shields littered what was left of the grass—most of which had dried and withered, if it wasn't already drowned in crimson.
Varlot—or a younger version of Varlot, his face streaked with blood—knelt beside a heavily bandaged man. Blood seeped through the linen across his abdomen, viscera spilling out. He was missing both eyes, his face torn wide open by monstrous claws, leaving little more than gore from his nose down. His teeth seemed too bright against the red. Varlot clutched his hand. His lips moved, but Fenn couldn't hear. This, like the other visions, was absolutely silent.
Many living were doing the same—speaking to those dead or dying, clearing away the ruined corpses, setting up a perimeter in case their enemy returned. On the far side of the battleground, Toriaken had landed. His bulk was that of a mountain, and hundreds of armoured men and women had gathered by his feet, tiny against the dragon spirit.
But Fenn's gaze was drawn back to Varlot. The man whose hand he held had passed away, his fingers going limp. Fenn's heart ached for another loss.
Someone approached, the movement attracting Fenn's attention as Varlot turned his head to look.
There was no mistaking the man's face. Even without the uniform, and dressed in the same armour as Varlot, Fenn recognised Torsten.
Suddenly angry he couldn't hear, Fenn watched as the two men exchanged words. Varlot got up from his knees to look Torsten in the face. From their body language, it was clear they were having some sort of dispute. Torsten pointed with his index finger towards Toriaken and the battle site. Varlot gestured to the dead man on the ground below him. His hands were covered in gore.
More gesticulating.
More anger.
Varlot removed his helm and drew his weapon—the same axe he wielded now, with a snarling bear carved into the handle. Fenn didn't remember seeing that before.
Fenn expected Torsten to retaliate. To draw his rusty blade and aim it at Varlot, burn him where he stood. But he didn't. He leaned backwards, a smirk plastered on his face. He said something under his breath, his lips barely moving, and Varlot stopped in his tracks.
Varlot's shoulders slackened and the axe fell from his fingers. A defeated man. A broken one.
Fenn shuddered back to consciousness. It appeared that only seconds had passed—no-one was staring at him or trying to rouse him. Varlot walked ahead, now, his axe clutched tightly. The handle was different to the one Fenn had seen in his vision. Instead of dark brown, the bear carved into it, the handle was flat, black, and unadorned.
'Come on, lad. You ain't dead yet.' Varlot called over his shoulder.
Fenn wondered how much death Varlot had seen and caused.
He wondered what Torsten had said on the battlefield.
And as the final images of the vision faded into dark mist, Fenn wondered how much time he had left.