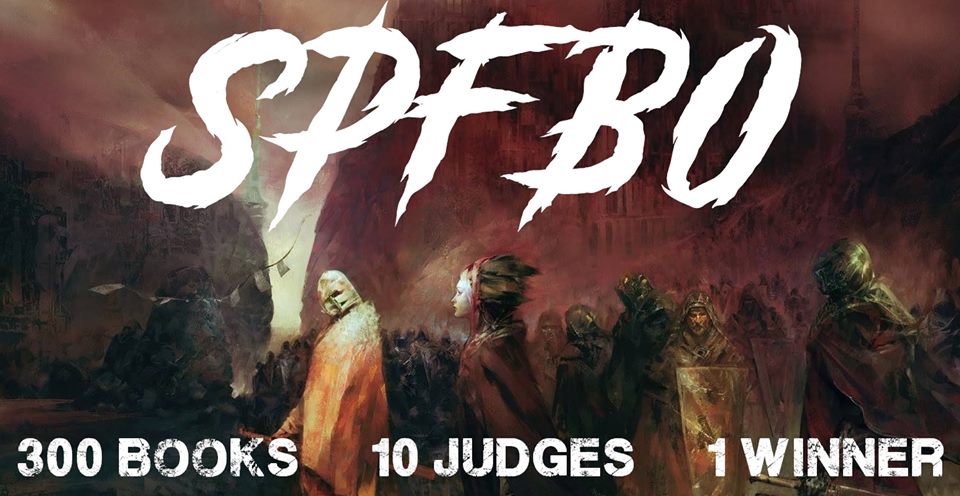 ---
Hello everyone and welcome to our first author interview for the 7th annual Self Published Fantasy Blog Off! I've been working on reaching out to each of the authors who have landed in our batch of books for the competition to see if they would be interested in being interviewed or contributing a guest article in an attempt to drum up a little extra excitement for their book and (hopefully) get to know them a bit better.

Today, we are joined by the author of Shift Happens, T.M. Baumgartner!
---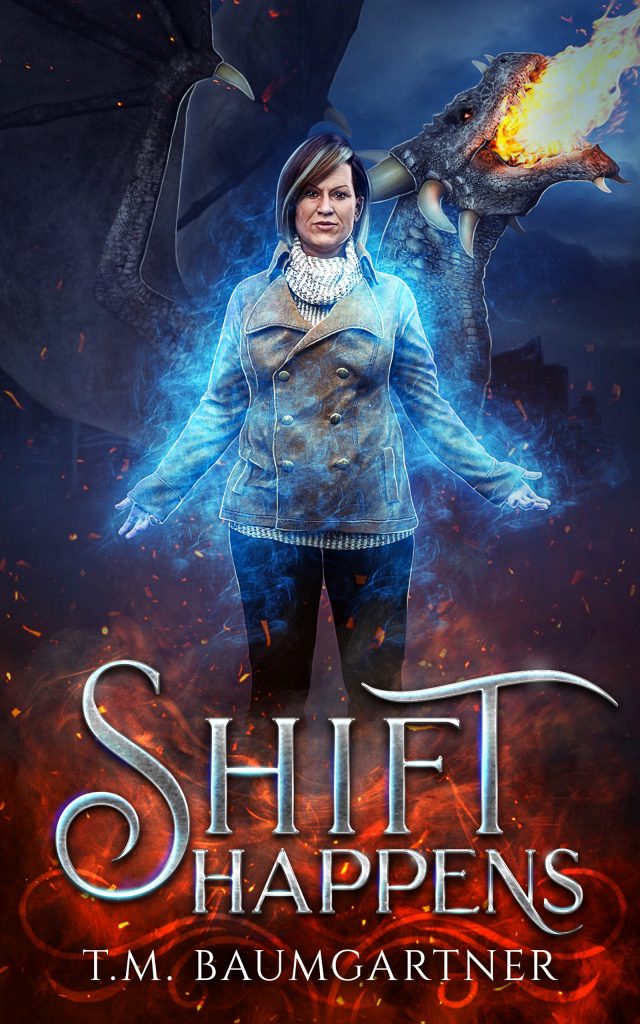 ---
Thank you so much for joining us for this short Q&A! Before we get going, please tell us a bit about yourself.
My name is Theresa and I tend to solve problems in off-kilter ways. After fifty-something years, I've decided to declare that a feature, not a bug. As far as careers go, I've spent a lot of time writing software, but I also was a veterinarian, which means I find both math and biology fascinating. I am currently a full-time writer. The IRS may have a difficult time distinguishing that from being unemployed.
I want to start things off by asking: what is a great book that you've read recently and why should we give it a go?
I'll go with The Raven Tower by Ann Leckie. Obviously, Ann Leckie is just an amazing writer to begin with, and if you haven't read the Imperial Radch trilogy yet, you're missing out. The Raven Tower is entirely different, with two parallel stories — one covering millenia and the other about a week — that dovetail, and she manages to pull that off. Plus her choice of point of view character is just fascinating. The ending didn't quite land with me, but that's okay because it has given me something to think about for weeks. Anyhow, it's a really good book. The audiobook is narrated by Adjoa Andoh, so that's also a plus.
Do you have any hobbies or interests outside of reading/writing? Do you care to elaborate?
When I applied for my author card, I was given the standard hobbies of gardening and dog walking. I'm not great at gardening, but I'm a pretty good dog walker. My dog might disagree.
Tell us about your road to writing. What made you want to become an author?
Back in fourth grade, I was already writing detective stories, so writing is something I've always enjoyed. I was in a few short story critique groups over the years, but it wasn't until I discovered NaNoWriMo about eight years ago that I really started taking things more seriously. It helped that at the time, I finally had a job that had predictable hours and no overtime, so I was able to focus on writing and improving my craft.
Writing is a hard and lonely affair in the best of circumstances, but it can be even more so as a self-published author. How do you achieve a good work/life/writing balance?
Sticking to a schedule and taking regular breaks is key. It also helps to have friends on Slack and Discord that you can interact with during the day, even when you've been stuck in your house for the last year and a half. Plus, I'm trying to eradicate the Bermuda grass in the yard, so any time I feel like I've been sitting down too long, I grab the shovel and dig out some more roots. That's a project that ought to last me at least ten years.
Is this your first book? If so, what lessons have you learned from writing it? If not, what lessons did you learn from writing earlier books that you brought into this one?
Shift Happens is the first book I published, but it is something like the seventh book I've written. The big lesson I learned from the earlier books is that if a scene is going to stick around, it needs to have a purpose. Hopefully it will be both advancing the plot and developing the characters, but it had better be doing at least one of those things, or it needs to go.
Do you usually write to background noise, music, etc. or do you prefer silence?
It depends. These days I do a lot of my writing first thing in the morning while I'm trudging slowly on my treadmill, and then I don't listen to anything. At other times I find that music without lyrics helps me focus. The last few months I've spent a lot of time listening to the Kaya Project — I'd call it trance, but someone who knows music genres better than I do will probably give the correct label.
Is this your first time entering SPFBO? Why did you decide to enter this book?
This is my first time. One of the things that helps me as an author is that I'm not too bothered by bad reviews, so there's really no downside. If everyone hates the book… oh well, I haven't lost anything. And if some readers find this book because of SPFBO, it's a win for everyone.
What made you want to write in the fantasy genre? Do you write (or plan to write) in any other genres?
I've always enjoyed reading fantasy — I had a copy of Robin McKinley's The Blue Sword that I read so many times the book was held together with a rubber band. I can probably still quote most of the first page of Anne McCaffery's Dragonsong. So fantasy is something I always come back to, even if I occasionally drift off to other genres.
I'm currently editing book two in the Jackpot Drift series — that's science fiction or maybe science fantasy. It has AIs and terraforming and genetically modified sheep, but it also has gods of chaos and luck. A friend of mine called it sheep opera. For some reason Amazon hasn't created that as a category yet.
I also write cozy mysteries because they're a nice change of pace and they give me a reason to focus on improving my plotting skills.
Really I'm all over the place. I've never been able to follow directions. I'll probably never write horror though. I'm too much of a wimp to even read it.
There are so many roads to releasing a book these days (which is wonderful!). Why did you decide to self-publish?
I queried agents with two books, mostly because that seemed like the thing to do. The idea of having to figure out everything involved in self-publishing was really intimidating at the time.
Luckily I'm terrible at writing query letters, so agents weren't really interested. When I stopped to think about it, I realized I would be much happier making my own decisions. I'm really glad I decided to self-publish.
Are there any advantages or disadvantages to self-publishing rather than going the route of the traditional or independent presses?
Occasionally I have dreams of letting someone else figure things out. The only thing I really know about art is that I have terrible taste. I grew up in the era of Lisa Frank, so rainbow unicorns and smiling dolphins seem like great design choices to me. Making cover art decisions for the first book was almost impossible. But the purpose of covers is to attract the right readers, and that's something that can be learned.
In the same way, everything else about self-publishing can be also learned. And yes, I'm going to screw some things up along the way. But learning keeps it interesting.
What do you think characterizes your writing style?
A sense of playfulness and a recognition that life is ridiculous. Even when I'm trying to write something more serious, I can't help but throwing in absurdities because that's the sort of thing I notice around me all the time.
For example, at my father's funeral there were condominiums overlooking the cemetery. If you've never seen a 21 gun salute in person, it's really loud, and I'm guessing they didn't often do military funerals in that area. Two shots in, someone in a condominium twenty feet away screamed "WHAT THE F—?!" at the top of their lungs. I still find that hilarious.
Are you a plotter or a pantser?
I am a pantser who is trying to learn how to effectively plot, for efficiency's sake. It's a struggle, but I'm getting better.
What are your favorite types of characters?
My favorite characters are competent in some way — not necessarily in anything that the plot requires — but also able to see humor in things that go wrong. I love characters who can laugh at themselves even as they are trying to dig themselves out of a hole.
What do you think is the overarching theme?
I think the overarching theme of Shift Happens is how important it is to examine who gets listened to and who gets ignored. Or given the same stimulus, who is allowed to get angry, and who has to smile and pretend nothing is wrong. I've worked in places where being a jerk was confused with being a genius. Our society has some problems differentiating the two.
What can you tell us about what's coming up next for you?
The sequel to The Chaos Job (Jackpot Drift #1) will be coming out (fingers crossed) in August 2021. I also have a fantasy serial coming out soon on Vella (Dragon Freehold) with magic, dragons, and thieves.
Thank you so much for taking the time to answer a few questions for us! I always enjoy this little peek behind the curtain. Do you have any parting thoughts or comments you'd like to leave for our readers?
Thanks for spending time with me! And if anyone wants to tell me the correct musical genre of Kaya Project, send me mail!
---
About the Author
---
T. M. Baumgartner is a speculative fiction writer who has difficulty following directions. This probably explains why the IRS recalculates her tax refund after she files it every year. At various times she has been a veterinarian, Unix system administrator, software developer, and after-hours book-shelver in a medical library.
Theresa currently lives in Northern California in a house with too many animals. She knits hats for garden gnomes and fails to grow tomatoes despite living in the perfect climate.
She also writes cozy mysteries under the pen name Tess Baytree.
For more information, or to sign up for her monthly newsletter, go to https://tmbaumgartner.com/.
Amazon Page: https://www.amazon.com/T-M-Baumgartner/e/B08HXBCDRX/ref=dp_byline_cont_pop_ebooks_1
Goodreads: https://www.goodreads.com/author/show/20698635.T_M_Baumgartner
Twitter: https://twitter.com/tm_baumgartner?s=09
---