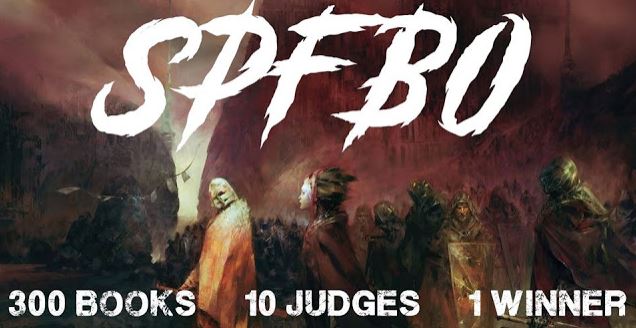 ---
Hello everyone and welcome to our latest author interview for the 7th annual Self Published Fantasy Blog Off! I've been working on reaching out to each of the authors who have landed in our batch of books for the competition to see if they would be interested in being interviewed or contributing a guest article in an attempt to drum up a little extra excitement for their book and (hopefully) get to know them a bit better.
Today, we are joined by the author of The Scarred God, Neil Beynon!
If you want to check out the rest of our SPFBO coverage, be sure to check our SPFBO 7 landing page here. On to the Q&A!
---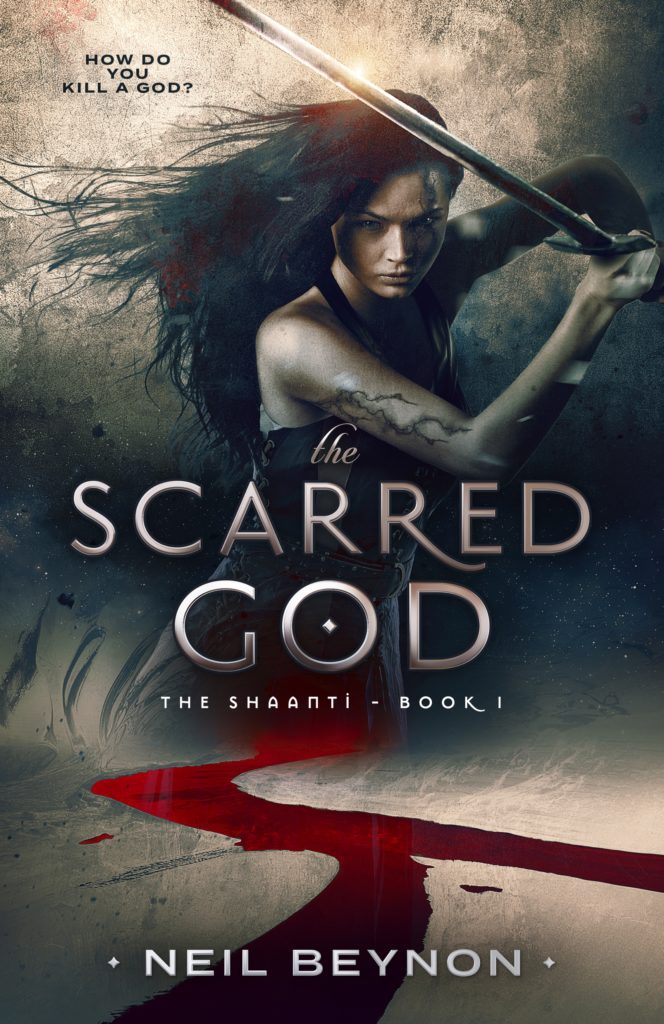 ---
Thank you so much for joining us for this short Q&A! Before we get going, please tell us a bit about yourself.
Thanks, Justin. I'm Neil Beynon, a fantasy author based in South Wales where I split my time between making things up to entertain folks and chasing after small children (my own). While it's not required for fantasy authors to live in a landscape soaked with myths and legends and a literal dragon on the flag, it doesn't hurt the muse.
I want to start things off by asking: what is a great book that you've read recently and why should we give it a go?
My current Must Recommend To Everyone is Tasha Suri's Empire of Sand. I'm late to the party here as this came out a couple of years ago but Empire of Sand is some of the best, and most beautifully realised world building I've read in sometime. Also, Suri's prose style is to die for. Empire of Sand has ancient gods, dark magic and malevolent priests – what's not to love? I tend to read quite broadly across many genres, and it's been a pleasure over the last few years to see a real acceleration in creativity across fantasy. Writers like Suri are very much in the vanguard of this movement, delivering wonderful tales that push at the boundaries of the genre. Hard recommend.
Do you have any hobbies or interests outside of reading/writing? Do you care to elaborate?
I do. I think it's really important to have some interests that are outside of reading and writing if you take either your writing or criticism (if you are a critical reader) seriously. In my case, I am a keen runner, though I do not have a classic runner's physique I tend to get out for a run every other day and particularly enjoy running in the Welsh countryside. I dabble with yoga – my crow pose tends to look more like a squashed, slightly drunk Robin but it keeps me out of trouble.
Tell us about your road to writing. What made you want to become an author?
I always have. It's hard to pinpoint an actual thing. When I was six, I was asked to write a story for school and, so family legend has it, I threw myself into it with such gusto that I was considered The Kid That Writes thereafter despite moving schools several times. I still have that story somewhere – written on an authentic scroll (it was a Pompeii based story). Equally, I recall the Dahl interview given to the BBC in the eighties and watching him in his writing hut and thinking that looked like the best thing in the world. For years and years, that was my go to writing model – wrapped in a blanket, some board to lean on and pencils to write. It was a great creative refuge for a kid who didn't always have the easiest time of it in school.
Writing is a hard and lonely affair in the best of circumstances, but it can be even more so as a self-published author. How do you achieve a good work/life/writing balance?
Constant adjustment. I'm not yet making enough sales to give up having a day job and that point seems some way off yet. My day job is pretty full on and so I do have to be really careful not to overdo it. I think, as I kind of hinted above, that having some interests outside of writing that are "just for you" and keeping some time for them is important. I'm never going to be a pro runner – it's just for my own enjoyment. Listening to yourself is important too – if it's all become a slog and a grind, it's time to unplug and go consume some art instead of create it for a bit. It's a marathon not a sprint.
Is this your first book? If so, what lessons have you learned from writing it? If not, what lessons did you learn from writing earlier books that you brought into this one?
The Scarred God is my first published book but not my first novel. I'd written a couple of other books which are trunked and, as I suspect most writers will tell you, you learn something from every project. The most important one from the earlier books was that a) I could finish a novel and b) that it is an endurance sport. What I mean by that is not that I don't enjoy writing a novel – you really wouldn't do it more than once if that was the case – but that it can feel like an endless, thankless task when you are in the midst of the draft. However, you must keep going, focused on enjoying the journey because with enough patience, one day, you will have the sudden realization that the story has reached its end, and you wrote a whole book! The first time someone else reads a book that you wrote, well, that sensation never gets old (I think). In The Scarred God, I think I really focused in on the idea that no one is the sidekick or villain of their own story, and so the reason I was willing to put that book out was it had those realized character arcs. Anya's the main character but there's plenty of other stories going on too.
Do you usually write to background noise, music, etc. or do you prefer silence?
I generally write first drafts to music and revise/edit in silence. I'm not entirely sure why. The exception to this is if I am travelling or working somewhere noisy where I will then put music on for editing/revising but it has to be orchestral. I'll generally listen to the same few albums for a given book. As an example, I'm currently writing book 3 of The Shaanti and listening to the Bladerunner and Sicario soundtracks.
Is this your first time entering SPFBO? Why did you decide to enter this book?
It is my first time entering SPFBO. I had a couple of friends who entered in previous years who had talked positively about the experience, and I really like the sense of community around the competition so I figured I would throw my hat in the ring and see what happens.
What made you want to write in the fantasy genre? Do you write (or plan to write) in any other genres?
I do write across horror, science fiction and straight thrillers as well but my first love has always been fantasy going all the way back to that first story. When I started writing at novel length, I just naturally started in the sandpit I knew best which was fantasy and the rest is history. Having said that, I do have a short thriller sat with my editor for her learned opinion. I will be mulling over what to with that once I have her notes.
There are so many roads to releasing a book these days (which is wonderful!). Why did you decide to self-publish?
I did try to shop The Scarred God around a few places first, tried to get an agent to help, etc. It was always my intention to put it out myself if that didn't work (it didn't) in order that I might start to build an audience of folks who liked my stuff. When I first started writing seriously, I wrote short stories and always learned the most from the ones that sold, or I put out myself and the genuine reader feedback I got. It's a very long, slow, process to do this based on agent and editor feedback on speculative partials submitted formally and getting longer each year. I have really enjoyed the control in putting things out myself though it can sometimes be a slog.
Are there any advantages or disadvantages to self-publishing rather than going the route of the traditional or independent presses?
The advantage of going indie is control. You can be master of your own destiny, and, providing you are honest with yourself, you can give yourself the time to build your audience that a traditional publisher may struggle to do these days. The cons are – you are doing everything and this means less time to write; there are a lot of snake oil folks out there, waiting to take your cash; someone is always ready to tell you that there is a Killer Rule (there isn't).
What is one thing that you love about the current state of fantasy and what is one thing that you wish you saw more of?
There's a rich depth of talent coming through in fantasy at the moment, with folks like Jen Williams, Zen Cho, Tasha Suri, Patrick Samphire, G.M. White, Mark Stay, Aliette De Bodard and so many others that it really is a golden age for fantasy. The transition I really wanted to see for ages was a move away from cookie cutter fantasy which, I think, with these writers is starting to change. Another writer I neglected to mention above is Marlon James, who made the jump from historical 20th century literary to fantasy and whose Black Leopard, Red Wolf is a really confident break from typical fantasy. More please.
Who are your favorite current writers and who are your greatest influences?
This will vary depending on what I am writing. In terms of The Shaanti/The Scarred God, my biggest influences are probably going to be folks like David Gemmell, Robin Hobb, C.S. Lewis, Neil Gaiman, and there are some hints of Holdstock and Moorcock, if you know where to look.
What do you think characterizes your writing style?
I tend to be quite a visual writer as I have a fairly visual imagination as a reader. My writing style tends to reflect this, with a fair amount of pace and exploration of character through their actions. I'm quite interested in the subjective nature of reality and so my writing style tends to use shifting perspectives to this end.
Are you a plotter or a pantser?
Ah, the eternal question. This changes depending on genre. For epic fantasy, I generally pants the first draft and then apply a more plotter approach for the second draft. Though I should note I've never written a book entirely the same way more than once. I tend to be a restless experimenter.
What are your favorite types of characters?
Jagged ones. The most interesting types of characters are the ones that do things you don't expect. That moment where you, as the reader, are screaming at the book for a character to do X or Y but they insist on doing A or B – that's what a writer is after. It means the character has achieved agency within the story and is a real person (to the reader) who they want to achieve something. The character of Ned Stark is a great example of this in A Game of Thrones. Indeed, George R. R. Martin is a master of independent characterization, that underlying skill being a strong factor in the pre-tv success of the series.
How much of yourself do you write into your stories?
There's a little bit of the writer in everything they write. I generally let my characters do their own thing but I'm sure those who know me would point to certain elements that are me.
For those who haven't read The Scarred God, give us the elevator pitch.
Her best friend dead. Her lands invaded. Her people set to be sacrificed. All Anya has to do is step out of her legendary grandmother's shadow. But how do you kill a god?
Describe your book in 3 adjectives.
Dark. Diverse. Questioning.
What do you think is the overarching theme?
At the centre of The Scarred God is a question over morality and why someone should or should not do the right thing? Or what even the right thing is?
Were there any specific challenges with writing The Scarred God ? Or, did you find anything to be easier?
The Scarred God was a hard book to get done. It grew over the drafts (usually it is the other way round) and there was so much going on that I had to be particularly ruthless in pruning back to the main arcs. Beyond that, the challenge was in making some of the more morally ambiguous characters engaging enough that the reader cared but without them losing that sense of danger.
They say to never judge a book by its cover and maybe that's true in the philosophical sense, but it certainly happens with books. Can you tell us about the idea behind the cover of The Scarred God?
I gave a pretty firm brief to the folks at Damonza on the cover. I really wanted Anya front and centre for the cover with some clear indication over the amount of agency the character has in the books. I had imagined that the antagonist might also appear, but I wasn't willing to die on a hill over that. In terms of the other elements, I suggested some of the high spots within the book and they requested a reasonably detailed synopsis that gave them the elements you see on the cover today. I have to say, I had three options for the cover, all of which would have been fantastic, but this one was the strongest.
One of my favorite things is highlighting quotes that really resonate with me and sharing them in my reviews. Do you have a favorite quote from The Scarred God that you can share with us?
I am the devil they warn their children against. I am the warrior that the Shaanti clans whisper about in taverns and that old warriors fear when darkness falls. They're more afraid of me than of you.
What can you tell us about what's coming up next for you?
The Scarred God is book 1 of The Shaanti, book 2 (The Alaunt) explores the world just before the events of The Scarred God and Anya's relationship with her grandfather. Right now, I am working on book 3 which is set around a decade after the events of The Scarred God – it's a really big ambitious book to round off the trilogy.
Thank you so much for taking the time to answer a few questions for us! I always enjoy this little peek behind the curtain. Do you have any parting thoughts or comments you'd like to leave for our readers?
Keep reading!
---
About the Author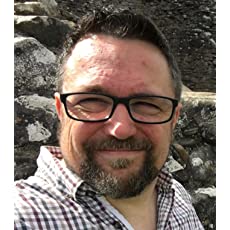 Neil Beynon is a fantasy short story writer and novelist.
Neil has been writing since he could hold a pen, publishing for over ten years and still has most of his own hair. He is the author of many short stories, some of which are gathered in his collection After The Rain and some of which are available as individual eBooks. He has been previously published in a number of small press outlets. Neil has lived all over the place including London, Bradford and Somalia but is now settled in his native South Wales where he spends his time running after small children (his own) and endlessly toying with the idea of retiring to a fishing boat.
Author Website: neilbeynon.com 
Amazon: https://www.amazon.com/Neil-Beynon/e/B07FHXL261/ref=dp_byline_cont_pop_ebooks_1
Twitter: twitter.com/neilbeynon
Facebook: https://www.facebook.com/neilbeynonauthor/
Instagram: instagram.com/neilbeynon.