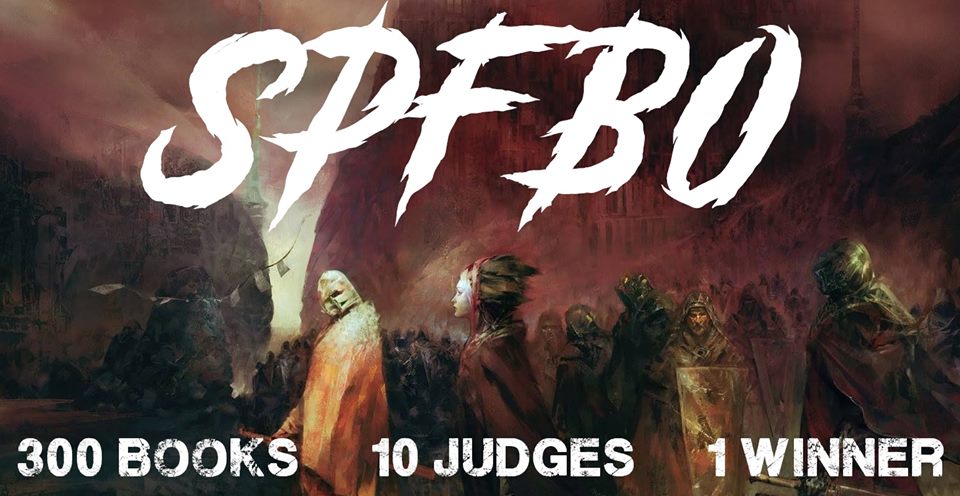 ---
Hello everyone and welcome to our latest author interview for the 7th annual Self Published Fantasy Blog Off! I've been working on reaching out to each of the authors who have landed in our batch of books for the competition to see if they would be interested in being interviewed or contributing a guest article in an attempt to drum up a little extra excitement for their book and (hopefully) get to know them a bit better.

Today, we are joined by the author of Ad Luna, Hûw Steer!
---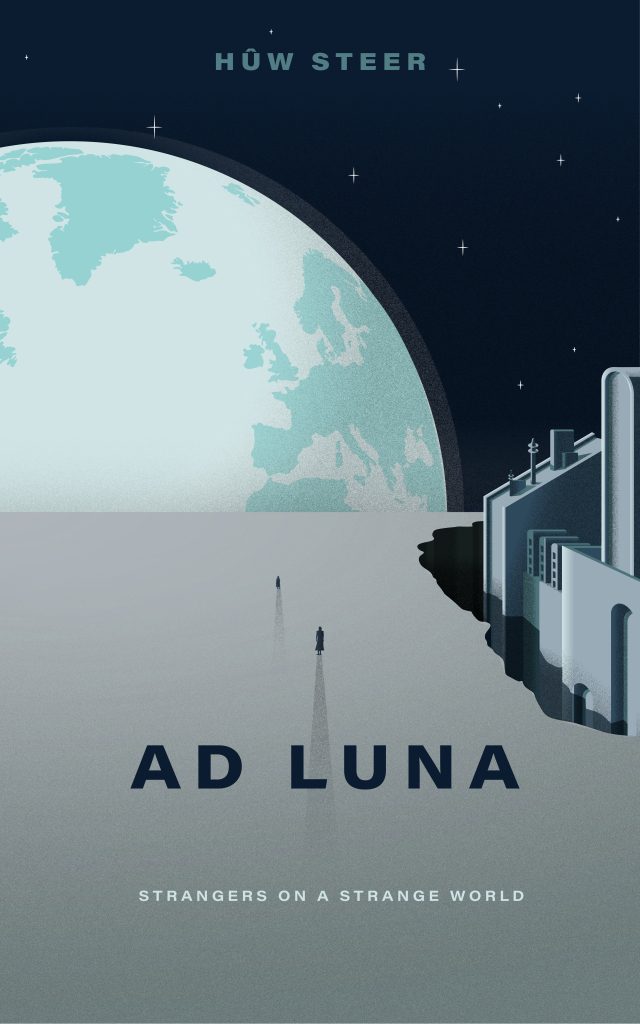 ---
Thank you so much for joining us for this short Q&A! Before we get going, please tell us a bit about yourself.
I'm an author and historian, and occasionally comedian, from London. I'm an SF&F nerd – it's almost all I read and pretty much all I write as well. I've been writing half my life now and have a few things to show for it – two novels self-published, several short stories in magazines and anthologies, and a lot more words sitting on my computer waiting to be unleashed on the world.
I want to start things off by asking: what is a great book that you've read recently and why should we give it a go?
Saga by Brian K Vaughan and Fiona Staples. Romeo and Juliet, but in space, and the two houses are the opposing sides of an interstellar war. There's magic and science and heartbreak, a species of robots with TVs for faces, and an erotic romance novelist. But it's a story about family. And it's one of the most beautiful things I've ever read.
Do you have any hobbies or interests outside of reading/writing? Do you care to elaborate?
I play a fair few videogames – I just finished Mass Effect 3 after several years of working my way through the trilogy – and paint too much Warhammer. I also run LEGO workshops for a charity in north London, which is pretty much the best second job in the world.
Tell us about your road to writing. What made you want to become an author?
I've always been a big reader, especially of SF&F. I think I was about 8 when I first tried creative writing for its own sake? I'd been reading stuff like LOTR and the Edge Chronicles, and my head was just so full of different worlds that I had to let some of it out in my own words. And that's not really ever changed.
My secondary school English teacher was the one who really got me into reading and writing fantasy – he lent me a lot of books and set my imagination properly on fire. I wrote my first proper book through high school and 6th form. Then I realised it was crap, rewrote it at four times the length in my first year of university, and it all sort of spiralled out from there.
Writing is a hard and lonely affair in the best of circumstances, but it can be even more so as a self-published author. How do you achieve a good work/life/writing balance?
For me, a degree of iron discipline. I write 500 words every morning, before my brain is turned to mush by 8 hours at work. And I mean every morning. I started doing it in February 2015 and I haven't missed a single day. It's not that much, but it really adds up! Even if most of those words end up on the cutting room floor, it's worth it. I'd never get anywhere if I agonised over quality.
Is this your first book? If so, what lessons have you learned from writing it? If not, what lessons did you learn from writing earlier books that you brought into this one?
Ad Luna is the second book I've published, but the… fourth I've written? I lose track of what order I wrote things in. It's 4, 5, or 6. I think the main thing I learned from it was the value of having a good skeleton to work from. This was mostly done for me by Lucian, given Ad Luna is based on his True History, but I still sat down and figured out roughly where I wanted things to go first. It helped a lot.
Of course, I then immediately forgot that lesson when it came to writing my next books…
Do you usually write to background noise, music, etc. or do you prefer silence?
Give me background noise. I usually stick some Let's Plays or the like on. As long as it's not something with a story of its own to distract me, it's fine – Minecraft works, TellTale games do not!
Is this your first time entering SPFBO? Why did you decide to enter this book?
This is my second SPFBO – my first book, The Blackbird and the Ghost, actually reached the semi-final last time! I wanted to have another go with a book that was written with a lot more experience under my belt, as Blackbird was actually one of my earlier novels. Ad Luna should (emphasis on should) have a bit more skill behind it.
What made you want to write in the fantasy genre? Do you write (or plan to write) in any other genres?
I think I'll be sticking to fantasy and sci-fi for the foreseeable future. It's pretty much all I read fiction-wise, barring the odd bit of historical fiction. I'm an escapist, and I love speculative and otherworldly stories – and honestly I struggle to write more 'realistic' stuff without somehow ending up bringing in some kind of weird and wonderful elements.
There are so many roads to releasing a book these days (which is wonderful!). Why did you decide to self-publish?
I wanted to get my name out in the literary world, and I wanted to do it on my own terms, at least at first – self-publishing gave me control, and that was a good way to start. I'm not wedded to the indie life – hence the traditionally-published short stories and my recent forays back into agent queries – but I'm glad I chose this path. I've met a lot of great people, and a few more have actually read my books – so it's worked!
Are there any advantages or disadvantages to self-publishing rather than going the route of the traditional or independent presses?
Self-publishing gives you control over your work, which is great – and other than actually setting things up, there are no barriers to putting your work out there! But it's so difficult to stand out from the crowd, with so many people choosing that route these days. Traditional publishing at least gets you a marketing budget and a team to help – it's just so much harder to get to that stage.
Who are your favorite current writers and who are your greatest influences?
William Gibson, Adrian Tchaikovsky, and Dan Abnett are probably my current top 3, though it's an ever-shifting thing. My early work was heavily influenced by Raymond E. Feist's Riftwar series, and there's definitely still a bit of that there in my fantasy stories. My SF often leans on Abnett, though. I'm often writing about future soldiers, and there's nobody better at that than him.
Are you a plotter or a pantser?
Very much a pantster, to my own detriment. People talk about 'gardeners' and 'architects', but for me it's like hacking through the jungle, Indiana Jones-style. I vaguely know where the ending is and have an idea of what it's going to be, but I stumble across all sorts of interesting plot points and ideas along the way… which I then have to edit into something coherent later. I know I should outline more. Doesn't mean I do, though.
For those who haven't read Ad Luna, give us the elevator pitch.
A soldier and a satirist go to war on the Moon… as envisaged by a Greek from the 2nd century AD. Three-headed vultures and wooden golems versus giant ants and fire elementals from the heart of the Sun.
What do you think is the overarching theme?
It's all about exploration, and people from very different worlds – literally – coming together to make something greater than themselves. My protagonists are from cultures that seem utterly alien at first, but they turn out to have a lot more in common than they think. And the most alien culture, ironically, might just be the human one.
Were there any specific challenges with writing Ad Luna? Or, did you find anything to be easier?
The book is based on Lucian of Samosata's True History, which is a book from some point in the 2nd century AD. His vision of space – which is admittedly intended to be satirical – is weird as all hell. Hence all the enormous three-headed vultures, and all the Moon-men having detachable penises made of wood. Seriously. Taking those weird jokes and details – which are all glossed over in a handful of words in the original – and turning them into something meaningful, something that had purpose, was a really fun challenge, especially when I started working in real science. Lucian's Lunars can eat nothing but steam without worrying where it comes from – but I had to invent a whole system of vapour-mills and crater cities to get the economy of my Moon to function! Not to mention how a single rider is supposed to control a hundred-foot, three-headed vulture…
They say to never judge a book by its cover and maybe that's true in the philosophical sense, but it certainly happens with books. Can you tell us about the idea behind the cover of Ad Luna?
Fairly simple really – I wanted that 'earthrise' to dominate the image, to immediately throw people off. We're all used to seeing the Moon rise above the Earth – but not the other way round, and certainly not with people and a city in the foreground! Two Pens did a great job of designing the cover. I don't have anything like enough artistic talent myself.
One of my favorite things is highlighting quotes that really resonate with me and sharing them in my reviews. Do you have a favorite quote from Ad Luna that you can share with us?
A few redactions to avoid spoiling anything, as this is from near the end, but:
"You conjure glass and steel and water from the very air itself… you sit every day in a city of spires that touch the stars, fly above them on impossible wings… You are magicians, all of you, and you think yourselves nothing but tradesmen! Both your peoples do impossible things every day – but to you they are ordinary things, now. They are pedestrian. There is no wonder in your lives anymore." He slapped his hands down on the stone. "But there can be wonder again, if you would but work together."
What can you tell us about what's coming up next for you?
I'm working on the sequel to The Blackbird and the Ghost! It's a slow process – I'm deep in the editing stage, as the first draft was a) almost twice as long as it should have been and b) full of meandering plot points I only came up with halfway through. But I'm still hopefully on target for a release this year…
Thank you so much for taking the time to answer a few questions for us! I always enjoy this little peek behind the curtain. Do you have any parting thoughts or comments you'd like to leave for our readers?
Read more. Be kind. And look up at the sky from time to time. Even if you're in the city like me and there's only ever that one star that breaks the light pollution, look up. And think about it.
---
About the Author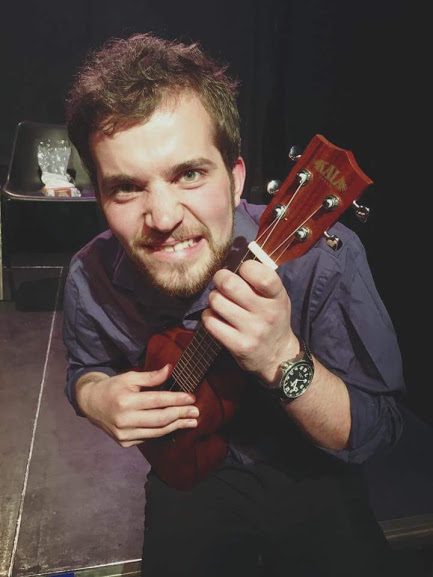 ---
Hûw Steer is an author, historian and sketch comedian from London. You may have seen him with the UCL Graters at the Edinburgh Fringe, read his theses on ancient Roman science-fiction, or even read one of his short stories. It's unlikely, but possible.
Hûw's previous novel, The Blackbird and the Ghost, was a semi-finalist in the fifth Self-Published Fantasy Blog-Off. His short stories have been published in various anthologies and magazines, most recently Grimdark Magazine #25 and Shoreline of Infinity #19.
Author Website: https://huwsteer.wordpress.com/
Amazon: https://www.amazon.com/H%C3%BBw-Steer/e/B07TFJFHHJ/ref=dp_byline_cont_pop_ebooks_1
Goodreads: https://www.goodreads.com/author/show/18268244.H_w_Steer
---