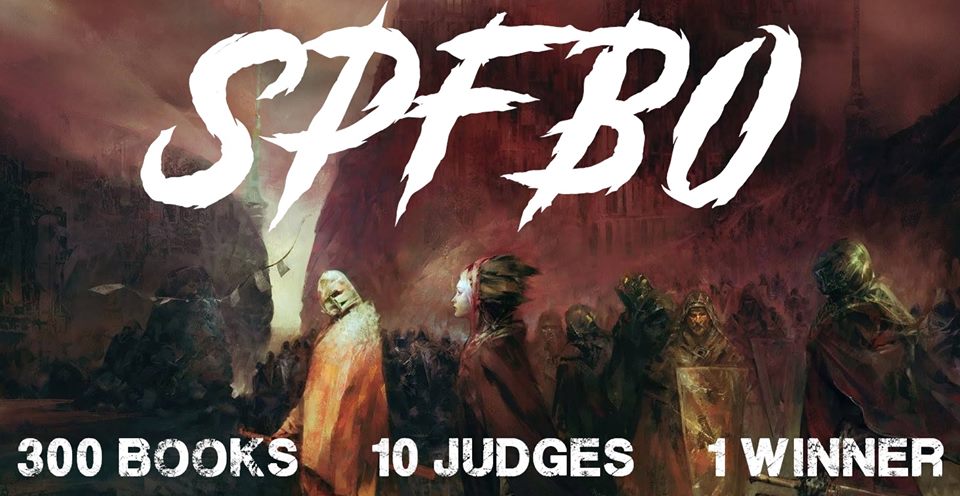 The group of judges on the FFA team have collectively chosen the one (1) book out of their allotted thirty (30) that will make it into the pool of ten (10) finalists for SPFBO 7. Below, you will find a graphic of all thirty (30) titles allotted, a breakdown of the five (5) semifinalists chosen w/ ratings and commentary, and finally, OUR WINNER!!!!
Before we begin, we just want it to be known that the decisions we have made throughout the first round of the competition have not been easy. We have had discussion after discussion on every single title afforded us, and while we have not all agreed 100% on each individual title, that is what makes having such an amazing group necessary in a competition such as this. Titles that some have loved, others shied away from, and vice versa. It took an army, and we believe we had delivered exactly what we intended when we put FFA's name in the hat to be a judge this year. We are very fortunate to have been chosen for this contest and all the authors have been nothing short of a blessing.
To all of the authors in our allotment that were unable to move forward in the competition: we want to thank you from the bottom of our hearts for being as genuine as possible throughout. You have all been wonderful to us, answered any and all questions thrown in your direction, provided us content about yourselves and your craft, and so on. You are all amazing, talented folks and please continue churning out fantastic works.
To all of the readers checking out this article: please take the opportunity to check out any number of the novels shown in the below graphic. Every single one of these books deserves readership and you are bound to find something you will fall in love with.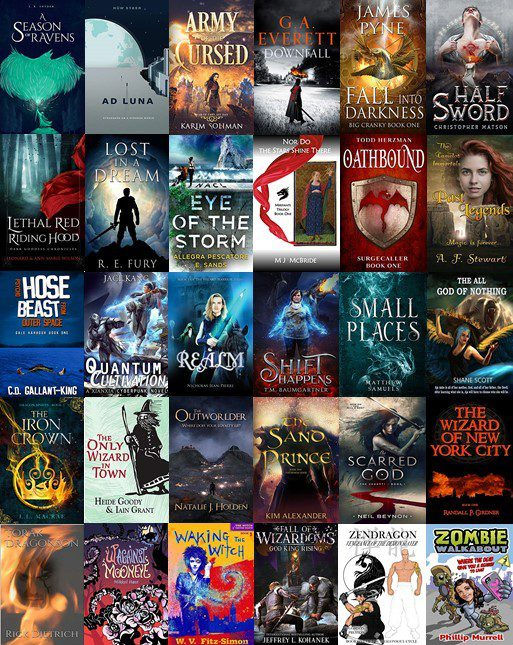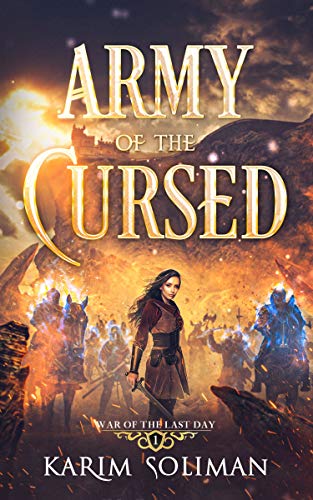 Everybody knew the Cursed were coming.
Nobody knew how to defeat them.
The Goranians thought they were ready to face demons in battle. But when the foretold War of the Last Day begins, one fact becomes clear: the doom of Gorania is just a matter of time. Now its fate rests in the hands of a hapless trio.
By joining the mages' guild, Leila cedes her title as the Crown Princess of Murase. But as she struggles with her lack of talent, the Army of the Cursed approaches her country. Leila will have to decide if she is ready to protect her loved ones, or she should abandon them and run for her life.
Nardine, the Crown Princess of Bermania, hears a rumor that her long-gone father was so close to finding a weapon against the immortal demons. While she investigates what has happened to his unfinished work, a rebellion threatens to tear apart her kingdom.
Far in the harsh northern lands of Skandivia, Halgrim starts a perilous journey to claim a birthright he has been denied because of a lie. If his journey goes according to plan, nothing will stand between him and his ultimate prize. Nothing, except the Army of the Cursed.
Can the three unite and put aside their differences before it is too late? The entire human race is already on the brink of extinction.
Commentary: Army of the Cursed is an interesting story that suffers from a bit of a stuttering start. There is a constant shift of POVs and a massive amount of infodump that can be a bit jarring for readers. However, things improve as the book progresses. The plot and worldbuilding ramp up, though pacing and uneven plot movement hinder progression. The writing is fairly simplistic and the way in which the story is told is a bit predictable, but we definitely found ourselves wanting more.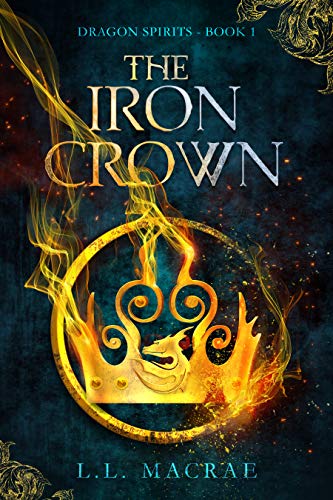 Fenn's first and only memory is finding himself in the middle of a forest, face to face with a dragon spirit mocking him, all knowledge gone apart from his own name.
Lost and confused, his only hope for answers is Calidra—a woman living on the edge of the world with her partner. Forced to return home when her father dies, Calidra has put off facing her estranged mother for seven years, and she begrudgingly helps Fenn, forging papers for him so he can avoid the Queen's Inquisitors.
But her mother is the least of her worries when they discover an ancient enemy is rising again. It should be impossible with the Iron Crown in power—and Fenn is terrified he might unwittingly be playing a part in the war's resurgence.
Surrounded by vengeful spirits and powerful magic, Fenn's desperate attempt to find his way home might well alter the fate of Tassar, and every power in it.
Commentary: The Iron Crown is quite an entertaining adventure with smooth, polished prose, believable characters, and great world-building. The story moves at a healthy pace, though we wish there had been a bit more of a ramp-up about halfway through. There were some dialogue issues, some cases of 'tell' instead of 'show', and too many "lucky coincidences", but they did not detract too much from our overall enjoyment. Overall, this was a great read with a developed story and characters you'll come to care about.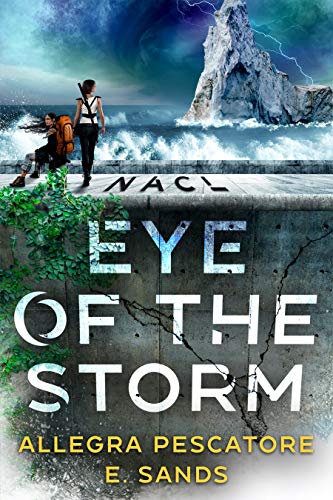 Lani should never have trusted any plan that started with the words, "So, I have an idea, but first you need a drink."
When a crazy Precog handed Lani the coordinates to a stretch of ocean just off the Salt Spire, she should have thrown them overboard. Going there would be a horrible idea. Lani, though, was a pro at making bad decisions.
A not-so-chance encounter with escaped salt slave Adavera launches them on a path to forsake all that they know and dare to take on the cruel Corporation that controls every grain of salt on their planet. With the help of old friends, new friends, and people they are pretty sure might be enemies, Adavera and Lani travel outside the protective reef that keeps the worst of the Storms off the Islands and venture into a world of piracy, astonishing powers, and unexpected love.
The odds might be against them, but with a little planning and a lot of brass, this team of misfits intends to do the impossible. They have very little in common, except for two things:
They all want to blow the Crystal Corporation into oblivion…
And are willing to sacrifice anything to see it done.
Commentary: NACL is a well written, engaging story with unique worldbuilding, engaging characters, and an intriguing magic system. It has all the things: pirates, tech, gods, romance, magic, and then some. While it does waver between science fiction and fantasy at times, it has more of a urban feel to it that will truly resonate with fans of the sub-genre. We also really enjoyed the high dose of humor the authors instilled throughout as it keeps the slower paced sections engaging enough to push through. Definitely one to keep your eye on if you are looking for your next Maze Runner/Hunger Games-esque read.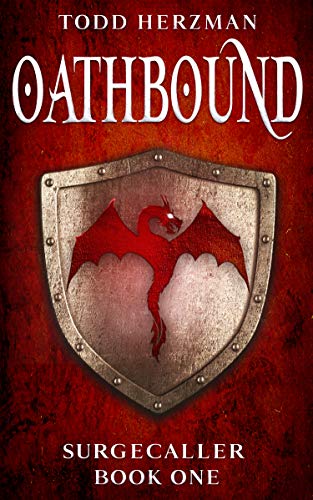 How do you kill an Immortal?
Huon is weak. A surgecaller who escaped into the wilds, his only goal was to survive.
Now he is Oathbound, forced to fight in an arena, forced to become stronger than he'd thought possible.
As he realises he can become strong, the need for revenge fills his heart, and a new goal forms in his mind.
But his goal is impossible: kill the dragon rider, the Immortal of Fire.
To succeed, he'll have to do more than just survive—he'll have to advance beyond anything the realm has ever seen.
In the spirit of progression fantasies like Cradle and Mage Errant, enter a realm with magical beasts, where surgecallers can cultivate essence to strengthen their weapons, enhance their bodies and wield elemental magic.
Commentary: Oathbound is quite a fun progression fantasy read – definitely Cradle Lite for any Will Wight fans out there. Simple prose with a healthy pace, but with a world that is a tad underdeveloped and a plot that isn't groundbreaking. Herzman definitely leans in on tropes and doesn't shy way from writing them in new and interesting ways. The novel contains a very intriguing magic system and gives you those anime/manga power vibes. Definitely one in which several were drooling for Book 2.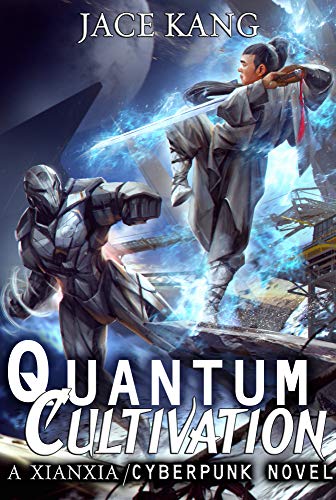 Like all Purebred with their menial jobs, Ken ekes out a living sweeping the floors of Kyoto Peacekeeping Central. His kind serve as a benchmark for XHumans to measure how far they've progressed, and a reminder of what homo sapiens once was.
His life changes when eight-hundred-year-old Ryu crosses over from the World of Rivers and Lakes, looking for a lost temple; and Aya, a beautiful hacker whose Sensory Interface perceives the EtherCloud as Feudal Japan, learns that XHumans aren't as perfect as they thought.
They've edited out the genes which allow for Cultivation.
That will give Ken a chance to surpass them. And maybe use mythical martial skills to save the world from an oppressive government, spirit beasts, and alien invaders.
A Cultivation system based on Daoist Five Elements and Eight Trigram Theories, written by an Acupuncturist/Wing Chun Sifu.
Commentary: Quantum Cultivation is a refreshing sort of story because it is one a majority of us were not used to. It was a nice change of pace from the norm of western fantasy tropes, providing a fun and fast-paced cyberpunk story. The writing and characters were the definite high points, but more focus should've been put into worldbuilding to make this one a true standout. There was also some exposition and unnecessary juvenile sexual content that tended to bog down the read at times. Overall, though, this one is sure to entertain any reader of cultivation fantasy.
---
It has been quite the journey with a mixed bag of emotions, opinions, highs and lows, sideways, and slantways, and longways, and backways…
It has been a journey full of great reads and tough decisions…
BUT
FANFIADDICT
…
WHO
IS
YOUR
FINALIST
????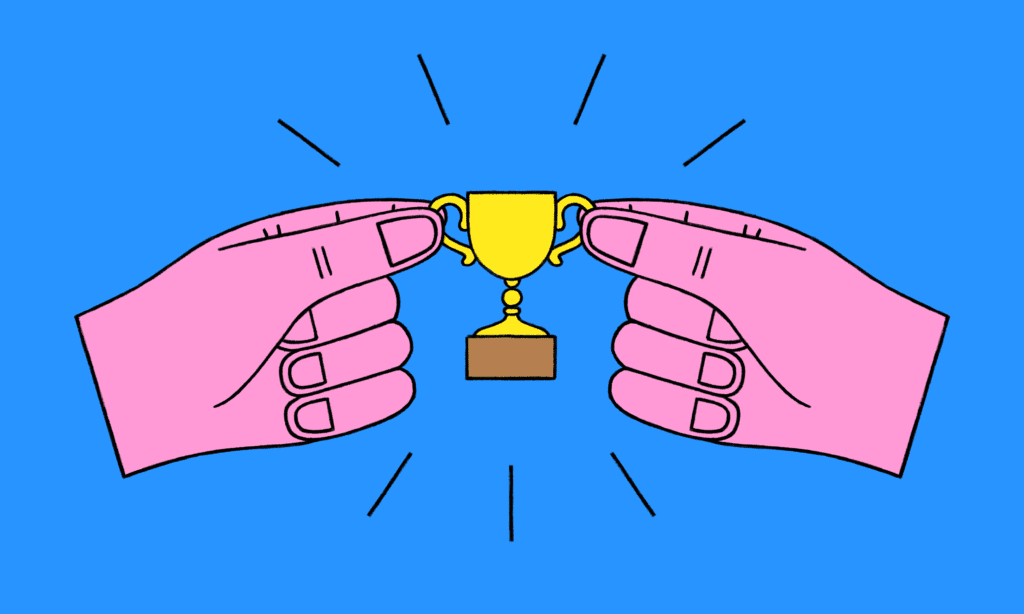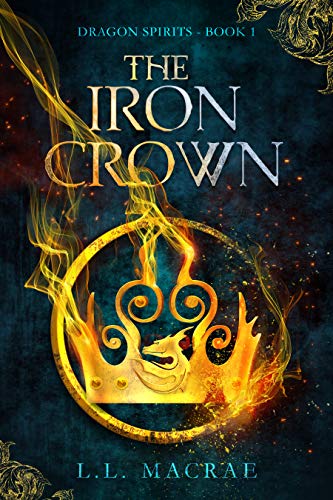 THE IRON CROWN (DRAGON SPIRITS #1) BY L.L. MACRAE!!!!!!!!