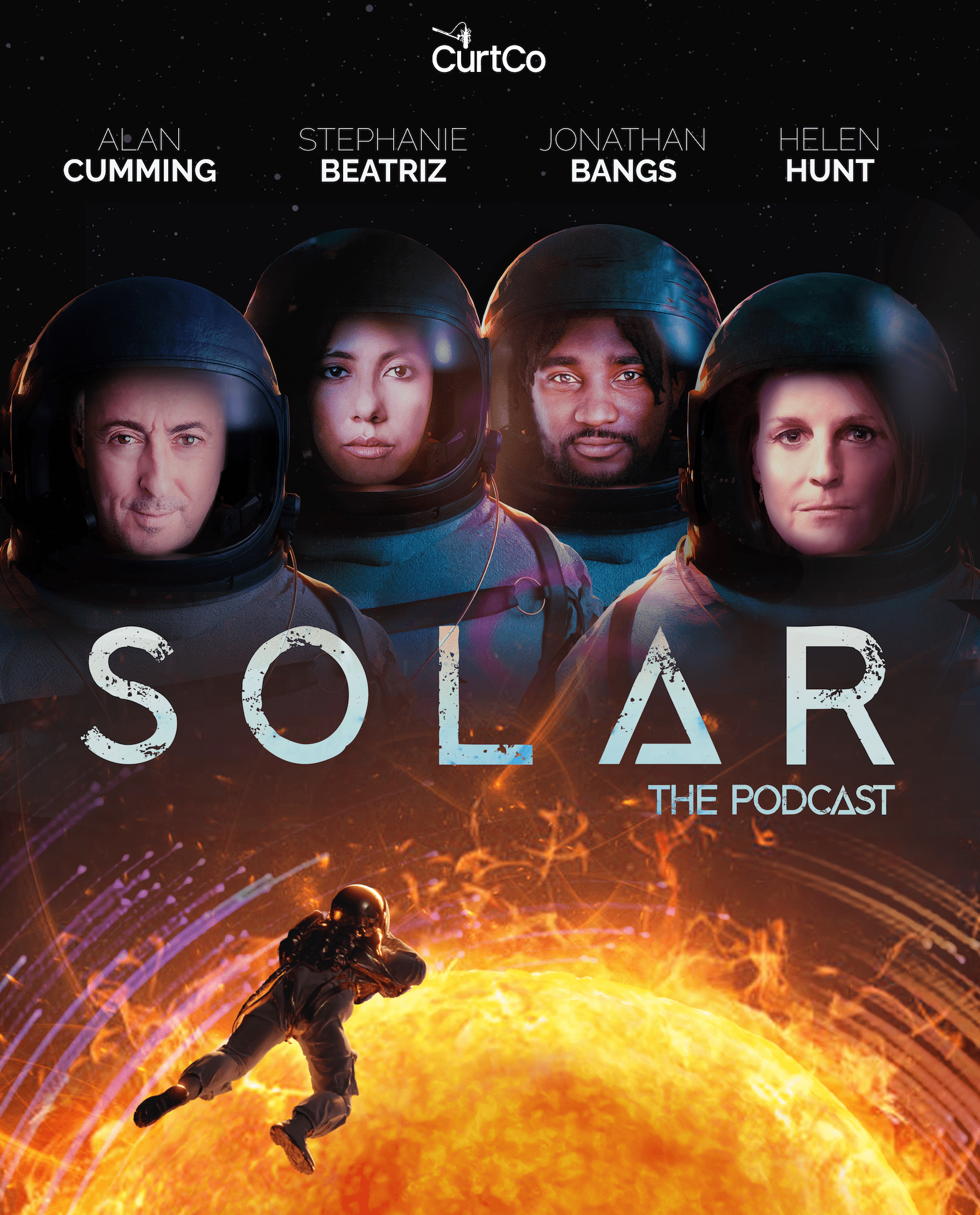 Rating: 10/10
Synopsis
The Aethon is a science vessel on its way to the sun, travelling to the heart of our galaxy to perform a series of mysterious experiments that could change the course of humanity forever. When a solar flare of unprecedented force hits the ship, it causes devastation, leaving only two crew members alive.
With the Aethon damaged, there's no way to contact Earth, and the two survivors are trapped in separate capsules. One is running out of air, the other, running out of time.
Can they save themselves? Can they save each other? What went wrong? And what was the true mission of the Aethon? Secrets will out. But can they discover the answers they need before it's too late?
Review
SOLAR is a sensational science fiction audio drama that's cinematic in its scope and ambitions, reaching far into the universe and deep into the heart.
Pilot Jamal Davis (voiced by Jonathan Bangs) and Specialist Wren Guerrero (Stephanie Beatriz, Brooklyn Nine-Nine) are cut off from each other, drifting in deep space, only able to communicate via voice messages through the on-board AI, ALI (Jenny Curtis). Episode one begins after a gigantic solar flare has wreaked carnage to the ship, and we're alone with these two astronauts trapped in deep space. Their isolation is haunting, and the prospect of death that awaits one of them is palpable right from the start. We're always aware of how much time they've got left to be saved, and as we feel it running out, this element adds impressive suspense and tension to every interaction on board the Aethon, right through to the last moments of the final episode.
The atmosphere this show creates is electric, and the performance of every actor is compelling. There isn't one misplaced line in the entire 12 episode run.
SOLAR is a masterpiece when it comes to intrigue. The plot is revealed in a non-linear way as we hear recordings made before the solar event that killed most of the crew and left the Aethon damaged, and conversations after the event between Jamal and Wren. These flashes back and forth provide clues to secrets that run below the surface, as well as some excellent performances by an incredible cast, featuring Helen Hunt (Twister) and Alan Cumming (Goldeneye). Their voices are familiar, and the inclusion of these talented, highly-regarded actors just adds to how big this show feels.
In terms of scale, this is the biggest audio drama I've ever heard. From sound design, to music, to performance — on a technical level, this is huge. But SOLAR's achievements are so much grander than just technical ones. What separates this show from other stories of its kind is the way it burrows into the heart and soul.
We've all heard stories about what makes us human. But this show's different. It's not about what makes us human, it's about what makes you human. There's an introspection to each episode that goes deep, and just when you think it's hit the bottom, it finds more room to keep going. This makes for a touching, emotionally stirring, and a profoundly personal listen. You'll ponder not just the meaning of life, but the meaning of your life. You'll grieve, you'll laugh, you'll hold your breath as the tension ratchets up, and you'll feel every minute of this journey.
Drawing from myth and legend, SOLAR delves into fables like Icarus and the Phoenix, giving it an almost literary appeal. This is balanced beautifully with a scientific premise that never feels too complicated or out of reach. There's a poetry about the show that's beautiful. And it has one of the best jokes about Schrödingers cat that I've heard in ages.
It's an experiential listen. There are times when you'll feel like you're watching a movie. There are times when you'll feel like you're reading a book. And there are times when you'll feel like you're right there with the characters as they struggle towards the end.
If you like your sci-fi thoughtful, suspenseful, and intense, then SOLAR is the show for you. Its twists and turns will take you to places that are new and fresh and exciting. It's a profound, pensive, philosophical journey, but one that is very worth taking. Like you'd expect from any trip to the sun, SOLAR makes for some enlightening and powerful science fiction. This is an audio drama not to be missed.

All episodes of season one are available to listen to wherever you get your podcasts.