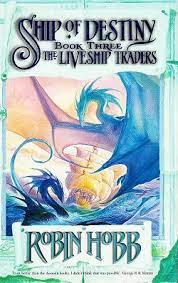 Rating: 10/10
Synopsis
As Bingtown slides toward disaster, clan matriarch Ronica Vestrit, branded a traitor, searches for a way to bring the city's inhabitants together against a momentous threat. Meanwhile, Althea Vestrit, unaware of what has befallen Bingtown and her family, continues her perilous quest to track down and recover her liveship, the Vivacia, from the ruthless pirate Kennit. 
 
Bold though it is, Althea's scheme may be in vain. For her beloved Vivacia will face the most terrible confrontation of all as the secret of the liveships is revealed. It is a truth so shattering, it may destroy the Vivacia and all who love her, including Althea's nephew, whose life already hangs in the balance.
Review
This book concludes this epic trilogy by Robin Hobb, and is the sixth entry in The Realm of the Elderlings series. Almost every concluding entry in a series has a lot riding on it, and a lot of expectations to meet from readers. It's a difficult job for a writer to nail every aspect of a final book, but this is one of the rare exceptions where I would say it is close to being perfect.
I don't think I've mentioned this before in my reviews for this series, but I just want to say how amazing the cover art for these editions is. There are a lot of editions of this book available but these John Howe covers are by far my favourite.
This book picks up right where we left off in book two and continues in the same wonderful writing style. I just can't praise Hobb's writing enough. It is so magical to read. I can get lost in these books so easily because of the wonderful prose. All the plot points are written so carefully and are so controlled. It's plain to see the heart and soul that has been poured into this series. Hobb's world building and imagination are also one of the best aspects about this trilogy, and we get so much information about the world overall that will carry on throughout the rest of the series I'm sure.
Hobb handles some pretty heavy themes in this one and does so with grace and care. This book explores identity, abuse, grief, dealing with trauma and moving on from the past. The way these are handled is really well done and so impactful for both the characters and the reader. I won't go into specifics here because of spoiler reasons, but know that my heart strings really felt the impact of this bittersweet, yet fitting ending.
Hobb has so many loose ends to wrap up after the two previous books. I have to say I do really think this book brought everything together absolutely perfectly. Every single character is given the page time for their arc to be wrapped up meaningfully, and all the plot points effortlessly weave together in what is one of the most satisfying conclusions I have read in a long time. Character building is one of my favourite aspects of Hobb as an author, and it's wonderful to see her continue to give these characters the love their stories deserve in this final instalment.
Hobb also does all of that while at the same time building up the excitement for the next book in the series, where we return to our boy Fitz. There are lots of subtle (and some not to subtle) links and connections between the Six Duchies and our Bingtown characters, and every single one of them made me smile. I was expecting to be a bit sad at the ending of this book, because I didn't want it to be over, but instead I found myself really pleased with the way everything was concluded and so excited for Fool's Errand.
The only negative I can think of is that at times this book is a bit slow. There are aspects, particularly the political ones, that do drag on just a bit. However, all of this helps to build the impact of the story overall, so this is pretty minor.
The Liveship Traders as solidified it's place as one of my top series of all time.