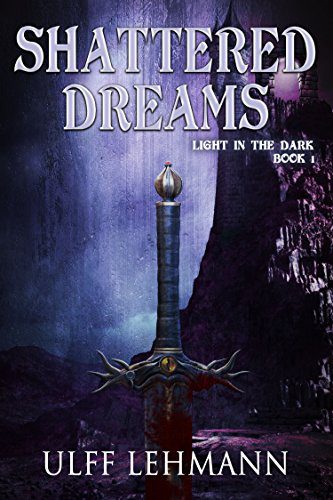 Rating: 8/10
Synopsis –
Epic Fantasy filled to the brim with Grimdark Reality
If one looks too long into the abyss, the abyss looks back. Drangar Ralgon has been avoiding the abyss's gaze for far too long and now he turns to face it.
For a hundred years the young kingdom of Danastaer has thrived in peace. Now their northern neighbor, mighty Chanastardh, has begun a cunning invasion.
Thrust into events far beyond his control, the mercenary Drangar Ralgon flees his solitary life as a shepherd to evade the coming war and take responsibility for his crimes.
In Dunthiochagh, Danastaer's oldest city, the holy warrior Kildanor uncovers the enemy's plans for invasion.
As ancient forces reach forth to shape the world once more, the sorceress Ealisaid wakes from a century of hibernation only to realize the Dunthiochagh she knew is no more. Magic, believed long gone, returns, and with it comes an elven wizard sent to recover a dangerous secret.
Review –
I received a copy of this book from the author in exchange for an honest review. This is a German inspired Epic Fantasy novel with dark tones and influences riddled throughout the pages. There is plenty of mystery to keep the reader guessing but this book is a slow burn both for tension and for the plot to unwind. The sins of the past will be endured once again.
The main plot of the story revolves around an invasion of Danastaer by Chanastardh to the north. We have several view point characters throughout the story on both sides of the conflict but for the purpose of this novel I will only be discussing the two most gripping to me. Drangar Ralgon is seen to the local villages as a simple Shepard until he is confronted by royal knights trying to force their way on a local bar girl. Drangar reveals that he is a Chosen and puts down the assault with ease. Chosen are beings who posses the powers of a forgotten God through a dark ritual but Drangar is constantly struggles in his own mind to fight back his inner demons. Drangar has a mysterious past and one that was quiet disturbing and emotional to read. He was the shinning star for me without batting an eyelash.
Kildanor is also a Chosen knight and resides in the capital of Dunthiochagh where he is preparing for the inevitable invasion. Ancient magic has been long extinct from the world through the Elven wars but they are slowly returning and it will set events in motion for Kildanor to battle. When Kildanor comes across Drangar near death the story lines will converged and drive you towards an exciting ending to book 1 in this trilogy.
I give this book a lot of praise for its originality and dark tones which is what a good portion of modern fantasy readers are looking for. I didn't have a few shortcomings with the story. The names and locations do have German based foundations and they can be difficult to fully understand if you are not use to the language. Definitely not a big deal for me but just keep this in mind. Also, if you do not like a slower paced novel with some pretty dark themes and practices then this will not be an enjoyable read for you.
Overall, this German Style Epic Fantasy story was a very good read and I'm looking forward to continuing the series soon. If you are looking to try something a bit different and with some more common troupes, Shattered Dreams may just be the book for you!
Cheers!