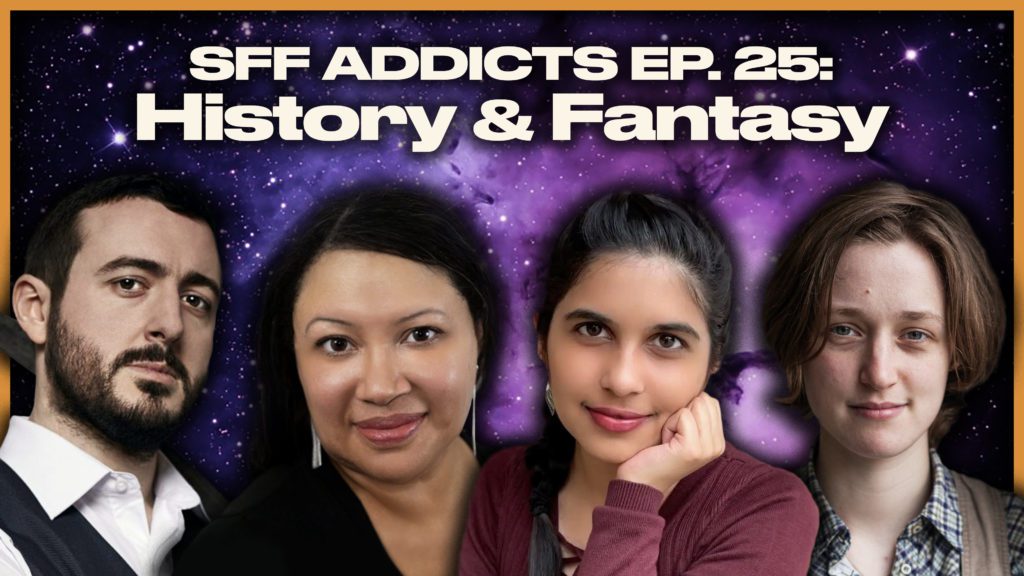 Episode 25 of SFF Addicts has arrived!
Join host Adrian M. Gibson and authors Claire North, Rebecca Roanhorse, Ed McDonald and Vaishnavi Patel as they delve deep into antiquity, exploring the intersection of history and fantasy. During the panel they discuss what fascinates each of them about history, why fantasy and history play so well together, how history can apply to worldbuilding, character and plot, the freedom of secondary worlds versus the rich lore of mythological retellings, how fictional stories can highlight obscured histories and much more.
IMPORTANT NOTE: Unfortunately, we had numerous technical issues during the recording of this episode. Thankfully, no audio was lost, but there are some glitches here and there. Most notably, Vaishnavi is recording from a car in the first third of the panel, and both Rebecca and Ed suffered from glitchy audio at the 15-minute and 1-hour mark, respectively. Apologies if any of this takes away from your listening experience.
Episode 25 is available to stream and download on:
Anchor | Apple Podcasts | Spotify | Google Podcasts | Podcast Addict | Amazon Music | Stitcher | Overcast | RadioPublic | Pocket Casts | Breaker | Podbay
You can also watch the episode below via the FanFiAddict YouTube channel or stream it via Spotify, and the full episode archive for the show is available here. Check out the SFF Addicts Twitter or Instagram accounts for more frequent updates.