As a fan of science fiction, speculative, strange fantasy, and humorous stories I'm constantly on the lookout for those books on the fringes and ones that might make you scratch your head a bit. Here are a few that I'm excited to read this year: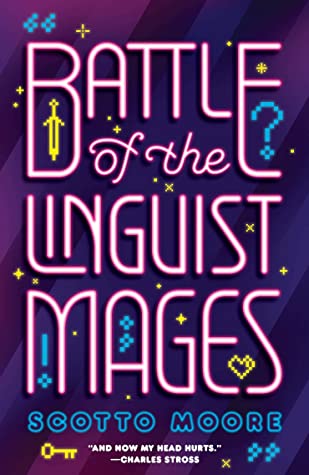 Battle of the Linguist Mages by Scotto Moore
Publisher: Tordotcom
Publication Date: January 11, 2022
Synopsis: In modern day Los Angeles, a shadowy faction led by the Governor of California develops the arcane art of combat linguistics, planting the seeds of a future totalitarian empire in Scotto Moore's Battle of the Linguist Mages.

Isobel is the Queen of the medieval rave-themed VR game Sparkle Dungeon. Her prowess in the game makes her an ideal candidate to learn the secrets of "power morphemes"—unnaturally dense units of meaning that warp perception when skilfully pronounced.

But Isobel's reputation makes her the target of a strange resistance movement led by spellcasting anarchists, who may be the only thing stopping the cabal from toppling California over the edge of a terrible transformation, with forty million lives at stake.

Time is short for Isobel to level up and choose a side—because the cabal has attracted much bigger and weirder enemies than the anarchist resistance, emerging from dark and vicious dimensions of reality and heading straight for planet Earth!
Why I'm excited to read this: Last year I read Scotto Moore's novella 'Your Favorite Band Cannot Save You' about a breakout band discovered through music blogs and file sharing are making some sinister music. As a former music blogger (and napster/limewire user in the day) and musician, the characters in this world hit home for me. I could tell that Scotto Moore has a love for all things music and performance and I'm totally on board for these Linguist Mages.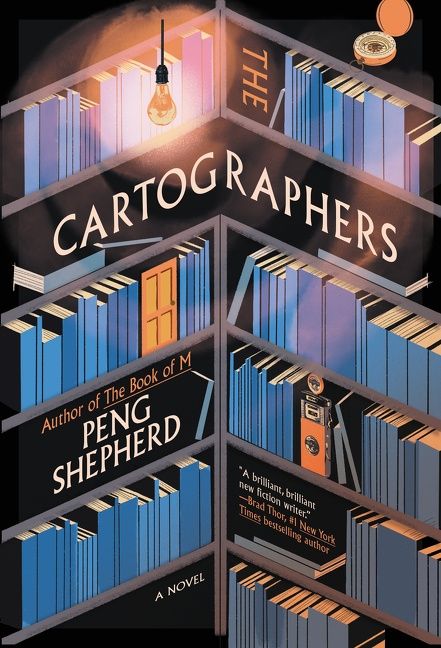 The Cartographers by Peng Shepherd
Publisher: William Morrow
Publication Date: March15, 2022
Synopsis: From the critically acclaimed author of The Book of M, a highly imaginative thriller about a young woman who discovers that a strange map in her deceased father's belongings holds an incredible, deadly secret—one that will lead her on an extraordinary adventure and to the truth about her family's dark history.

What is the purpose of a map?

Nell Young's whole life and greatest passion is cartography. Her father, Dr. Daniel Young, is a legend in the field, and Nell's personal hero. But she hasn't seen or spoken to him ever since he cruelly fired her and destroyed her reputation after an argument over an old, cheap gas station highway map.

But when Dr. Young is found dead in his office at the New York Public Library, with the very same seemingly worthless map hidden in his desk, Nell can't resist investigating. To her surprise, she soon discovers that the map is incredibly valuable, and also exceedingly rare. In fact, she may now have the only copy left in existence… because a mysterious collector has been hunting down and destroying every last one—along with anyone who gets in the way.

But why?

To answer that question, Nell embarks on a dangerous journey to reveal a dark family secret, and discover the true power that lies in maps…

Perfect for fans of Joe Hill and V.E. Schwab, The Cartographers is an ode to art and science, history and magic—a spectacularly imaginative, modern story about an ancient craft and places still undiscovered.
Why I'm excited to read this: The Book of M was such a vivid and unique read; the concept alone is admirable for a debut novel. Her short story "The Future Library" published on tor.com was also a spectacular read. Peng Shepherd blends the fantastical with the real and current in a way that feels refreshing. (plus i also love maps in general) I think she is due for some great things.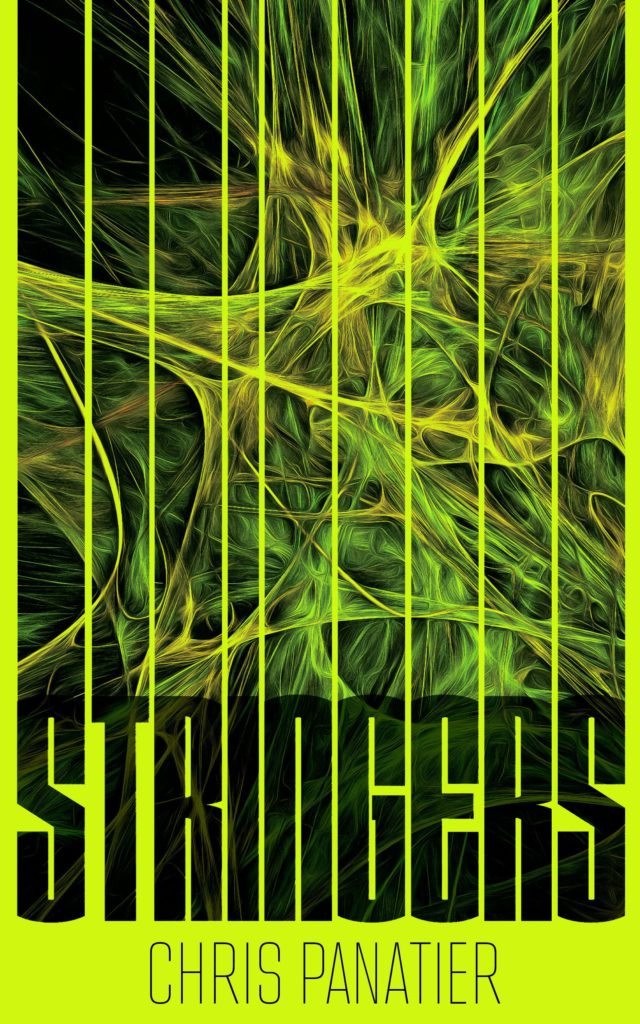 Stringers by Chris Panatier
Publisher: Angry Robot Books
Publication Date: April 12, 2022
Synopsis: "Where Hitchhiker's Guide to the Galaxy recommended towels, this slapstick and semisweet space opera sends its Earthlings out among the aliens armed only with a jar of pickles…Readers are in for a treat." — Publishers Weekly in a starred review

Knowledge can get you killed. Especially if you have no idea what it means.

Ben is NOT a genius, but he can spout facts about animals and wristwatches with the best of experts. He just can't explain how he knows any of it.

He also knows about the Chime. What it is or why it's important he couldn't say. But this knowledge is about to get him in a whole heap of trouble.

After he and his best friend Patton are abducted by a trash-talking, flesh-construct alien bounty hunter, Ben finds out just how much he is worth… and how dangerous he can be. Hopefully Patton and a stubborn jar of pickles will be enough to help him through. Because being able to describe the mating habits of Brazilian bark lice isn't going to save them.
Why I'm excited to read this: Panatier's 2020 debut 'The Phlebotomist' was quite a unique and great debut novel from this amazing artist. PLUS you throw Hitchhikers Guide and 'slapstick semisweet space opera' in the blurb and I am SO THERE.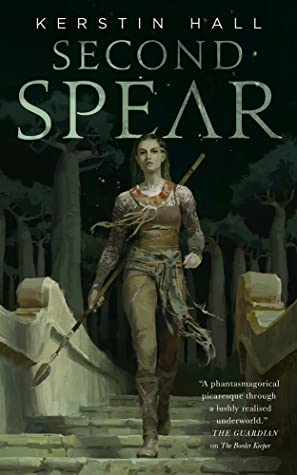 The Secon Spear (Mkalis Cycle #2) by Kerstin Hall
Publisher: Tor.com
Publication Date: May 24, 2022
Synopsis: Kerstin Hall's Second Spear is the thrilling follow-up to the Nommo Award finalist, The Border Keeper.

After surviving the schemes of a vengeful goddess and learning some shattering truths about her former life, the warrior Tyn feels estranged from her role guarding her ruler. Grappling with knowledge of her identity, she unleashes her frustrations on all the wrong people.

When an old enemy returns wielding an unstoppable, realm-crushing weapon and Tyn is swept up in the path of destruction, she must make a choice about who she is and who she wants to be.
Why I'm excited to read this: The Border Keeper was such a gem of a debut novella (240pgs) in 2019 although the cover did it no justice. I was blown away from the world that White weaved and what little still remained to be explored. I was super excited to hear she was continuing the story. If the cover adjustment is any indicator, this should up the ante a whole lot on the story and I'm excited to get back into these fantastically lush demonic underworld realms, even if it is only 272 pgs.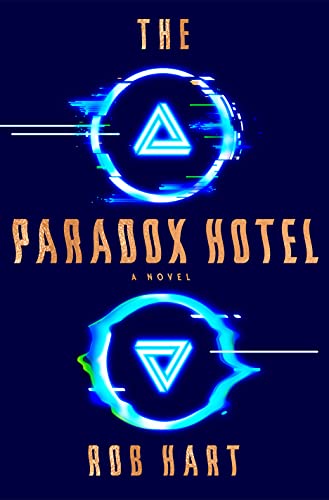 The Paradox Hotel by Rob Hart
Publisher: Ballantine Books
Publication Date: February 22, 2022
Synopsis: A locked-room murder mystery set at a hotel for time travelers—in which a detective must solve an impossible crime even as her own sanity crumbles—from the author of The Warehouse.

For someone with January Cole's background, running security at a fancy hotel shouldn't be much of a challenge.

Except the Paradox is no ordinary hotel. Here, the ultra-wealthy guests are costumed for a dozen different time periods, all anxiously waiting to catch their "flights" to the past. And proximity to the timeport makes for an interesting stay. The clocks run backwards on occasion—and, rumor has it, ghosts stroll the halls.

Now, January's job is about to get a whole lot harder. Because the U.S. government is getting ready to privatize time-travel technology—and a handful of trillionaires have just arrived to put down their bids.

Meanwhile there's a blizzard rolling in, and the timestream's acting strange. Which means nobody's leaving until further notice.

And there's a murderer on the loose.

Or at least, that's what January suspects. Except the corpse in question is one that somehow only she can see. And the accidents stalking their prestigious guests…well, the only way a killer could engineer those is by operating invisibly and in plain sight, all at once. Which is surely impossible.

There's a reason January can glimpse what others can't. But her ability is also destroying her grip on reality—and forcing her to confront secrets of her own.

Because here at the Paradox Hotel, the past is waiting around every corner.

At once a dazzlingly time-twisting murder mystery and a story about grief, memory, and what it means to—literally—come face to face with our ghosts, The Paradox Hotel is another unforgettable speculative thrill-ride from acclaimed author Rob Hart.
Why I'm excited to read this: I've read Rob Hart's prior book 'The Warehouse' and loved his take on the concepts of big tech and the 'megacorp' in a post-consumer society. This books seems to be a little more twisting and psychological and I'm HERE FOR THAT.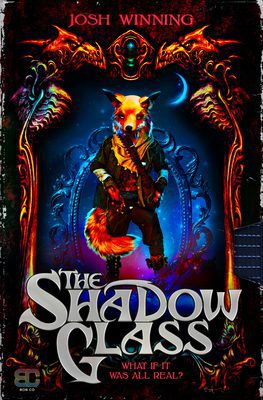 The Shadow Glass by Josh Winning
Publisher: Titan Books
Publication Date: March 22, 2022
Synopsis: A thrilling race against the clock to save the world from fantasy creatures from a cult 80s film – perfect for fans of Henson Company puppet classics like Labyrinth and The Dark Crystal, and The NeverEnding Story.

"There's a stirring sense of adventure, excitement, and terror running throughout. A treat for fans of the movies that inspired it." – Publishers Weekly

"Sometimes dark, but never heartless; gritty yet soulbaring. It stands proud with a VHS copy of its favorite movie held aloft, daring you to say it's not the greatest film ever." – Edgar Cantero, author of Meddling Kids

Jack Corman is failing at life. Jobless, jaded and facing the threat of eviction, he's also reeling from the death of his father, one-time film director Bob Corman. Back in the eighties, Bob poured his heart and soul into the creation of his 1986 puppet fantasy The Shadow Glass, but the film flopped on release and Bob was never the same again.

In the wake of Bob's death, Jack returns to his decaying childhood home, where he is confronted with the impossible — the puppet heroes from The Shadow Glass are alive, and they need his help. Tipped into a desperate quest to save the world from the more nefarious of his father's creations, Jack teams up with an excitable fanboy and a spiky studio exec to navigate the labyrinth of his father's legacy and ignite a Shadow Glass resurgence that could, finally, do Bob proud.
Why I'm excited to read this: So wait, did you just read that too. I mean look, you talk about those classic Henson puppet movies (Labryrinth, Dark Crystal) and I am ALL IN, buddy. PLUS a blurb from Edgar Cantero (I was a big fan of his 'Meddling Kids') and that's a home run.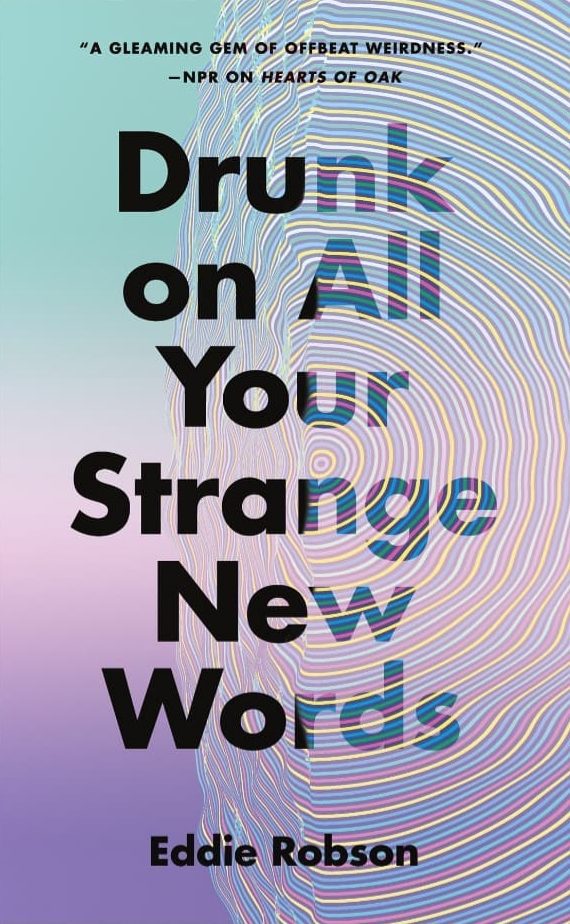 Drunk on All Your Strange New Words by Eddie Robson
Publisher: Tordotcom
Publication Date: June 28, 2022
Synopsis: Eddie Robson's Drunk on All Your Strange New Words is a locked room mystery in a near future world of politics and alien diplomacy.

Lydia works as translator for the Logi cultural attache to Earth. They work well together, even if the act of translating his thoughts into English makes her somewhat wobbly on her feet. She's not the agency's best translator, but what else is she going to do? She has no qualifications, and no discernible talent in any other field.

So when tragedy strikes, and Lydia finds herself at the center of an intergalactic incident, her future employment prospects look dire–that is, if she can keep herself out of jail!

But Lydia soon discovers that help can appear from the most unexpected source…
Why I'm excited to read this: This is a new author to me and if his previous book was hailed as a 'gem of offbeat weirdness' and this books sounds a little bonkers itself. Well, I'm sure as hell going to give it the ol college try!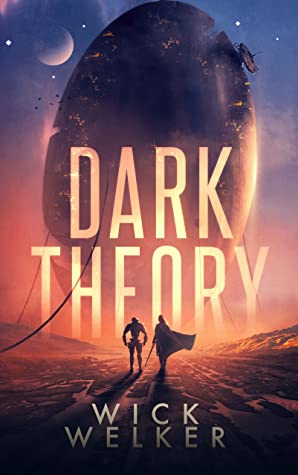 Dark Theory by Wick Welker
Publisher: Self Published
Publication Date: April 17, 2022
Synopsis: A robot yearns to remember. A thief struggles to forget. A galaxy on the verge of collapse.

On the fringe of a broken civilization, a robot awakens with no memories and only one directive: find his creator. But in the village of Korthe, Beetro finds only radioactive pestilence, famine, and Miree—a tormented thief with dreams of retiring after her final score. Meanwhile, the fiefdom is plunged further into chaos when a new warlord seizes control, recasting serfs as refugees and leaving derelict robot peasants in his wake. With a shared interest in survival, Beetro and Miree team up to pull off an impossible castle heist: steal a single flake of dark matter, the world's most valuable and mysterious ore.

But as they trek through the feudal wasteland in search of answers, they realize the true extent of the chaos surrounding them: the stars are disappearing from the sky and the entire galaxy is unraveling. As he uncovers his origin, Beetro discovers he may be the key to the salvation of the cosmos—or its destruction. Time, space, and loyalty become relative as he learns the real reason he was created.

A mind-bending science fiction epic with the bones of a fantasy traveling quest, Dark Theory unfolds through a journey of betrayal, identity, and unlikely friendships in a world of darkness set at the edge of space and time.
Why I'm excited to read this: Another new author to me, however his story 'Refraction' is a contestant in the SPSFC (and currently on my kindle) and he's been getting quite the buzz. This sounds very interesting and the cover is gorgeous. Robots, thieves, unraveling galaxies! YES please!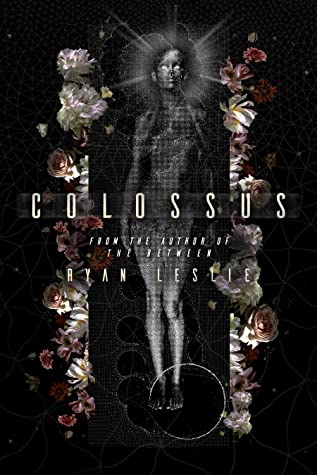 Colossus by Ryan Leslie
Publisher: Parliament House Press
Publication Date: Nov 15th, 2022
Synopsis: For fans of psychological SF novels like THE GONE WORLD and SIX WAKES…

Economics professor Clay West has always explained the world through the lens of his profession. But after his girlfriend Carla takes Dying Wish—a drug that supposedly reveals the nature of reality moments before it claims your life—Clay is devastated. None of his mathematical models can explain Carla's actions.

Distraught, Clay joins a mission into the dark emptiness of space. But when the ship begins to malfunction, Clay and the surviving crew members suspect there's more to the mission than they've been told. They've been lied to, and they're drifting into dead space.

Clay's memories of Karla haunt him even more than the ship's chaos, and there's something wrong with his memories: he has too many. The ship's Al tells Clay his false memories are a normal side-effect of hibernation, but to Clay, the memories suggest something far more insidious.

He's been on this ship before…
Why I'm excited to read this: So I've read his previous horror/text-based-horror-game homage 'The Between' and although I didn't immensely enjoy it, there was a lot of promise. I'm eager to see what he does in a sci-fi setting with the aspects of dead space and an AI ship, and false memories. Sounds very promising. I'll be keeping an eye on this author.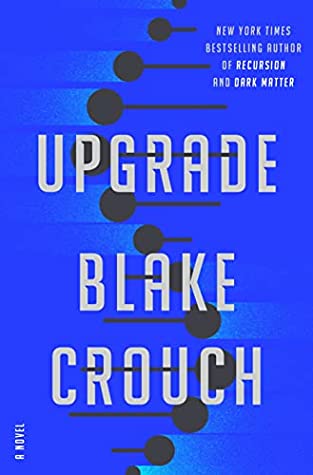 Upgrade by Blake Crouch
Publisher: Ballantine Books
Publication Date: July 19, 2022
Synopsis: Logan Ramsay is about to get the brain he always dreamed of. But will he be transformed into something more than human…or something less? The mind-blowing new thriller from the New York Times bestselling author of Dark Matter and Recursion

When the SWAT team gives the all-clear and Logan Ramsay steps into the basement, he has no idea that everything's about to change.

Then there's the hiss of aerosol. The explosion. The shrapnel that punctures his hazmat gear. Logan wakes up to find himself in a hospital bed, attended by doctors in their own hazmat suits, his wife and daughter looking on from behind the glass.

The doctors say he's been infected by a virus–one designed not to make him sick, but to modify his very genetic structure. In a world where the next-generation gene-editing tool known as Scythe is widely available–and has already reaped disastrous consequences–the possibilities are too many and terrifying to count.

Except that after the fever, the pain, the fear…the virus is gone. And according to his government bosses, Logan's got a clean bill of health.

But the truth is that with each day that passes, Logan's getting smarter. Seeing things more clearly. He's realizing that he's been upgraded in ways that go beyond even Scythe's capabilities–and that he's been given these abilities for a reason.

Because a holy grail of genetic engineering–one that could change our very definitions of humanity–has just been unearthed. And now it's up to him to stop it from falling into the wrong hands.

Logan's becoming something more. Something better. Even with the whole world hunting for him, he might be able to outthink his opponents and win the war that's coming.

But what if it's at the cost of being himself?
Why I'm excited to read this: I'm a little behind on the Blake Crouch train because I have yet to read Recursion. But, like many of you, I loved Dark Matter and I'm sure this will also knock it out of the park.
Thanks for reading everyone! Let me know which one's you're excited about.