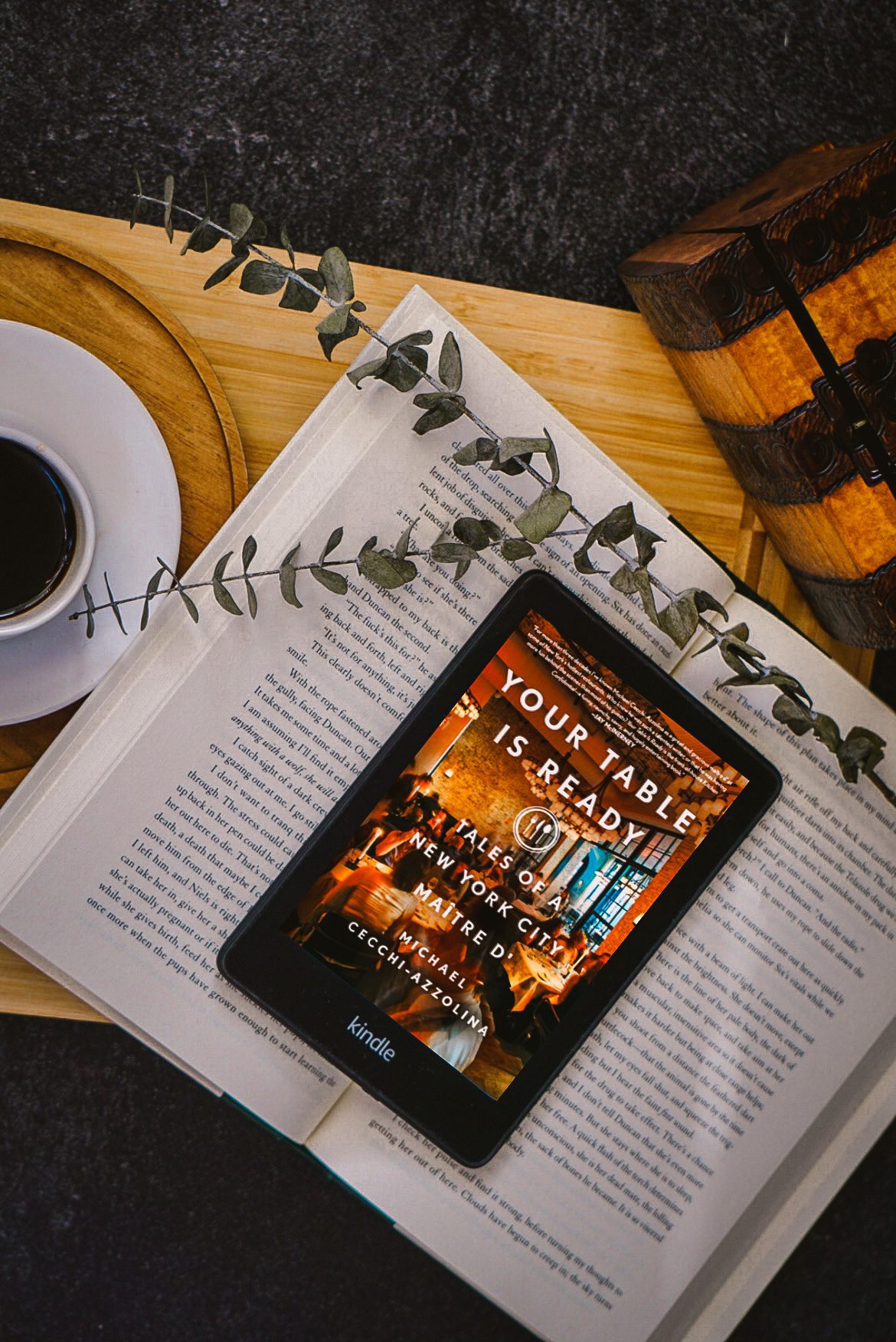 Rating: 9/10
Synopsis:
A front-of-the-house Kitchen Confidential from a career maître d'hotel who manned the front of the room in New York City's hottest and most in-demand restaurants.

From the glamorous to the entitled, from royalty to the financially ruined, everyone who wanted to be seen―or just to gawk―at the hottest restaurants in New York City came to places Michael Cecchi-Azzolina helped run. His phone number was passed around among those who wanted to curry favor, during the decades when restaurants replaced clubs and theater as, well, theater in the most visible, vibrant city in the world.

Besides dropping us back into a vanished time, Your Table Is Ready takes us places we'd never be able to get into on our own: Raoul's in Soho with its louche club vibe; Buzzy O'Keefe's casually elegant River Café (the only outer-borough establishment desirable enough to be included in this roster), from Keith McNally's Minetta Tavern to Nolita's Le Coucou, possibly the most beautiful room in New York City in 2018, with its French Country Auberge-meets-winery look and the most exquisite and enormous stands of flowers, changed every three days.

From his early career serving theater stars like Tennessee Williams and Dustin Hoffman at La Rousse right through to the last pre-pandemic-shutdown full houses at Le Coucou, Cecchi-Azzolina has seen it all. In Your Table Is Ready, he breaks down how restaurants really run (and don't), and how the economics work for owners and overworked staff alike. The professionals who gravitate to the business are a special, tougher breed, practiced in dealing with the demanding patrons and with each other, in a very distinctive ecosystem that's somewhere between a George Orwell "down and out in…." dungeon and a sleek showman's smoke-and-mirrors palace.

Your Table Is Ready is a rollicking, raunchy, revelatory memoir.
Review:
"It's an addiction, the adrenaline rush you get trying to execute all the necessary steps to serve a meal. You run your ass off and then suddenly it's over. Done. You've got through another night. Time to count the money and walk out, hopefully, happy."
I adored Your Table is Ready: Tales of a New York City Maître D' by Michael Cecchi-Azzolina. Thank you Macmillan Audio for this copy. The author narrates this and it's exactly as it should be. He has a great voice and I couldn't imagine hearing his tales in any other way.
Anyone can appreciate this book. You'll laugh and gasp at his tales. You'll learn tricks and trade secrets of the service industry and its workers. You'll hear about celebrities, gangsters, and the various rich people that frequent NYC restaurants. You'll dive into the experience of living and working in NYC during the height of the AIDS crisis. You'll even follow him to restaurants he helped build, from the ground up. All the way to the COVID pandemic and the ways restauranting has changed because of it. Cecchi has lived a lot of life. He has decades of stories pertaining to the industry.
"Except many of those I've worked with are gone. Some left the city, defeated, beaten down by the pressure of making it. Others took "real" jobs, ones with health insurance, paid vacations, and all the benefits taken for granted when you're not slinging hash in a restaurant. They left disillusioned with an industry that has historically been brutal to its workers. Left because of the stress of constantly having to be "on" every single night. Left because of the abusive customers, the long hours, never having holidays off. They left because they didn't want to keep standing for hours on end with no
breaks, waiting eight to ten hours to finally get to eat, knees and feet slowly giving out. They left because they got sick of having to deal with scurrilous and psychotic owners, belligerent cooks, chefs, and managers. It all takes its toll…

…But it's also opened the eyes of many in this industry. We've had a chance to rethink the business—who we are, what we do, what we need to do, what we want to do. So many people have refused to go back to their shitty and abusive restaurant jobs that restaurants are desperate for help."
But this book, this book specifically speaks to the soul of anyone who has worked in the service industry. This book is FOR those people, our author even says so in his dedication. Even if they haven't worked in high end places or big cities, there's a thread of unity that lives in anyone who has been in food and drink service. There's a love for this and a hatred for this industry. This book made me tear up because he touched on everything. He describes the adrenaline and the expertise it takes to get through a busy night, the abuse workers take from the general public, the drugs and alcohol that can fuel the workers, the relationships that build, the toxic way management and Chefs often treat their workers. The good, the bad, and the ugly. The moments of shining triumph. The art of food, the moment a good drink can calm an angry customer, the way extraordinary service changes a whole experience.
There's celebrity experiences that I take with a grain of salt. That's not because I discredit our author's experiences but because I know how one moment can shape your entire perception. We all have our biases and first impressions aren't always the most accurate. But damn, this was fantastic. He encompasses so many things I have felt about the industry and haven't been able to put in words. I'll forever have a passion for food, cocktails, and the culinary experience. I'll forever hope for better treatment for the workers who dedicate any portion of their life to this industry. I'll never forget the dance, the performance of being a server, a bartender, or a host.
"While I will never forget the bad, what I most remember is what I loved. There's nothing like the camaraderie of going into battle each evening with your entire team and seeing how it all unfolds. Like theater, the script rarely changes, but it's a different performance each night."