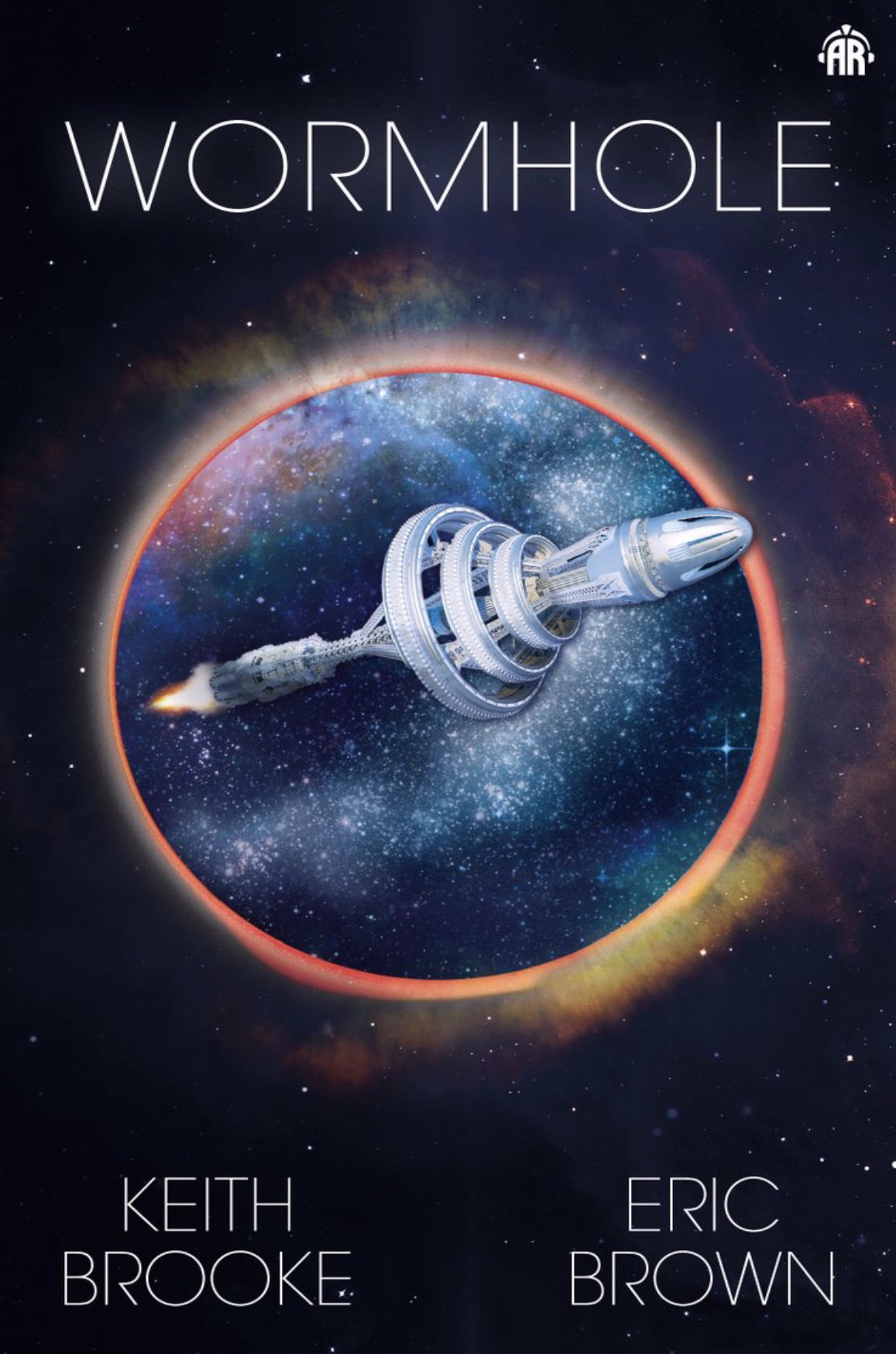 Rating: 8.5/10
Synopsis
An eighty-year-old cold case murder investigation stretches across light years, and could risk the future of humanity's new home.
Gordon Kemp is a detective working in the cold case department in London. Usually he works on cases closed ten, twenty-five years earlier. Now, however, he has been assigned a murder investigation closed, unsolved, over eighty years ago. What he unearths will change history, and threatens everything we know about what the powers that be have planned for Earth. The tragedy that befell the ship eighty years before is not what it seems, and the past and the present are radically different to what everyone on Earth believes. We made the journey. Why has it been kept a secret?
Review
Wormhole is one of the most authentic sci-fi police procedurals out there. It's a crime thriller — no doubt about it. But it also happens to be the story of first contact on an alien planet. And if that's a combination that intrigues you, then strap in for a real treat.
I love detective stories. And I love sci-fi. Putting those two things together worked brilliantly for Mulder and Scully. But Wormhole comes across as more like Agatha Christie than The X Files. Think 'Poirot in space,' and you'll get an idea of the vibe of this book. It's an old-school murder-mystery that'll appeal to fans of the more traditional breed of detective stories.
The mystery itself is compelling, playing out across worlds, and secrets are cleverly revealed in a neatly structured plot. The advanced technology of a far-future feels realistic, but also remains relatable, so it's not beyond the reader to hazard guesses as to who might be behind a murder that happened eighty years ago, and how they might have done it. This version of a future-London feels real, and fifty lightyears away, the new world where the prime suspect arrives is otherworldly and wild enough to be truly alien.
Investigating the crime is a curmudgeonly detective who'd get on well with Inspector Morse as they swapped stories over a pint of ale. He's weary, old-souled, and stuck in the cold-case department. His partner is abundantly capable, and she's the perfect ying to his yang. She's young, ambitious, driven. They make the perfect duo.
And the crime itself? The crux of the book is that a colony vessel emerges at a new world called Carrasco eighty years after it first set out from Earth. The scientists it transported are woken from stasis, but one of those scientists is believed to have murdered their husband before they departed. A wormhole is being created between Earth and this new, untouched planet. So a detective is tasked with travelling through the wormhole and bringing the scientist to justice. Although, not everything is as it seems. I mean, it wouldn't make a very good mystery if there weren't a few twists along the way, would it?
One of the book's main strengths is how the plot weaves back and forth between the colony on Carrasco and London. The two settings complement each other, and keep things flowing nicely. The way events develop on the alien world surprised me, going much deeper than I expected. The first contact elements of the story are solid, and speculative in the best kinds of ways. The ugliness of greed, the duality of human nature, humanity's relationship with actual nature, and the prejudice of assumption — all these themes get explored in surprising clarity, and that's just for starters. This is so much more than a simple whodunnit. It's more like a 'who-are-we-if we've-dunnit,' and it gives the reader much more to think about than just who the culprit might be.
Overall, this is a likeable, solid police drama that dips its toe in a speculative future before swimming deeper into alien waters. If you're in the zone for a classic detective story, but you also want a decent dose of sci-fi, then a trip through this particular Wormhole is definitely worth taking.