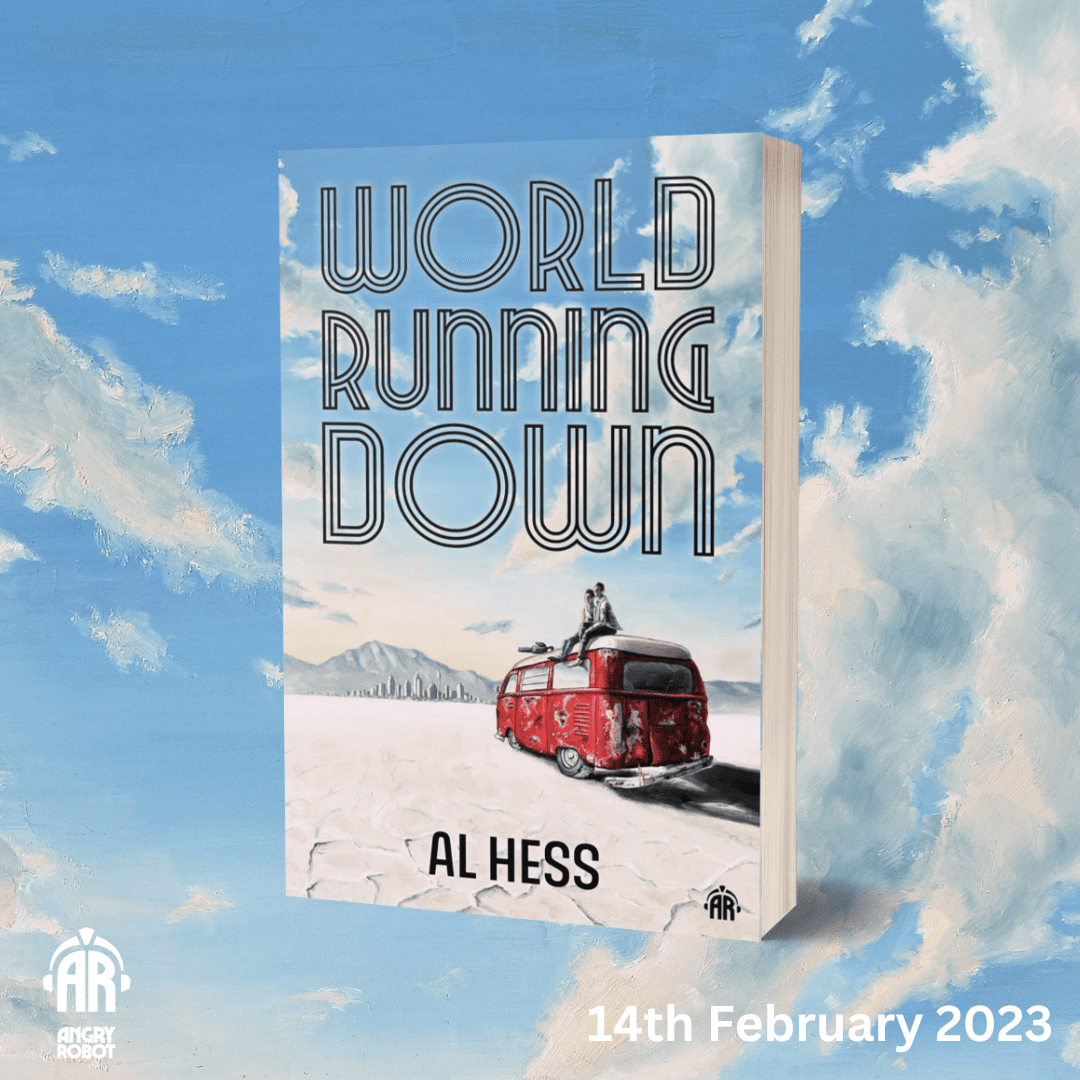 Rating: 9/10
Synopsis
Valentine and Ace are wasteland salvagers who live from job to job to get by. But Valentine, a trans man, is working his way towards earning a VISA in post-apocalyptic Salt Lake City, where citizens are afforded the testosterone prescriptions and top surgery trans people like Valentine in the wastes can only dream of.
When android Osric arrives in his new body with the promise of one last job that can get Valentine and Ace their visas, it seems almost too good to be true …
Review
A huge thank-you to the team at Angry Robot for including us in the blog tour for World Running Down.
There's just something about a sci-fi road trip, isn't there? Angry Robot knocked it out of the park with Twenty-Five to Life by R.W.W. Greene in 2021 and now World Running Down brings its own different vibe to the genre. Yes, I'm coining the sci-fi road trip as a subgenre. Fans of character-driven sci-fi will want to read this delightful novel that gives queer folk a front row seat in a battered ol' campervan.
Because here's the thing, WRD is a heartfelt story about struggling with gender and it's expertly-handled throughout the story. Al Hess' characters are beautiful people heartbreakingly trapped in the wrong bodies. Whether that's Valentine's saving for top surgery or Osric's coming to terms with being downloaded from an A.I. network into an android's body, WRD really gives a voice to a topic too many of us shy away from.
Of course, there's a character for that too. Ace, Valentine's salvage partner, is the everyday beleaguered partner who wants to understand her friend but just can't. When we join the story it's clear that the relationship between the two has broken down beyond repair but the two stick together out of loyalty. It's hard and, although she thinks she means well, Ace often causes more harm than good with her words and actions. This makes reading tough as I'm sure any cis-gendered person has failed to understand how their words and actions impact their trans brothers, sisters, and siblings. It made me think, and that's something great books do.
I won't plot spoil but a key element of the book's plot is Osric discovering his new body. Osric is part of a sentient A.I. collective that runs Salt Lake City. Having been illegally downloaded into the body of an android, Osric feels new sensations and experiences the world in new ways. Hess' sentient A.I. are deftly done and I found myself seriously championing Osric's (and his fellow androids') right to autonomy over his own body. Does he go back to the safety of the collective that he's always known or does he continue into this new world? It's a nice touch.
What I loved so much about this book was the often awkward and frequently bumbling relationship between Valentine and Osric. Boundaries are respected but I just wanted them to smoosh as much as they wanted to smoosh each other. I can't remember a time I was so invested in two characters getting together. Their platonic and playful flirting, the brushed touches, the "WILL YOU JUST KISS ALREADY!" shout-out-loud moments (sorry, family) were so satisfyingly written.
There's a huge amount of love in this book. WRD was meant to be a palette cleanser for me in the all-you-can-eat buffet of space opera sci-fi out there at the moment but it shone as a wonderful book in its own right.
A Scavenger, a Rogue A.I., And a Static Gat
The world has already run down and the rich have fled the dying planet on their colony ships but it's ok. It's ok because Valentine and Osric rode around in a battered ol' campervan with its static gatling gun – yes there are some extra-crispy moments involving the static gat – and reminded us that everyone deserves to be in the body they belong in. Thank you for giving queer people a safe sci-fi space, Al. Even if part of it is a town called "Dog Teats".