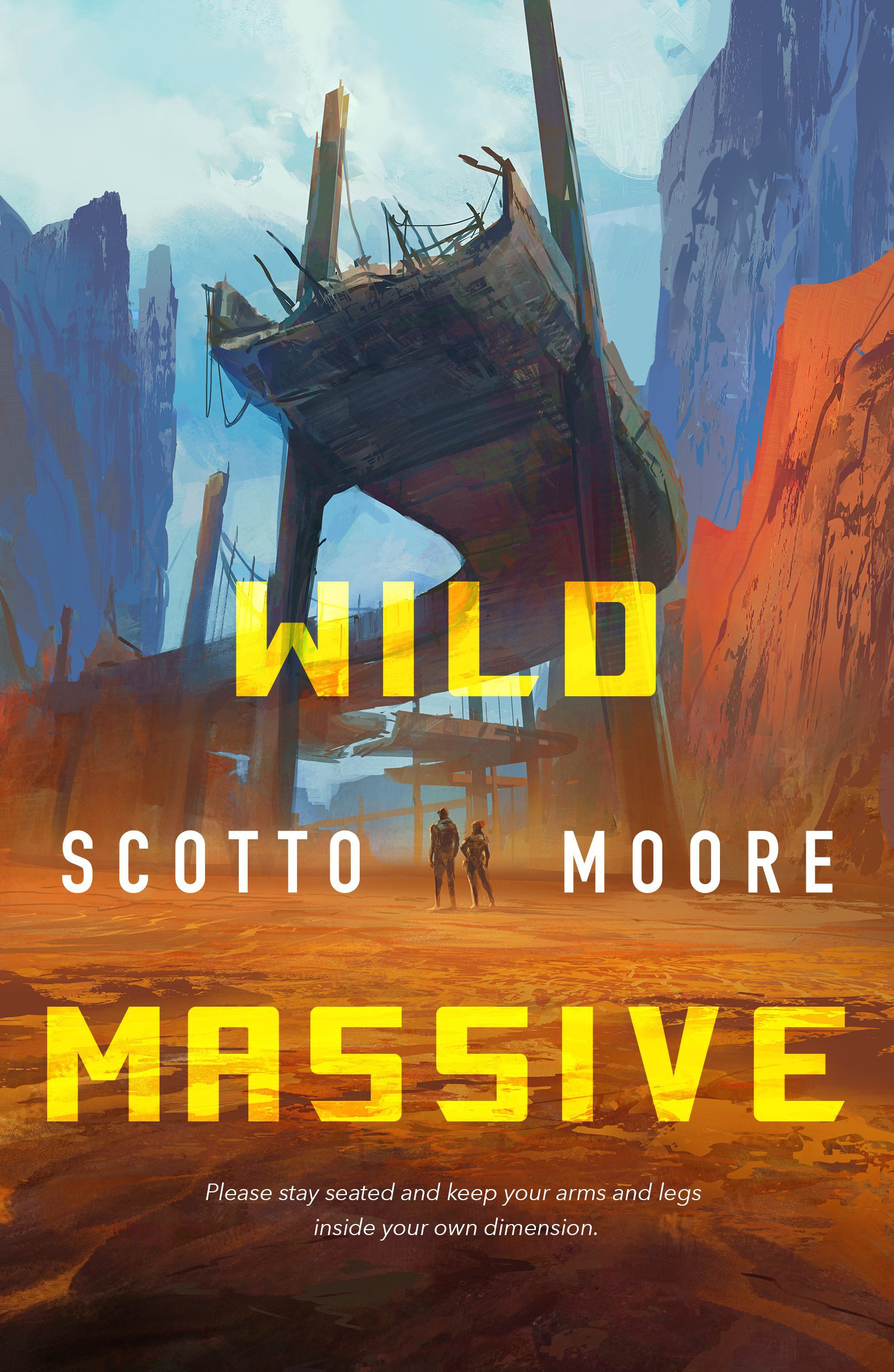 Rating: 7.5/10
Summary:
Scotto Moore's Wild Massive is a glorious web of lies, secrets, and humor in a breakneck, nitrous-boosted saga of the small rejecting the will of the mighty.
When the Architects of the Multiverse were in their infancy and the cosmos was but a seed in the minds of gods, they called together their Artists and their Muses to construct The Building. A grand experiment in trial and error, The Building would serve as a safe space for the experimental crafting of worlds, honing their skills with each successive attempt—wars, and civilizations recorded in spreadsheets for later analysis.
Carissa loves her elevator. Up and Down she goes, content with the sometimes chewy food her reality fabricator spits out, as long as it means she doesn't have to speak to another living person.
But when a mysterious shapeshifter from an ambiguous world lands on top of her elevator, intent on stopping a plot to annihilate hundreds of floors, Carissa finds herself stepping out of her elevator—and her comfort zone—risking her life and the secrets of her past in order to preserve the future.
Because if not her, then who?
Wild Massive: The #1 destination for interdimensional war.
Rate us on VacationAdvisor(TM)!
Details:
Genre: Science Fiction
Publisher: Tordotcom
Pages: 498
Audio: 16 hrs and 31 mins
Publisher: Recorded Books
Narrated by: Suzy Jackson
Review:
Scotto Moore has become a narrative force. He first was on my radar from his music-blogger based horror novella Your Favorite Band Cannot Save You which struck a strong chord with me as a former music blogger myself. So I was a bit taken aback with the experience of reading his prior release Battle of the Linguist Mages which was a crazy glitter-punk-MMORPG slash world-ending-interdimensional-apocalyspe story. The way he consistently twists and turns the narrative is equal parts disorienting and compelling and Wild Massive is no different.
The sections of the book are broken into 'Seasons' and the chapters into 'Episodes' (fun-fact, author Scotto Moore spent many years as a playwright prior to writing) so you'll see the story from multiple perspectives and storylines, and things move fast.
Our crew of characters include the 'Building' first of all. Carissa, who is an elevator dwelling loner-telepath searching for her long lost brother. Rindasay, a shape shifing Shai-Manak sorcerer. The Association, who maintain parts of the Building and are enemies to the Shai-Manak, and a team of narrative designers for a fictional hit-tv series called Storm and Desire.
The books opens as Carissa befriends Rindasay – a defector who wants to meet with the Association. We travel through the eponymous Wild Massive amusement park and learn about the elevators and the 'cloudlets' that operate them. What evolves as the book progresses are threats of war and unrest amongst the people of the building.
What transpires is difficult to put in any simple terms. This story will challenge the readers to grapple with the constant flow of shifting narratives and expansive settings while also sprinkling you with rewarding dialog, action, and enjoyable characters.
It's all quite fitting as the story feels like it's been plucked from the grounds of some trans-dimensional mega-amusement park. You enter a mysterious never-ending building, buckle in, and while you're content speeding through the twist and turns filled with glee when suddenly the bottom drops out from under you, you've gained someone else's despairing memories, and the person sitting next to you is now an amorphous shapeshifting winged android with a bomb inside it.
In the words of famous spacetime explorer Nicholas Solitude: "Life is wasted if you always know what happens next."
Wild Massive is an outlandish inter-dimensional sci-fi fever dream and lives up to it's title in every way and sure to be unlike anything you've read before.