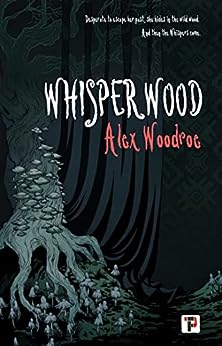 Rating: 9/10
If you go down to the woods today… you're in for a fairly terminal surprise
Synopsis
When curious nomad Anna hears about Whisperwood, a town that's not on any maps, that nobody goes to, and nobody comes from, she sees an opportunity to hide from her violent witch-hunting ex.
But not everything is peaceful in the isolated community. A vanishing town, a gruesome funeral rite, an emergency field surgery—these surprises and more test Anna's resolve.
Prevented from leaving the frontier settlement by folk magic she doesn't understand, Anna lends helping hands everywhere she can, but quickly finds that investigating the forest too closely could end up being the last thing she does.
Review
Some books should be described as little as possible, so as not to spoil the wild wonders within. So it is with Whisperwood by Alex Woodroe, a blend of dark fairytale, Grimm folklore (Grimm/Grim in both senses of the word), Romanian folklore and A Midsummer Night's Dream, but ultimately something completely new and fresh, which takes you in constantly unexpected directions like a corkscrew rollercoaster.
I'll do my best, then, to not give anything away but if I fail, dear reader, know that my ultimate sin was enthusiasm.
So what can we say? Anna, fleeing from an abusive ex, arrives at a strange medieval town in the woods, hoping for a new start. Once she's there, she finds she can't leave. And there are things in the woods, things that the whole structure of the town is build towards understanding and staying safe from.
There… I think that's it. It's a gloriously mysterious start, and much of the opening chapters are based around the reader's desperate desire to find out what is in those woods. Vague descriptions of things and phenomena are bandied around, and Woodroe builds this to fever pitch, until eventually I began paraphrasing the famous Brad Pitt scream at the end of the film Seven: "What's in the woods? What's in the woods??!!"
When we do get clues or insights into the horrors that lie within the woods, you're left with the sense of Stephen King's The Mist: lovecraftian things, unknowable. Woodroe doubles down on the gore at times, especially in one memorable early encounter, and it's beautiful to see, used sparingly but nauseously. But Woodroe also builds a surreal element into this as well, so we're not just talking about potential monsters but entire physical planes of existence that defy the laws of time and…. Oh, there I go again. Almost spoiling things.
While we're waiting for our true journey into the woods, the great thrill of this book is the town itself. This is a place where the citizens have spent decades trying to gain knowledge about the woods, and the town has an intriguing structure built around this. Anna is thrown into old grudges and rivals and the classic tale of the new kids versus the old guard, and there is almost that sense of a revolution on the cusp, which creates a nice juicy thematic vibe of "what's worse, the people or the monsters outside?"
Another thing that demonstrates the originality of this book is how Woodroe subverts the standard horror convention of "here's a big infodump about the monsters we're facing". The fact is, we get A LOT of information about the woods – careless readers will need to keep up – but the genius twist to this is that a lot of it is… unreliable at best, because ultimately the town don't really know what they're dealing with. They are so out of their depth they may as well be in the Mariana Trench, even though they are swimming in so-called knowledge. This gives the town sections an intriguing sense of unreliability, of constantly doubting what we're told. It's a clever twist on the standard horror narrative.
But when, finally, we get access to those woods… Woodroe loves her gruesome, and gruesome you get, but you also get a strange sense of the surreal, the magical, the folklore-esque. My knowledge of Romanian folklore is shamefully limited, but even I got a strong sense of the influences she's pulling from here. I mentioned both The Mist and A Midsummer Night's Dream earlier, which might seem like strange bedfellows, but trust me, this is the best way to describe these unique, surrealist sections. Chilling gore and horror goes alongside… well it's best you find out yourself.
Then there are the final sections, when woods and town finally combine, which take the reader on one final corkscrew turn of the narrative. What Woodroe does with this may not please everyone, but for me it was absolutely fascinating and, in a strange way, gloriously triumphant.
The final thing to say is on the characters themselves. While they take a while to become vivid, by the end the small cast of Anna's friends become fully fleshed out, and Woodroe makes sure to insert some poignant character development in between the woods mayhem. My favourite character arc was that of gruff, roguish but likeable blacksmith Rares, who goes on… quite the journey, but everyone faces their own demons in one sense or another and I felt for all of them. Anna herself is a fascinating character, simultaneously brave and haunted… her terrible past is not revealed for a long time, but it's worth the wait, and the conclusion to her story feels hard-earned and satisfying.  
Overall, Whisperwood is audaciously, chillingly original, and gives you that rare feeling as a reader of being in genuinely uncharted territory… debuts don't come much creepier or creative than this.