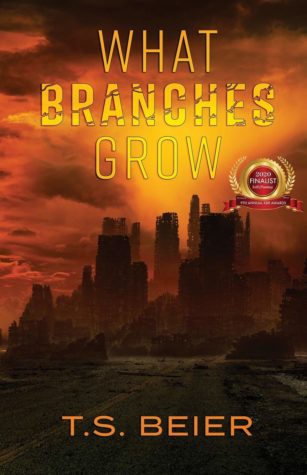 Rating: 5/10
What Branches Grow is one of the SPSFC semi-finalists and was assigned to FanFiAddict in the semi-finals.
Synopsis:
A boldly imagined, exhilarating quest through post-apocalyptic America, where human nature is torn between the violent desperation to survive and the desire to forge connection.
Thirty-five years ago, the world was ravaged by war. Delia, driven from her home in Savannah by loss, travels North in search of a future. Gennero is tortured by his violent past and devotion to his hometown. Ordered to apprehend Delia, he follows her into the post-apocalyptic landscape. The wasteland is rife with dangers for those seeking to traverse it: homicidal raiders, dictatorial leaders, mutated humans, and increasingly violent and hungry wildlife.
What Branches Grow is an unflinching depiction of life after civilization, where, above all else, trust is the hardest thing to achieve and to give. The survivors have an audacious dream of a better life, but their quest may end up being a fruitless endeavour in a world openly hostile to hope.
Review:
This is my own personal review and does not reflect the views of my team mates.
I enjoyed What Branches Grow, I love a post-apocalyptic novel so this sounded right up my street.
This is very much the story of a journey. Early on Delia and Gennero meet and Gennero ends up following Delia into the wastelands. Somewhere along that journey he decides he doesn't want to return to the town he lived in, and instead befriends her and joins her on her quest to reach a mythical city that isn't ravaged by the wastes. I enjoyed all of the nods to other post-apocalyptic worlds.
I particularly enjoyed the pug that joins them part way through the journey. Something about an animal companion in the book is always fun and this is no different. We see our ragtag group meet new friends, travel across barren wastelands and meet the types of characters you expect in this type of world. It's Fallout meets Mad Max in some respects and they're both franchises that really work, so What Branches Grow uses that springboard to create another interesting story in this type of world.
This is an easy read and book to follow. It didn't quite make me desperate to read a sequel and it doesn't quite manage to stand out against other post-apocalyptic books. But, if you're a fan of this genre it is worth picking up for the characters you meet along the way.