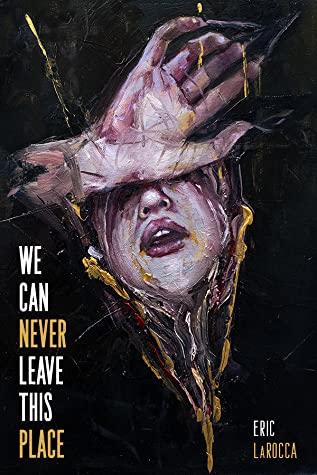 Rating: 8.5/10
Synopsis
"When you're given a gift, something else gets taken away."
A precocious young girl with an unusual imagination is sent on an odyssey into the depths of depravity. After her father dies violently, young Mara is surprised to find her mother welcoming a new guest into their home, claiming that he will protect them from the world of devastation and destruction outside their door.
A grotesque and thrilling dark fantasy, We Can Never Leave This Place is a harrowing portrait of inherited grief and familial trauma.
Review
Thanks to the author for an advance reading copy of We Can Never Leave This Place for review consideration. This did not influence my thoughts or opinions.
Stunningly beautiful in its execution and one of the most bizarre stories I've ever read, We Can Never Leave This Place is another fine example of LaRocca's rise on the horror scene.
Things Have Gotten Worse Since We Last spoke flooded Bookstagram, BookTok, and a vast majority of bookshelves and e-Readers last year as one of the most intriguing and uncomfortable novellas to be released in 2021. LaRocca's knack for investing the reader in his dark and poetic prose, mixed with the utter shock and awe of the storytelling, really carved out a spot among some of the most horrifically beautiful writers out there.
We Can Never Leave This place actually gives THGWSWLS a run for its money in not only its styling, but the utter bizarreness it oozes onto every page. Much like its predecessor, it makes you believe you are getting one thing and spins the web of deceit as you become further entranced in the story. I also believe LaRocca's prose ramped up several notches in this newest piece, which I find baffling because it was already stunning.
One thing I can definitely guarantee is that you will not be unmoved by this story. Whether you become emotionally beaten and worn out by Mara's narrative, or the weird turns the story takes make you feel as much discomfort as possible, it is one you won't find easy to put down and forget about.
LaRocca should be on every horror reader's shelf, period. I see great things in the future from him and I cannot wait for what comes next, especially because I already know that I have NO idea what to expect.