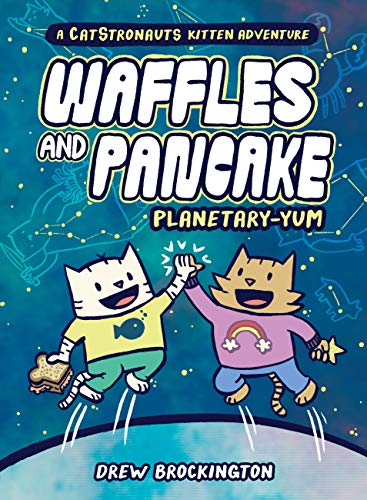 Rating: 8.0/10
Synopsis
Inspired by his beloved CatStronauts series, Drew Brockington is going back in time to when everyone's favorite Catstronaut, Waffles, was a kitten! Fans of Narwhal and Jelly and Elephant & Piggie will love this fun, cat-tastic early graphic novel series.
One very special Saturday, Dad-Cat decides to take Waffles and his sister Pancake to the big city to go to the science museum! While they're there, the kittens see extraordinary things, like dino-cats, hairballs in 4D, and even the planetarium. But as the kittens learn about constellations and Neil Pawstrong, they get separated from Dad-Cat. Oh no!
Will the kittens be able to find their (possibly invisible) Dad-Cat? Or will they get stuck living in the museum and eating star tots and tuna melts fur-ever?! This early graphic novel series is chock-full of educational facts about space—perfect for young readers.
Review
I haven't had the chance to read any of the previous entries in Brockington's CatStronaut series, but I don't feel it necessary to enjoy this adventure.
The author goes back in time to when his main character, Waffles, was a kitten. He and his sister, Pancake, are taken to the science museum by their Dad-Cat, where they learn about all sorts of things like constellations, dino-cats, and how furballs are made (and how they are expelled – uhh, gross). But it is all fun, games, and star tots until the three of them get separated. Will they be able to find Dad-Cat before they are stuck living in the museum FUR-EVER?!?!?
This really is an adorable little read. The grade level is 1-4, but if your child is already reading at a pretty decent clip before age 5-6, I don't see why they couldn't pick this one up and enjoy it. The pictures are fun and engaging, and I'm sure your kiddos will be laughing hysterically throughout.
This may also be the first time I have seen this type of representation of kids with divorced parents before. Not surprising as I haven't read a ton of fiction for this age-range, but it's great to see and definitely necessary in today's world.