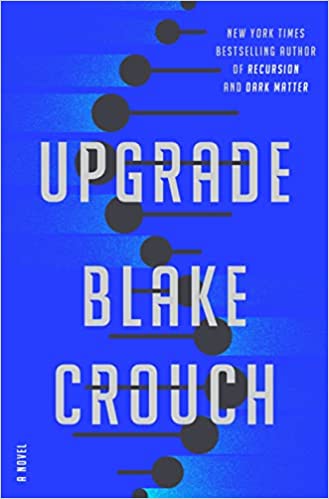 Rating: 9.5/10
Synopsis
An ordinary man undergoes a startling transformation—and fears that all of humanity may be next—in the mindblowing new thriller from the New York Times bestselling author of Dark Matter and Recursion
"You are the next step in human evolution."

At first, Logan Ramsay isn't sure if anything's different. He just feels a little . . . sharper. Better able to concentrate. Better at multitasking. Reading a bit faster, memorizing better, needing less sleep.
But before long, he can't deny it: Something's happening to his brain. To his body. He's starting to see the world, and those around him—even those he loves most—in whole new ways.
The truth is, Logan's genome has been hacked. And there's a reason he's been targeted for this upgrade. A reason that goes back decades to the darkest part of his past, and a horrific family legacy.
Worse still, what's happening to him is just the first step in a much larger plan, one that will inflict the same changes on humanity at large—at a terrifying cost.
Because of his new abilities, Logan's the one person in the world capable of stopping what's been set in motion. But to have a chance at winning this war, he'll have to become something other than himself. Maybe even something other than human.
And even as he's fighting, he can't help wondering: what if humanity's only hope
for a future really does lie in engineering our own evolution?
Intimate in scale yet epic in scope, Upgrade is an intricately plotted, lightning-fast tale that charts one man's thrilling transformation, even as it asks us to ponder the limits of our humanity—and our boundless potential.
Review
Thanks to the publisher for an advance reading copy of Upgrade for review consideration. This does not influence my thoughts or opinions.
Upgrade is unputdownable; an engrossing techno-thriller that is Limitless on steroids with a heart-racing, pulse-pounding race to the finish. If Andy Weir is the go-to for mind-blowing science thrillers set in space, Crouch has raised the bar for those set domestically.
Recursion was my top read of 2019, and for good reason. It was a mind-blowing experience, to say the least, and has been / still is one of the best books I've ever read. I say that because Crouch has been one of my go-to authors for some time now and I am always waiting to see what he comes up with next, whether that is to simply enjoy another one of his release or to see if he can somehow top his previous.
While Upgrade doesn't surpass the utter brilliance I found in Recursion, it stands on its own as a phenomenal thriller with hard science and thrilling action. There are times where bits and pieces will fly completely over the average readers' heads, but the storyline itself is so captivating that you won't have to muddle through the details to understand what is going on. It is a fairly clear-cut path from beginning to end, but that doesn't mean Crouch hasn't taken the time to carefully craft plenty of twists, turns and explosive realizations throughout.
The story itself is fantastic, but what kept me going was the emotional connection I had with the main character, Logan. Since having a daughter, the ties that bind me to parents in books is so strong and if I can meet that character on some emotional level, I'm down for the count. I can't imagine at all what he is going through as a character, but, like… I get it. Once you become a parent, you will do whatever it takes to keep your kid safe and see that they have the best future possible.
I believe that is why the ending hit me so hard as well. The epilogue, and even Crouch's acknowledgements, were like a punch to the gut. Talk about plausibility all you want with regard to the plot, but the fact of the matter is, the issues he brings up throughout are definitely things we fail to address on all sorts of levels and it made me a bit of an emotional mess by the turn of the final page.
This will definitely find its way into my top reads of 2022 (I know, it is still soo early) as I can't imagine twenty-five (25) other books will be able to completely engross me like Upgrade did. Even if you've never read Crouch's books (which I HIGHLY recommend you fix post-haste), this should be THE summer thriller on your wishlist.