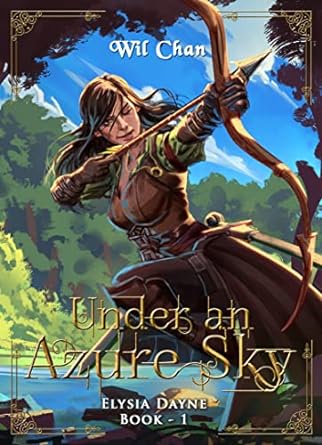 Rating: 9.0/10
Synopsis:
Elysia Dayne is a renowned hero, mercenary, and monster slayer famed for killing a dragon in single combat. At least, that's how the bards tell it. However, there was a time when she thought that dragons were beautiful.

The jaded sword master accepts a job along the unforgiving borderlands to rescue Princess Isabella Solemaine, a prisoner of goblins in the Black Fort. With meticulous planning, nothing can possibly go wrong…

It goes wrong, pitching the pair into a sprawling wilderness. Short of supplies, they have to fend for themselves and each other. Can love blossom under such harsh conditions?

Meanwhile, a group of Niemirian raiders led by their psychotic leader, Varya, are dedicated to hunting down and killing the princess and her protector.

Join Elysia as she traverses an ugly yet beautiful world, exploring the nature of the human condition. The precarious nature of her present is finely balanced, interwoven with a past timeline where a young Elysia faces dangers of a different kind.

What is she ultimately willing to sacrifice? An emotional journey fraught with action, and suspense.
Review:
I received a free copy of this book in exchange for an honest review.
There was so much to like about this book. The characters, the prose, the world… I'm not sure I can capture all of my thoughts in a review, but I'll do my best.
The main character is a twenty-something hero, known best for slaying dragons, though she's defeated other monsters as well (some human, some not.) Elysia is strong, knows how to survive in the dangerous wilderness of her world, and a skilled warrior. Yet she's haunted by the events of her past and bound by promises she's made. One thing Elysia Dayne always does is keep her promises—no matter the cost.
Then there's the young princess, Isabella. I initially didn't like her; she came across as arrogant and entitled, a damsel in distress. But as the story progressed and she dropped her court persona, she became a really great character. She was willing to do whatever was necessary to survive in the wilderness and began to contribute around camp. She was not the stereotypical fairy tale princess, though it took a while for her to grow on me.
The story jumps around between present and past quite frequently. I appreciated that the author included a key at the beginning of the book explaining the significance of the image in each chapter's heading, as it immediately told me when the chapter was set in the timeline. Without that, I think it would have been a little confusing.
Elysia's world is rich and full of interesting people and creatures. Every kingdom/country is unique, with its own culture, beliefs, and politics. There are goblins, dragons, lithers (primordial and dangerous creatures), raiders, and more. With so much potential danger in the world, it's no surprise when Elysia winds up in a number of battles and confrontations. I thought the fight scenes were done really well.
But what made this book even better was the prose. It was descriptive and elegant, without getting bogged down by the details.
Overall, this was an excellent read.