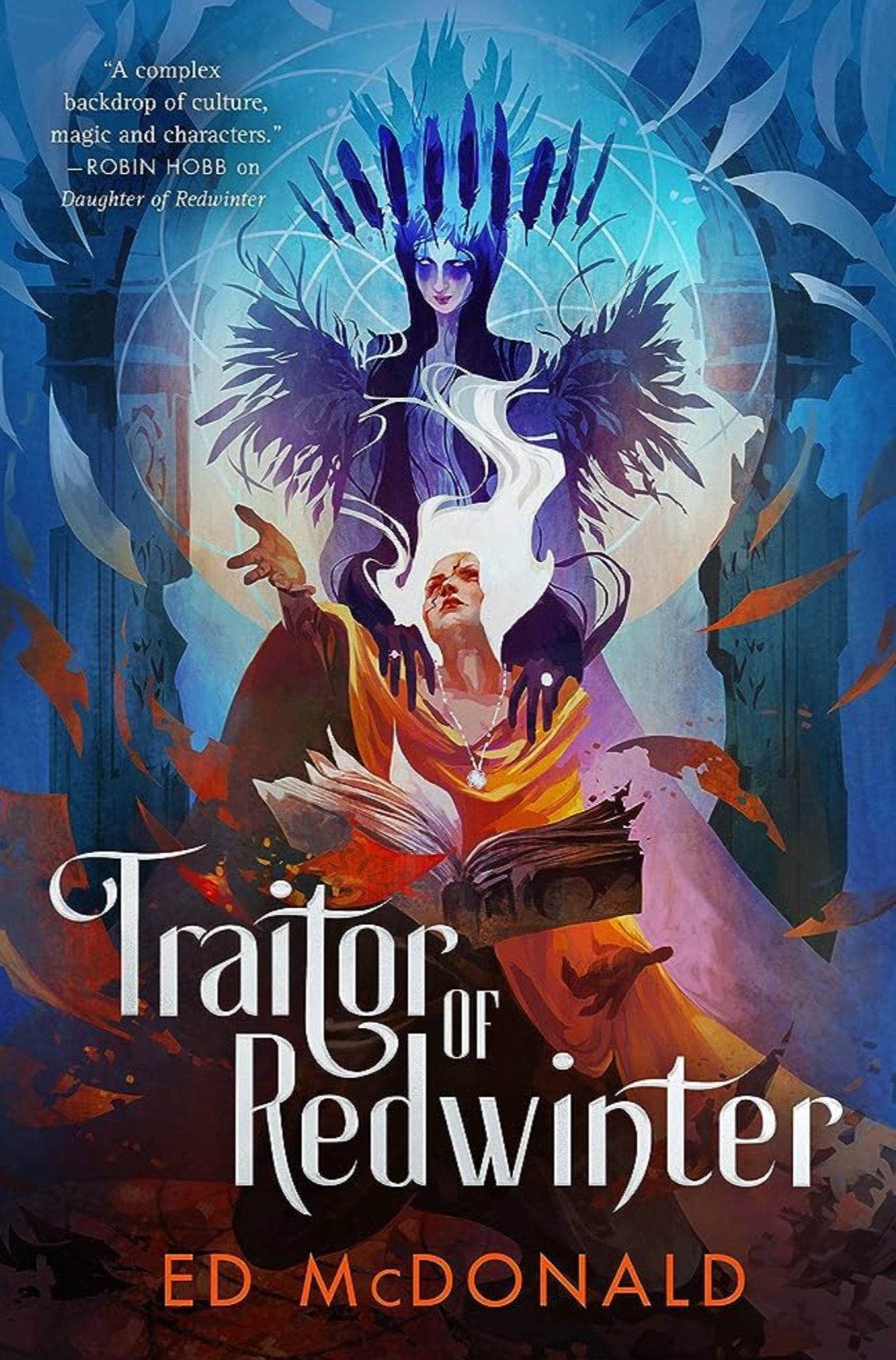 Rating: 10/10
Synopsis
Traitor of Redwinter is the second in Ed McDonald's Redwinter Chronicles, full of shady politics, militant monks, ancient powers… and a young woman navigating a world in which no one is quite what they seem.
The power of the Sixth Gate grows stronger within Raine each day―to control it, she needs lessons no living Draoihn can teach her. Her fledgling friendships are tested to a breaking point as she tries to face what she has become, and her master Ulovar is struck by a mysterious sickness that slowly saps the vitality from his body, leaving Raine to face her growing darkness alone. There's only one chance to turn the tide of power surging within her―to learn the secrets the Draoihn themselves purged from the world.
The book can teach her. She doesn't know where she found it, or when exactly, but its ever changing pages whisper power that has lain untouched for centuries.
As the king's health fails and the north suffers in the grip of famine, rebellious lords hunger for the power of the Crown, backed by powers that would see the Crowns undone. Amidst this growing threat, Raine's former friend Ovitus brings a powerful new alliance, raising his status and power of his own. He professes support for the heir to the throne even as others would see him take it for himself, and desperately craves Raine's forgiveness―or her submission.
But the grandmaster has her own plans for Raine, and the deadly training she has been given has not been conducted carelessly. In Raine she seeks to craft a weapon to launch right into her enemy's heart, as Redwinter seeks to hold onto power.
Amidst threats old and new, Raine must learn the secrets promised by the book, magic promised by a queen with a crown of feathers. A queen to whom Raine has promised more than she can afford to give…
Review
Wow, you know when one of those series comes along and just transcends you and takes to another world with its exquisite storytelling and beautiful flowing writing that you just can't get enough of. Well, this is just that series The Redwinter Chronicles.
Traitor of Redwinter is the second instalment of The Redwinter Chronicles, and damn does Ed McDonald deliver time and time again with his craft of weaving amazing stories.
The first book, Daughter Of Redwinter, was fantastic, but this was better as the main protagonist, Raine, continues to grow and establish herself as a powerful Draoihn (mage) from lowly highland girl.
Ed McDonald continues his superior world-building skills and its beautiful dark setting in this epic sequel that keeps you mesmerised with its wonderful prose, and twists and turns will keep you turning the pages late into the night.
The characters are excellently constructed with great depth to their personalities. You can not help but get drawn into their dark world where magic and the crown rule with an iron fist.
Raine has a terrible secret. She can summon and see souls of dead, a death sentence if found out, and her sixth gate is growing stronger as she continues her apprenticeship to be come a Draoihn.
Everyone wants a piece of Raine amidst threats ancient old foes and new treats from with in Redwinter, Raine must find her path, weaving her way between friendships, a very powerful mentor, and her dark secrets.
There's a traitor in her mist's, and with a clan leader looking to usurp the crown, war is coming to Redwinter, and hell is following in its wake. Very powerful players are coming, and Raine and her friends best be ready when it does.
A truly wonderful and epic read, that ending has just left me on tender hooks. I can't wait for book three. If you love dark magical worlds, then check out The Redwinter Chronicles. I very highly recommended….😁🖤☠️💀⚡️🔥