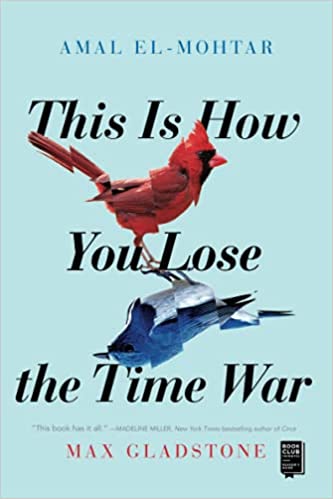 Rating: 10/10
Synopsis:
Among the ashes of a dying world, an agent of the Commandant finds a letter. It reads: Burn before reading. Thus begins an unlikely correspondence between two rival agents hellbent on securing the best possible future for their warring factions. Now, what began as a taunt, a battlefield boast, grows into something more. Something epic. Something romantic. Something that could change the past and the future.
Except the discovery of their bond would mean death for each of them. There's still a war going on, after all. And someone has to win that war.
Review:
"Tell me something true, or tell me nothing at all."
This Is How You Lose the Time War by Amal El-Mohtar and Max Gladstone – a Hugo, Nebula, and Locus award winner – is one of my favorite reads of 2021. I was thrilled when my sister gifted me this for Christmas last year. I held off on reading it until I was on maternity leave in February and I'm so glad that I didn't wait longer. I loved it so much that I just finished an audiobook re-read this month, which is narrated by Cynthia Farrell and Emily Woo Zeller.
From the first page, I could immediately tell that This Is How You Lose the Time War was unlike anything I've read before. It's sharply different. The writing style is reminiscent of literary fiction yet rooted in science fiction and time travel, and filled with a budding sapphic romance. The writing immediately captured my attention. The poetic nature of the prose forces you to slow down to digest the depth of each line, of every unspoken word, of the burning hunger and yearning between the two characters.
"I have built a you within me, or you have. I wonder what of me there is in you."
There are not many characters. The story comes together through alternating povs of the two main characters, Red and Blue – both rival agents on opposite sides of a war on time and space. They essentially follow each other through the strands of time in a cat and mouse chase, trying to alter events in multiple universes for a grander purpose. What one side alters, the other side tries to untangle.
The novella is written using a combination of expository text and letter correspondences between Red and Blue that moves the story through time. We do not learn much about each sides existence except for little pieces of information fed to us through Red and Blue. Red's side is more technological based and Blue's side, known as Garden, is environmentally based. The queer representation is beautifully done. The concept of the war was interesting and I wanted to learn more on the history and technical side of things. Although I wanted to learn more about the workings of the strands of time and the backstory of the war, I think the amount of information given to the reader worked in the novellas favor because just enough is revealed to keep us invested while allowing for some mystery to still be present.
"There's a kind of time travel in letters, isn't there?"
This Is How You Lose The Time War is a captivating story that moves quickly. I found myself faced with a daunting task that I am sure many of us have faced before. How could I possibly articulate how this book made me feel when the words would mimic our two protagonists – appearing in and out of existence. There one minute and gone the next, leaving nothing but a trace of its memory.
The feeling is indescribable, visceral, profound. I want to cry out to the world how much I loved this story but the words are fleeting. El-Mohtar and Gladstone were in complete control of this story. Their writing firmly placed you inside the story, and created a feeling of a warm and inviting embrace. There was a sense of being seen for who you are and loved in light of everything. It was that feeling of home and finding yourself rooted inside someones soul. Every time I open the book, I am still met with those feelings that I had the first time. Another collaboration between El-Mohtar and Gladstone would be incredible.