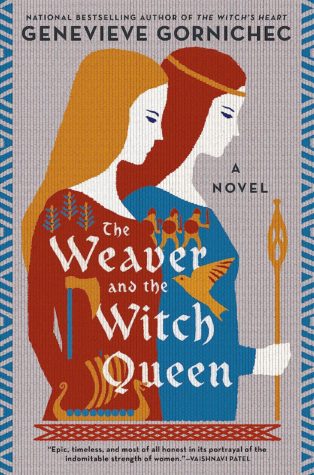 Rating: 10/10
Synopsis:
The lives of two women—one desperate only to save her missing sister, the other a witch destined to become queen of Norway—intertwine in this spellbinding, powerful novel of Viking Age history and myth from the acclaimed author of The Witch's Heart.

Oddny and Gunnhild meet as children in tenth century Norway, and they could not be more different: Oddny hopes for a quiet life, while Gunnhild burns for power and longs to escape her cruel mother. But after a visiting wisewoman makes an ominous prophecy that involves Oddny, her sister Signy, and Gunnhild, the three girls take a blood oath to help one another always.

When Oddny's farm is destroyed and Signy is kidnapped by Viking raiders, Oddny is set adrift from the life she imagined—but she's determined to save her sister no matter the cost, even as she finds herself irresistibly drawn to one of the raiders who participated in the attack. And in the far north, Gunnhild, who fled her home years ago to learn the ways of a witch, is surprised to find her destiny seems to be linked with that of the formidable King Eirik, heir apparent to the ruler of all Norway.

But the bonds—both enchanted and emotional—that hold the two women together are strong, and when they find their way back to each other, these bonds will be tested in ways they never could have foreseen in this deeply moving novel of magic, history, and sworn sisterhood.
Review:
"One of you clouds the futures of the others. For better or worse, your fates are intertwined." Her features contorted again, this time in fear and confusion. "I dare not say more."
This was absolutely stunning. If you have followed me on any of my book review outlets in the last few years, you have likely heard me rave about The Witch's Heart by Genevieve Gornichec. It's one of my all-time favorite books.
I will admit, I was nervous about picking up The Weaver and the Witch Queen. Would Gornichec's writing pluck at the same chords in my heart that TWH did? Would I be as captivated? Well, my friends, I had nothing to worry about because Gornichec's talent knows no bounds.
Similarly to how I declared that I had no doubt that Gornichec's account of Angrboda's life would become the ultimate reference, I believe that this novel will become the same in regard to Gunnhild. This author knows how to write underrated historical or mythological women and bring them to the forefront. These aren't just retellings, they are creative expressions so powerful that it is hard to remember that any mention of them existed before Gornichec continued the weaving of their stories. Simply put, I don't believe that anyone could have done Gunnhild's story justice in the same way.
"I suppose enduring this will make me stronger, then," Oddny had said bitterly. "If it comforts you to think so," Yrsa had replied. 'But it's all right to feel weak, Oddny. Sometimes our bodies give us more pain than we can bear. But any gods worth worshipping know that not every person can give the same effort."
Additionally, the crafting of the completely fictional Signy and Oddny is done just as expertly and lovingly. Oddny's characterization is especially fruitful and satisfying. The thread of these three women and their lifelines are beautifully entwined and a true testament to sisterhood, through blood and without it––not without flaws and hardships, but ultimately stronger than the trials that life throws at them.
I wanted to get back to The Weaver and the Witch Queen as quickly as possible whenever I had to set it down and found that I devoured it with ease. Gornichec doesn't shy away from the enslavement that often came after raids, but is tactful enough not to gruesomely detail the sexual assault that took place, though it is alluded to. There's a bit of enemies to lovers romance, as well as LGBTQ representation. The high stakes of the time period paired with the intent of the characters and the way that their storylines evolve keeps the plot going at a propulsive speed. I cared deeply about characters at the forefront and cared as equally for the smaller characters in the background. Nobody fell flat to me, all were fleshed out even if their roles were small. I wasn't surprised by a major reveal of one of the antagonists, but it didn't bother me at all.
"Your enemies are my enemies." At once he recognized his own words from the day they'd bound themselves with blood nearly a moon ago, and a ghost of a grim, determined smile played at his lips. This wedding was for his family, the people, the gods. But these words were a reminder of the oath they'd already taken, a reminder for just the two of them. "And your fate is my fate," he said.
One of my favorites themes across the mythologies of various cultures is the symbolism of the threads of Fate and their connection to our life-force. I take sincere delight in the way that Gornichec included this in the magic system. It was classic and refreshing all at once.
I could keep talking about this book, but I'll end with this: The Weaver and the Witch Queen is satisfyingly action-packed, yet full of moments of tenderness and reflective introspection. It combines harsh realities with soft, inviting prose. It embodies the myriad emotions I want to experience while reading a historical fantasy novel.
"When your patron calls you, they'll judge your strengths and weaknesses against yourself, not against others."
Thanks so much to the team at Berkley and Ace for the ebook and finished copy of one of my most anticipated reads this year, it exceeded all expectations. The Weaver and the Witch Queen comes out July 25th, 2023.