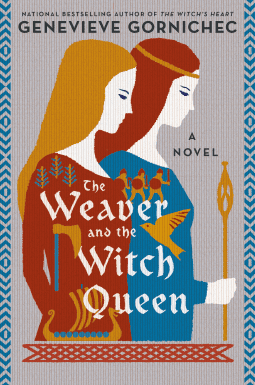 Rating: 9/10
Synopsis:
The lives of two women—one desperate only to save her missing sister, the other a witch destined to become queen of Norway—intertwine in this spellbinding, powerful novel of Viking Age history and myth from the acclaimed author of The Witch's Heart.
Oddny and Gunnhild meet as children in tenth century Norway, and they could not be more different: Oddny hopes for a quiet life, while Gunnhild burns for power and longs to escape her cruel mother. But after a visiting wisewoman makes an ominous prophecy that involves Oddny, her sister Signy, and Gunnhild, the three girls take a blood oath to help one another always.
When Oddny's farm is destroyed and Signy is kidnapped by Viking raiders, Oddny is set adrift from the life she imagined—but she's determined to save her sister no matter the cost, even as she finds herself irresistibly drawn to one of the raiders who participated in the attack. And in the far north, Gunnhild, who fled her home years ago to learn the ways of a witch, is surprised to find her destiny seems to be linked with that of the formidable King Eirik, heir apparent to the ruler of all Norway.
But the bonds—both enchanted and emotional—that hold the two women together are strong, and when they find their way back to each other, these bonds will be tested in ways they never could have foreseen in this deeply moving novel of magic, history, and sworn sisterhood.
Review:
I was sent a copy of The Weaver and the Witch Queen by the publisher in exchange for an honest review.
I adored The Witch's Heart so I had high hopes for The Weaver and the Witch Queen, and I'm very happy to tell you that I completely adored it! Gornichec has a way to taking these historical fantasy stories and making them unputdownable. She weaves a stunning tale of female bonds, magic and found family.
Oddy & Gunnhild make our two main characters. We first see them as children on the fateful day where their prophecy is foretold before jumping ten-or-so years into the future. The inclusion of their childhood helps Gornichec set up their family dynamics, friendships and the prophecy that dominates their lives. I found myself captivated from the very start of the story.
While there is romance in the book I'd argue that these aren't as important as the friendship between the two girls. I loved watching Oddy & Gunnhild find their partners and navigate what the tough early stages of their relationships, and how they blossom into more. But ultimately the most important relationship is those of the girls and how their fates are intertwined. Gornichec has taken another tale and handed all of the power to the main women of the story, and it's simply stunning.
There's both moments of tenderness and of action. There's LGBTQ+ rep and a look into how that sits within a Viking setting. All of the characters are important and have their own personalities, there isn't a single character that is there just to further the plot. Honestly, Gornichec could tell any story and I'd take the time to listen. There's something seriously special about how she weaves these tales.