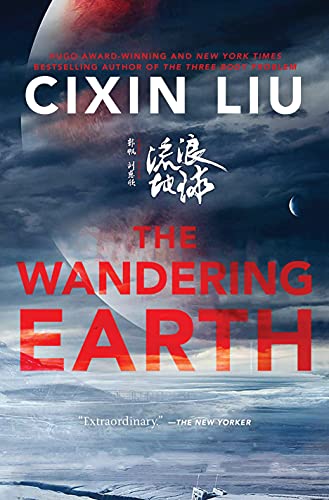 Rating: 8.0/10
Synopsis
A short story collection from New York Times bestselling author Cixin Liu.
These ten stories, including five Chinese Galaxy Award-winners, are a blazingly original ode to planet Earth, its pasts, and its futures. Liu's fiction takes the reader to the edge of the universe and the end of time, to meet stranger fates than we could have ever imagined. With a melancholic and keen understanding of human nature, Liu's stories show humanity's attempts to reason, navigate, and above all, survive in a desolate cosmos.
Review
The Wandering Earth by Cixin Liu is a collection of ten brilliantly written sci-fi stories that completely resonated with me on both an emotional and intellectual level. Liu has quickly become one of my favorite science fiction writers.
I think there is a story here for everyone. They are a mix of hard and soft science fiction and although I listened to the audiobook, the length of each story appeared to be around 40-50 pages after looking into it. The stories are arranged in a well-balanced and orderly manner which created a natural transition between them. It's all tied together by a middle story that is more lighthearted than the rest. Liu does a good job creating an immersive reading experience where you want to keep reading to learn how each story comes together. Many went in directions that I didn't expect.
Each story holds humanity at its forefront while illustrating the various shades of human nature. I've often wondered how humanity would react if found in these alien or harrowing situations and this all came very close to what I had in mind. Some of the stories follow a single character across many years of their life while tackling themes such as survival, courage, generational accountability, family dynamics, and more.
Some of the stories resonated differently than others and I think it came down to the way these ideas were executed within the plot. Liu expands upon some innovative and interesting ideas such as first contact, bubble worlds, and micro civilizations. After reading reviews once I finished, the stories I felt neutral on were a favorite for many other reviewers. That is the nature of subjectivity and what I love about reading. These stories were imaginative thought experiments that could easily be the foundation to novel-length texts.
Those familiar with Liu's work will find similarities in the way characters are written and with his use of expository writing. I absolutely loved The Three-Body Problem so I was going in with higher expectations. His writing style is very distinct and he never fails to deliver some of the best big ideas in science fiction. Liu favors single character monologues as a method of sharing additional background information, and we see it used here. While it may seem to be too much at once, it is a consistency with his writing that appears throughout this collection and his other series. I found that I became wholly absorbed by his writing once familiar with his style.
There were three stories that stood out the most: The Wandering Earth, The Micro-Era, and Devourer. I will share a little about these three so that you can get an idea of the content and leave the rest of them to be discovered for themselves.
"I've never seen the night, nor seen a star; I've seen neither spring, nor fall, nor winter. I was born at the end of the Reining Age, just as the Earth's rotation was coming to a final halt."
The Wandering Earth – I found myself going back to the opening paragraphs again and again to let it all sink in. What was being suggested was wildly incomprehensible to my mind yet I was hanging onto every word. The Earth begins a centuries-long course in search of a new sun to escape an expected helium flash that will turn the sun into a red giant. These big ideas are what I crave from a science fiction novel. This felt complete and had a solid beginning, middle, and end. Bravo!! Worth every single star I have to give. The ideas were quite inventive and thought provoking and I am astonished by Liu's imagination. A poignant and evocative tale that never wanders far from my mind. I still find myself haunted by the final chapter.
The Micro-Era – A human returning home from a space mission meets a micro-generation of humans. I loved this story a lot even if I didn't understand all of the science behind it.
Devourer – What a special little gem of a story. A crystal is discovered as Earth's space force is protecting the planet from rock and debris that could cause its ultimate doom and destruction. The crystal harbors the lingering memory of a long forgotten and destroyed civilization warning that the devourer is coming. The dialogue read a little clunky at times but I loved the amusing bits. Another fantastic winner that felt whole and complete with its philosophical moments and interesting twists.
When I think about our planet and humanity, I regard it with such wonder and awe and a little bit of sadness too. This is very similar to how The Wandering Earth left me feeling and I'm so glad that I decided to read it. I received an advanced review copy from the publisher – a Macmillan audio production from Tor Books – narrated by Feodor Chin and Greg Chun. Released on October 26th, 2021.