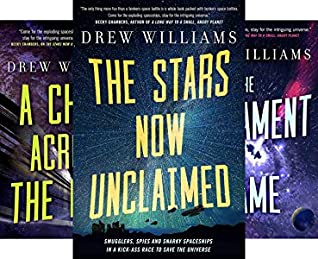 Rating: 8/10
Summary:
Drew Williams's The Stars Now Unclaimed, the first volume of The Universe After series, is a fun, adventure-filled space opera set in a far-future galaxy.

"The only thing more fun than a bonkers space battle is a whole book packed with bonkers space battles. Come for the exploding spaceships, stay for the intriguing universe."—Becky Chambers, author of A Long Way to a Small, Angry Planet

Jane Kamali is an agent for the Justified. Her mission: to recruit children with miraculous gifts in the hope that they might prevent the Pulse from once again sending countless worlds back to the dark ages.

Hot on her trail is the Pax–a collection of fascist zealots who believe they are the rightful rulers of the galaxy and who remain untouched by the Pulse.

Now Jane, a handful of comrades from her past, and a telekinetic girl called Esa must fight their way through a galaxy full of dangerous conflicts, remnants of ancient technology, and other hidden dangers.

And that's just the beginning . . .
Available in Paperback, or on Audible from Tor Books!
Review:
The series kicks off with a bang with The Stars Now Unclaimed. This introduces readers to The Justified and Jane's 'morally grey' role within it. You will also meet a young Esa and learn about The Pulse, it's origins, and 'the gifted' children. The stakes are high and Drew Williams flexes his skill with action scenes from the get-go. it's also a great introduction to the snarky character (and ship A.I.) dialog that plays so well. You'll get a thrill ride with a few laughs, a touch of a love interest, and plenty of space-battles.
In A Chain Across the Dawn readers are introduced to a new foe and we watch as Esa is put through the ringer with her 'gifts' and her new opponents. We learn more about the philosophical impacts that the Pulse carried with it, and the origins of some of the crew mates are illuminated. Chases, rage-mode, and we not everyone makes it out alive.
A Firmament of Flame kicks things up a notch with a ghost from the past. it also splits the POVs between Esa and Jane and they have to split up for one final mission. If you thought the last 'boss' was bad, wait till you see what's in store here. The stakes are much higher. We learn about who Jane and Esa really are, and how they've learned from each other, especially in how to deal with their own demons. We see a bit of a replay from the previous book's sequence but the vividness of the environments they travel to are a real joy.
This was a great final circle to the trilogy, epic fighting, hearts are full, pain and loss are real, and unlikely heroes emerge.
With these 3 books, Drew Williams crafts a solid-paced Sci-Fi action story with a diverse cast of races, aliens, an A.I., a coming of age tale, plenty of swearing, and LOTS of fighting. Worthy of any fan of Scalzi, Chambers, Hurley or even S.A. Corey.
File Under: Snarky A.I., Cyborg Priests, Firefly, Space-Action