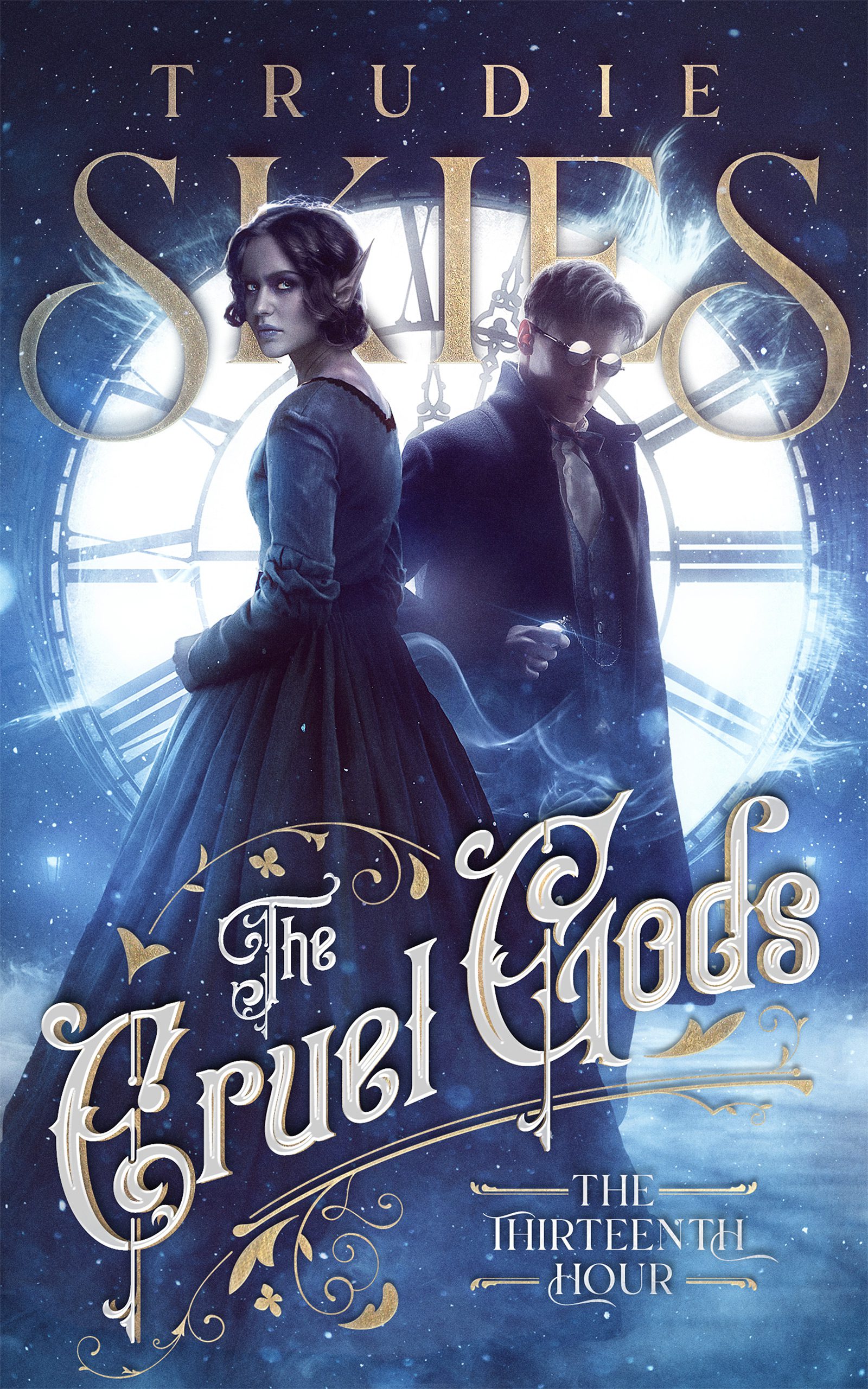 Rating: 9/10
Synopsis
When the saints fail, the sinners step up.
Cruel gods rule the steam-powered city of Chime, demanding worship and tribute from their mortal subjects. Kayl lost her faith in them long ago, and now seeks to protect vulnerable and downtrodden mortals from their gods' whims. But when Kayl discovers powers that she didn't know she had—and destroys a mortal's soul by accident—she becomes Chime's most wanted.
Quen's job was to pursue sinners, until the visions started. Haunted by foreboding images of his beloved city's destruction, Quen hunts soul-sucking creatures made of aether who prey on its citizens—and Kayl is his number one target.
To ensure Chime's future, Kayl and Quen must discover the truth of Kayl's divine abilities before the gods take matters into their own hands.
For a city that bows to cruel gods, it'll take godless heathens to save it.
The Thirteenth Hour is the first book in The Cruel Gods series—a gaslamp fantasy featuring magical portals, gothic cosmic deities, quaint Britishisms, and steampunk vibes. This is an adult book containing strong language and mature themes that some readers may find disturbing. For a full list of content warnings, visit Trudie Skies's website: https://www.trudieskies.com/the-cruel-gods-content-warnings/
Review
"Who owns your thoughts? Who is making your decisions? Who is responsible for the consequences of your actions? Think for yourself. Or the gods and their Wardens will think for you."
The Thirteenth Hour is the fantasy book I didn't know I needed. I went into this book knowing that it was a SPFBO8 (Self Published Fantasy Blog-off) finalist, but I hadn't read many recent reviews or read the blurb for some time. I had the audio book and decided to read the ebook alongside the audio for a more immersive experience. I was not disappointed. This is a highly entertaining Gaslamp/steam-punk epic fantasy with smatterings of well-placed humour.
A brief word on the audio before I get onto the book: the narrator, RJ Bayley, is simply phenomenal. His range of accents and emotions are some of the best I've listened to. His understanding of the story and its characters is evident throughout, which made this one of the best audiobooks I've listened to.
Now to the book…
"The universe is a machine; the gods are the gears, and we are the cogs."
The first thing to mention is the world building. Skies has created something mind-blowingly brilliant in Chime and the many domains of the Gods. The clarity of the world can be felt, especially Chime – a city like no other. Each domain has a different god, with unique mortals from each. The gods each have different powers, which their mortals can also wield in some way. Further, each god has their own doctrines to follow, their own interpretation on what is sinful. Some gods are more cruel than others, but it is everyone's belief that the mortals only exist by their god's hands. In Chime, the gateway to all of the realms, the gods have little influence; all mortals mix together and are governed by Ambassadors from each domain, who commune with their respective gods, and the Wardens of course – Chime's version of law enforcement.
At first, I found the number of different mortals, gods, domains, and names, a little confusing. However, Skies starts each chapter with an excerpt from different written resources in Chime – Warden dossiers on mortals, gods, and the godless, and also godless propaganda material. All of this adds to the world building and helps as timely reminders before and after chapters. I really appreciated these – a clever and concise way to add lore and depth to the already detailed world building.
"Give me all the godless heathens"
The Godless, a group of disparate individuals, who seek to free themselves from the cruelty of their gods, spread propaganda throughout Chime, and this is where we meet our two main characters – Kayl, a godless member, and Quen, the Dark Warden who has been ordered to find them.
Kayl and Quen's POVs are both told from the first person perspective. This worked really well, as we are really able to get into their heads and explore their emotions and inner turmoil at close quarters.
Kayl's story is intriguing, one of self-discovery and shrouded in mystery. Her inner voice is a clever aspect to her character, like intertwining a fantasy element with mental health – whether this was the intention or not, I thought it was really well done.
Quen, on the other hand, is one of the most interesting and conflicted characters I have read. His wry sense of humour and light-hearted politeness hides a darkness that we get to explore through his story. His mental health issues, caused through his abuse, coercion, manipulation, and self harm are brilliantly handled, making him one of the most human characters in the book for me.
Aside from the two main characters, there are a plethora of other characters, mortals and gods, who are all just as interesting in their own right – all of which add a richness and depth to the story and the world. The group of godless, in particular, are a fun and fascinating group – a ragtag found family that will do anything for each other. I'd love to read more of their stories, whether that be in future books, short stories or novella.
"Didn't time come for us all, in the end?"
The Thirteenth Hour is a fast-paced, action-packed, character driven story of the highest quality. I dare you not to fall in love with Kayl's feisty fearlessness, or Quen's quintessentially British awkward charm. The story handles some heavy themes and some difficult emotions at times, but it is never too much or forced – the author allowing the reader to interpret and decide things for themselves, and not giving all the answers, is something I always appreciate. The humour is also something I really enjoyed. Never too much and always well-timed, with banter between friends, sarcasm between strangers, perfectly timed slapstick moments, and a good bit of nudge, nudge, wink, wink.
If you are looking for something different from your usual fantasy reading, then this is my recommendation. The Thirteenth Hour is a brilliant debut that left me feeling like I'd watched a well produced TV series. It is no surprise it was a SPFBO finalist.
Thank you for taking the time to read my review.