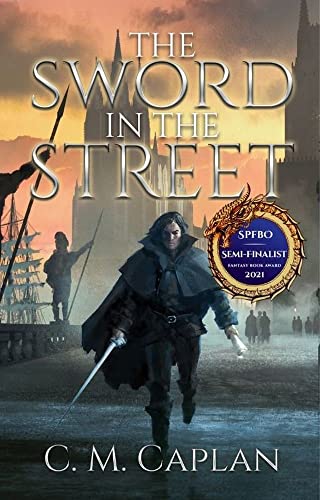 Rating: 7.5/10
Synopsis
Hired blades ought to be better at making ends meet. John Chronicle bleeds his patron's foes in savage duels. While he's disgusted by the petty grievances and corporate laws he champions, even the promise of security is better than nothing at all. But how long can he depend on a wage that barely pays enough to cover his rent?
His boyfriend Edwin is familiar with dependency. Reliant on his parents' goodwill to supply the drugs that keep the spirals of his mind in check, he wants nothing more than to get out from under their thumb. A solution comes when he finds a document full of knowledge that was, impossibly, forgotten. But while he could use those secrets to rewrite the gentry's unjust laws, it might cost him his relationship – or John's life.
The two find themselves entangled in the web of intrigue surrounding the laws, the swordsmen, and their sponsors. They're forced to question how bloody they're willing to get for a shred of agency. But will they survive this tangle of deceit together?
Review
The Sword in the Street is C.M. Caplan's debut novel and was a 2021 SPFBO semi-finalist. Interesting characters, well-written prose, and fun sword fights make this book one that is definitely worth reading.

There are three main characters, as well as a host of side characters. John is the sword for hire who is barely (and sometimes not) making ends meet. Edwin is John's boyfriend who appears to be neurodivergent in some way (though that is not explicitly stated). He is emotionally and physically dependent on John and on his parents as they send him the medication he takes to help him stay focused. Then there is Aubrey, who is Edwin's friend and classmate. She serves as a bit of a catalyst for both Edwin and John at certain times in the story.

This novel is extremely character-driven, as the narrative alternates between John's and Edwin's perspectives (Aubrey does not get her own). The reader often gets to know exactly what they are thinking and is exposed to man intimate moments (funny, when I say "intimate" I usually mean "closeness" and not necessarily "sexual", but in this book it I mean it in both ways). Spending every word of the book inside the heads of these two characters drives a connection with them that is strong. This can be a risky writing strategy, because if readers do not like the characters then it can really turn them off; in my opinion, though, Caplan pulls it off. I liked spending time with John and Edwin (and Aubrey when she makes and appearance), and so I enjoyed the read. Do not get me wrong, none of them are perfect. They all have their flaws, and those blemishes have a way of standing out. But, to me that only increases the strength of the connection. Clearly, the characters are a highlight of the book.

The other aspect of the story that I really appreciated were the sword fights. It is just plain fun to see people going at each other with steel. I really like that they mostly take place in a dueling scenario, also. It is great to read about bloody, violent wars in fantasy novels, but sometimes it is nice to get some steel on steel action where sword skills are most important and everyone walks away with their lives. Add in the political and social class machinations that go along with being a swordsman, and that goes along way toward increasing the intrigue present in the overall narrative. This whole situation is a definite plus.

As for drawbacks, I thought the magic used by a few of the characters was a bit random. There was not much explanation, and I honestly think the story did not really need it. Also, I was not always a huge fan of the dialogue. There were times when I thought discussions between characters seemed out of place, but then others when it contributed to the nature of the familiarity the reader has with them.

Overall, The Sword in the Street is a well-written novel. I liked the closeness I felt to the characters and enjoyed the sword fighting, as well. For those who find the synopsis interesting, I would definitely recommend picking it up.