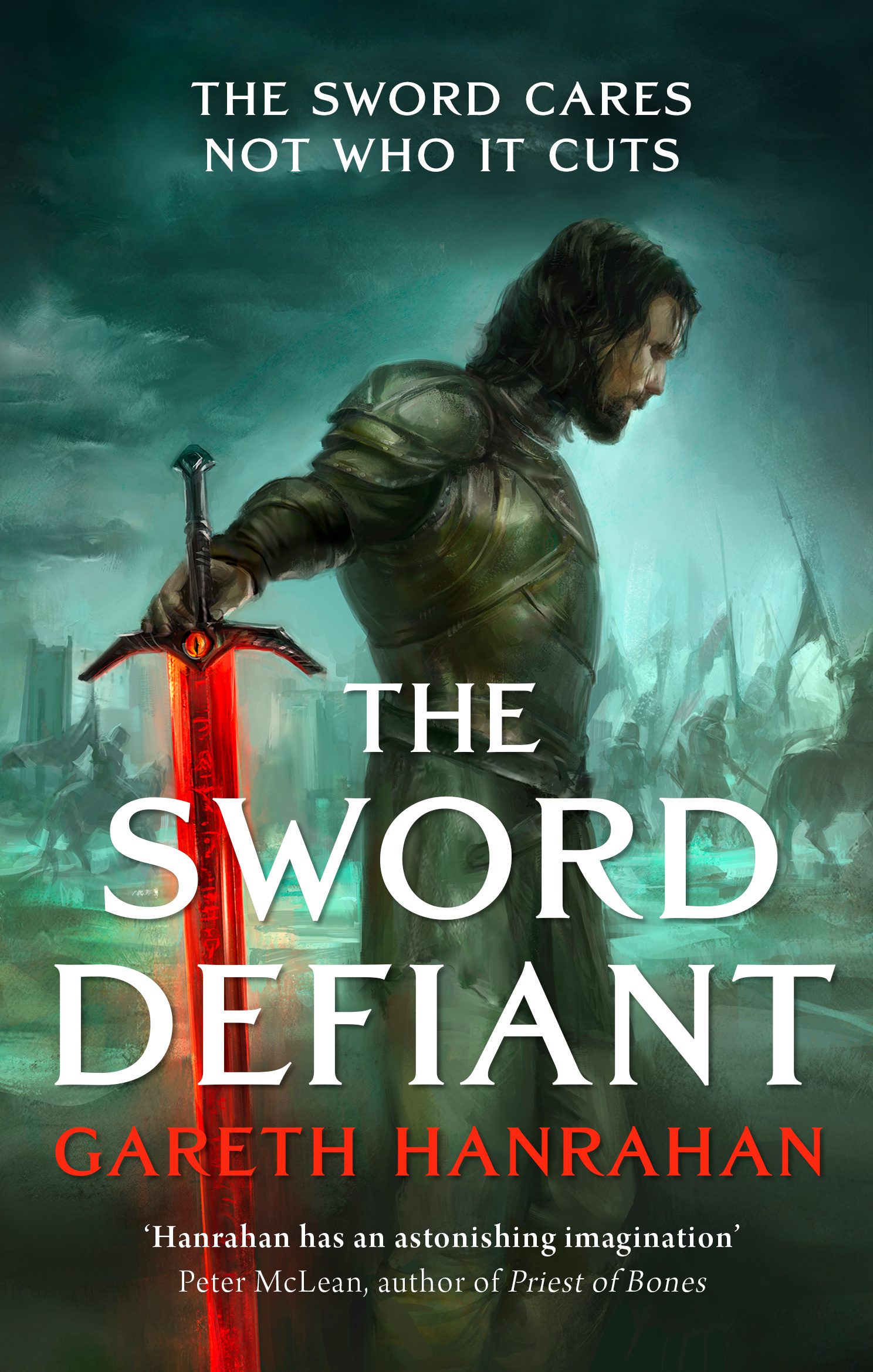 Rating: 10/10
'A gloriously gritty adventure through Hanrahan's astonishing imagination' Peter McLean, author of Priest of Bones

THE SWORD CARES NOT WHO IT CUTS
Many years ago, Sir Aelfric and his nine companions saved the world, seizing the Dark Lord's cursed weapons, along with his dread city of Necrad. That was the easy part.
Now, when Aelfric – keeper of the cursed sword Spellbreaker – learns of a new and terrifying threat, he seeks the nine heroes once again. But they are wandering adventurers no longer. Yesterday's eager heroes are today's weary leaders – and some have turned to the darkness, becoming monsters themselves.
If there's one thing Aelfric knows, it's slaying monsters. Even if they used to be his friends.
Set in a world of dark myth and dangerous prophecy, The Sword Defiant launches an epic tale of daring warriors, living weapons and bloodthirsty vengeance.
Praise for Gareth Hanrahan:
'Hanrahan is now one of my favourite authors'Booknest
'I will buy any novel that Gareth Hanrahan ever writes'The Fantasy Inn
'A gripping tale that meshes beautifully with its fascinating, darkly inventive setting' James Islington, author of The Shadow of What Was Lost on The Gutter Prayer
'Mind-blowingly stellar in every respect . . . Fantasy readers, be wise and buy this book, because there's simply nothing like it' Novel Notions on The Gutter Prayer
'Hanrahan has an astonishing imagination' Peter McLean, author of Priest of Bones
Review:
The Nine saved this world. Yet they too fell to their misdeeds. I have visited cities made of bone, of mortals and elves living side by side, with enmity between them. I saw the fall of the Nine in my very own eyes, to reflect upon the question: What does it mean to be a hero? The Sword Defiant strongly evoked such emotions in me, for it engrossed me in a story that made me want to learn more about this world's lore. Yet this novel had the typical fantasy setting that has somewhat turned me off in recent readings. Still, at the same time, the characters within this novel had such endearing personalities that I was never once suspicious of anything that could have broken that harmony.
There are characters I grew to love: Spellbreaker. The sword that knows all, and is not evil in my opinion. No one is evil within this story for events far greater than them dictate how the world will run. How the fate of destiny spins the webs of men's fates. How the weary leaders of the Nine were once filled with hope and spirit to crush Lord Bone. Only to find that once the end comes, the means of it are never truly justified. What would happen if you crushed the boss of a video game, only to find bigger and better bosses to fight against you? Would you not feel weary? Would you not feel exhausted? That's what I felt Alf was going through throughout the entire novel. Reliving the stories of the past, only to want alive again and feel a sense of purpose. His other favorite companion was Gundam, that dwarven man who had a heart of gold. That's all I'll say about him. Olva became a favorite of mine, for reasons best left unsaid.
The story was well written in a way that I became immersed in every aspect. No moment left me unsatisfied, instead every single moment of the story kept me reading on and on. The world itself is the story. The Nine is the world itself. The legends and tales written about them and before, illustrate Gareth's rich ability to infuse a world with life and wonder, grim and dark. A world filled with endearing characters that will leave a mark on you for the test of time, a world filled with story and song, with heroes and villains, and epic stakes and conflicts. This novel really has made me a fan of Hanrahan's work, and I look forward to joining the Nine in book 2 of this epic journey. My personal request would be in the series, to make Spellbreaker free. I think that's a good start.