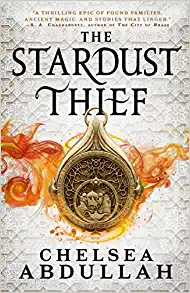 Rating: 10/10
Synopsis
Inspired by stories from One Thousand and One Nights, this book weaves together the gripping tale of a legendary smuggler, a cowardly prince, and a dangerous quest across the desert to find a legendary, magical lamp.
Neither here nor there, but long ago . . .
Loulie al-Nazari is the Midnight Merchant: a criminal who, with the help of her jinn bodyguard, hunts and sells illegal magic. When she saves the life of a cowardly prince, she draws the attention of his powerful father, the sultan, who blackmails her into finding an ancient lamp that has the power to revive the barren land—at the cost of sacrificing all jinn.
With no choice but to obey or be executed, Loulie journeys with the sultan's oldest son to find the artifact. Aided by her bodyguard, who has secrets of his own, they must survive ghoul attacks, outwit a vengeful jinn queen, and confront a malicious killer from Loulie's past. And, in a world where story is reality and illusion is truth, Loulie will discover that everything—her enemy, her magic, even her own past—is not what it seems, and she must decide who she will become in this new reality.
Review
The Stardust Thief is author Chelsea Abdullah's debut novel and the first in the author's series The Sandsea Trilogy. There are so many aspects of the book that make it a great read, but in the end it comes down to phenomenal storytelling for me.

I am not super aware of the stories that make up One Thousand and One Nights, but it is easy to make the connection to Aladdin (which is one of the tales from that collection), though it is gender reversed. A prince (Mazen) who is not allowed to leave the castle does just that and meets a mysterious woman (Loulie al-Nazari) and her companion (Qadir – a magical jinn). After some drama, the prince returns to the palace and Loulie goes on her way. But, of course, they meet again under precarious circumstances. Action and adventure ensues. I bring this up to that I love the familiarity of it. That is what drew me in to the story, initially.

The character set was really cool, too; aside from Mazen, Loulie, and Qadir there are so many other interesting ones. Mazen's brother Omar and his head thief/jinn hunter Aisha bring so much drama to the story. There are other intriguing characters they come in contact with, but I do not want to spoil anything so I will leave it there.

I am most impressed with the storytelling in this book. The narrative in and of itself is fascinating, but the book consists of stories layered within stories wrapped in stories. It was incredibly immersive and well-done. I like the fact that it is Arab-inspired, as well, because that brings unique settings and cultural aspects that we do not get much exposure to in fantasy.

I absolutely loved The Stardust Thief. It is a terrific tale of magic, mysticism, and heart. A storyteller's dream. If you are looking for your next un-put-down-able fantasy read, The Stardust Thief is a great place to start. I cannot wait for book 2.