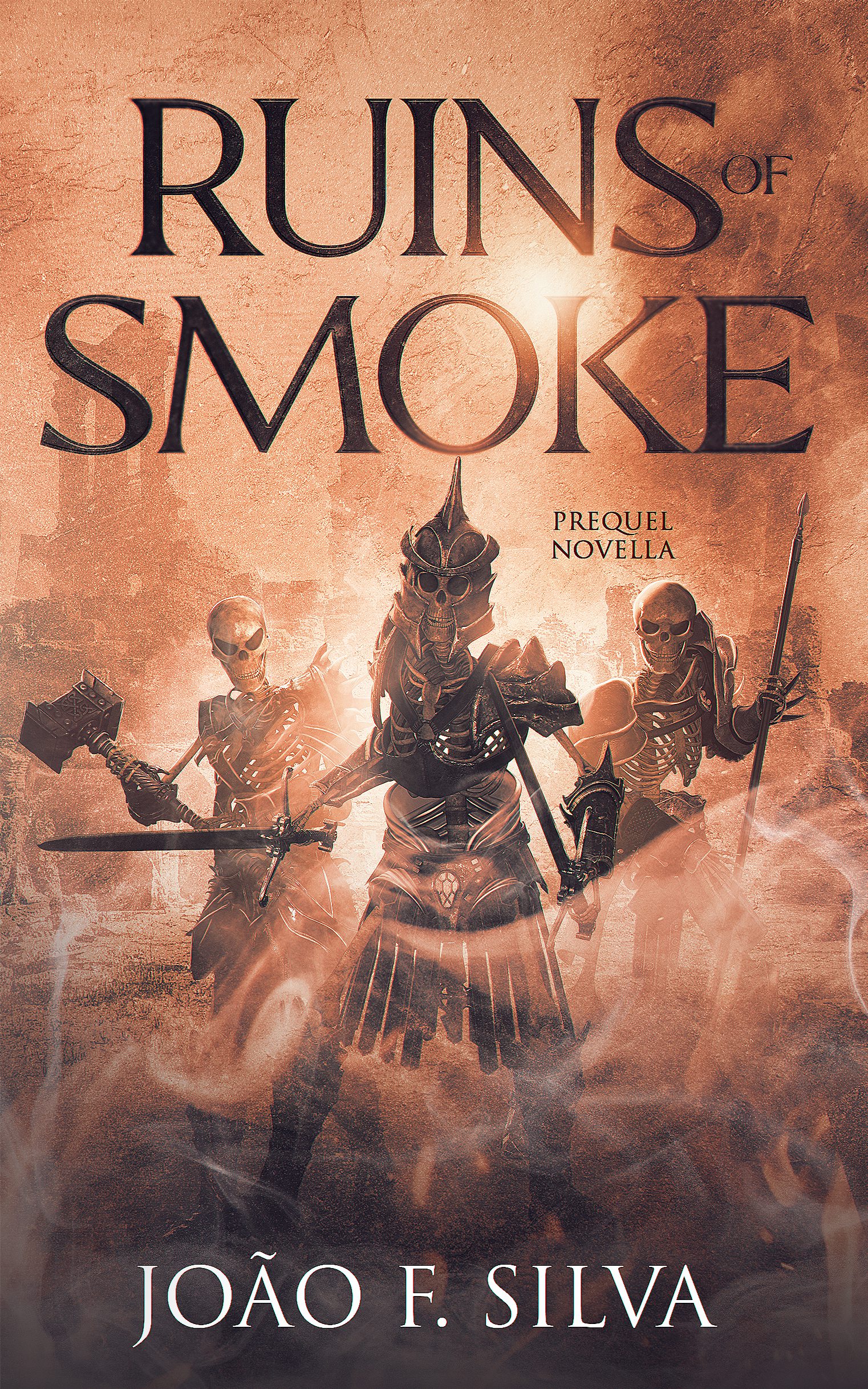 Rating: 9/10
Synopsis
The Usharian Empire rules the Known World with an iron fist. Imperials protect their world from the tainted hand of the Deceiver, but he is back with an avatar capable of breaking the Empire and grounding humanity into ash.

JEHA is a sentinel of the Empire, willing to fight and die for kinship and duty.

AGOR is an imperial general. Disgruntled by the darkness he sees seeping into everything he loves, he makes his move.

MATALA is a young smokesmith who sees his courage tested as Ushar burns.

ALAMAKAR is the world's most powerful man, but even strong blood ties can hold him down and tear him apart.

As the Deceiver threatens the Usharian Empire's heart, fiends walk the streets of the capital. Men and monsters clash in a battle fit for gods. And the smoke follows them.
Review
With this prequel novella, João transports us back to a time thousands of years prior to his debut novel, Seeds of War. And straight into one of the most epic battles I have ever read. It's 130 pages of action and emotional turmoil.
Whilst this maybe a novella and hence a shorter story, João has shown his skill as an author by packing in enough action and emotional impact as you will get from many full novels.
We are presented with four very different POV's all of whom are wrestling with their sense of duty in the face of insurmountable pain, loss & sacrifice. And this war between duty, love and loss really runs through the heart of the story. Considering this a novella it was no small feat to not only introduce four so well developed characters but then to drag us into their inner turmoil's whilst facing unimaginable external horror and loss.
The unique magic system from Seeds of War (i.e. that wielded by the Smokesmiths) is explored in more detail and we are introduced to the Smoke Riders. I can't go into more details without diving into spoiler territory but the Smoke Riders blew me away and are some truly badass characters. Speaking of which my favourite POV was Matala, a novice Smoke Rider. He has incredible powers but is filled with self-doubt (relatable!) which is hardly surprising given the terrors he and his comrades are facing. I certainly hope that this glimpse into their magic and capabilities is something we will see more of João's subsequent books.
It wouldn't be a João story without some fantastic beasts and creatures, believe me when I say the bestiary is a work of art in itself. As with Seeds of War we are presented with a variety of fantastically horrific creatures, how does such a nice guy think of these?
There has been some discussion regarding whether Ruins of Smoke or Seeds of War should be read first. In my mind you can easily to do either. By reading Ruins of Smoke first you get the benefit of more "back story" alongside a fast paced introduction to the world before you get to Seeds of War. Taking the reverse option (which I did) gives delicious slow burn with jaw dropping reveal at the end. Either option is sure to be enjoyable