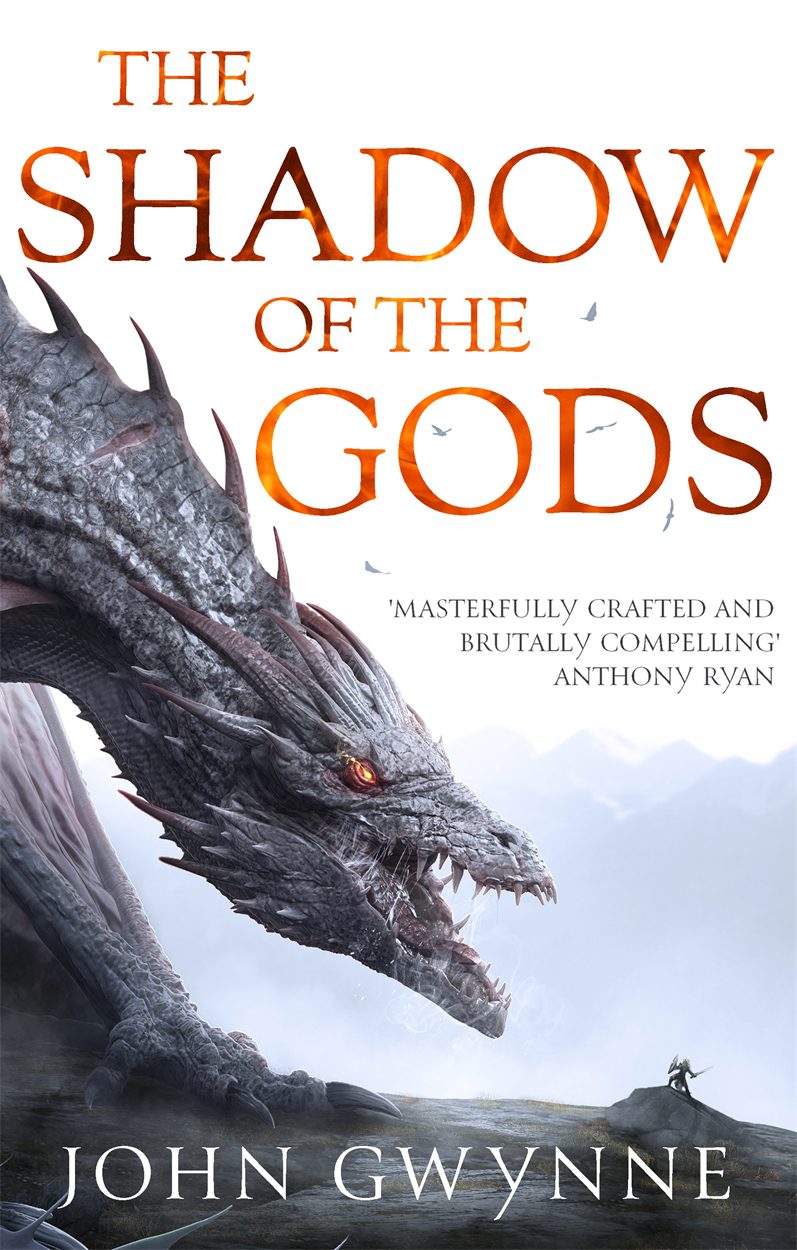 Rating: 9.5/10
Synopsis
The land of Vigrid still bears the scars of the gods' extinction war. 100 years after their extinction, monstrous vaesan swarm over the world and nobles vie for power.
Three warriors, one seeking her battle fame, one seeking vengeance for the abduction of her bairn, and one former thrall joining the famed Bloodsworn to avenge his sister, will soon find their quests will shape Vigrid further under the shadow of the gods.
Shadow of the Gods is the first book in John Gwynne's Norse-inspired The Bloodsworn Saga. Full of epic battles and bloody vengance, this is shaping up to be a powerhouse of the fantasy genre.
Review
I feel so late to the party with this one! My fellow reviewers here at FanFiAddict have all heaped praise on Shadow of the Gods so I needed to see why it was so damn good. I'll keep this review short and sweet, like a fine mead spiced with juniper …
John Gwynne, a viking re-enactor, puts his experience of battling in a shield wall to good use; the battles in this book are so gritty, you can hear every scrape of bone and clash of metal. It's brutal and it's bloody but it's never gratuitous; the action is nothing short of masterful.
I enjoyed the narrative split that followed the three warriors: Orka, Varg, and Elvar. Each had their own believable goal and were easy to root for. My personal favourite was Varg as I liked to follow his journey from escaped thrall to a rank and file member of the Bloodsworn. That takes nothing away from Orka's desperate search for her son, Breca, taken from her steading by a cult of the dragon god or Elvar's desire to seek her battle fame with Agnar's Battle-Grim instead of fulfilling her duties as a jarl's daughter.
The plot moves at a great pace with chapters incredibly easy to digest. It's an easily-bingeable book despite the somewhat hefty length and prose tightly-packed with a lot of description. I was finding that I had to take my time as Gwynne includes a lot of information but this was never to the detriment of my enjoyment of the story.
Everything here feels authentic and perfectly-placed. In the harsh cold climates, characters subsist mainly on porridge, fish and mead. Every warrior seemingly has a beard. I have never felt so seen as a fantasy reader!
Gwynne has seriously delivered in this epic beardy saga. All three of his protagonists would warrant their own separate story, so their three spectacular narratives entwine into a true behemoth of a book. I cannot wait until book #2 drops in 2022.