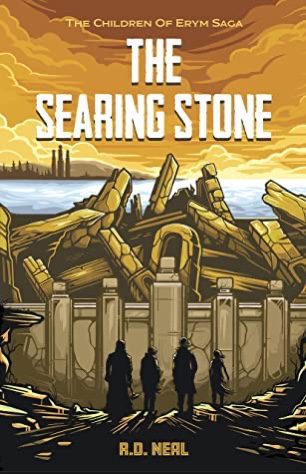 Rating: 9.0/10
Synopsis
What if magical abilities weren't earned, discovered, or innate? What if, before the age of one, your parents were forced to choose either to grant you a specific ability, or to give you none at all?
O'Varth, once an island flourishing in peace, now ruled by Levithe, an ageless being who claims to be the island's god. His law for control was simple. Seared or Drudge? One choice gives your child a life of luxury and magical ability, but binds them for life to serve Him. The other choice gives your child a life of poverty and toil, but freedom from Him and his Guard. Seared parents never chose Drudge for their child, unless it was disabled or "cursed." However, for the first time in three centuries, one set of Healer parents, Erym and Ryn, chose to forgo the magical abilities for their perfectly abled children.
Zayn, Tanyel, and Lyu, after many years of being mocked, doubting their parents, and slaving at the Netting Docks, discover that the entire history of their island is a complete fabrication, created by Levithe. Joining a secret rebellion, they adventure to find an ancient weapon that has the ability to destroy the island's god. What they don't know is that Levithe has been searching for the same weapon for the past three hundred years. In a race to save or destroy the island, who will discover it first?
Review
The Searing Stone is a debut YA dystopian fantasy novel following three siblings, as they are thrust into an epic journey after they discover all that they thought they knew about their world is a lie. 
YA is not a my typical go-to, but this book may just change that as there were so many things I loved about this novel.
Firstly, the characters are incredibly solid. I was invested in them all so quickly and really felt like we got to know them all as individuals. Our main protagonist Zayn struggles with a lot of different things while also being thrust into the role of caring for his younger siblings on their quest, and he is a great character to follow. We get a different range of POV's which really helped to flesh out everyone's character development too including Zayn's siblings, as well as the antagonists POV as well which I always really enjoy. The familial bonds within this story are one of my favourite things about it. It hits all the right notes without being over the top. 
The plot has so many fantastic elements to it. Secret maps, hidden clues, underground rebellions. Everything flows well and has just the right amount of suspense and twists. A hard balance to get right! Some parts are a tad predictable in the beginning but for a novice in this genre it would be perfect.
The magic system is interesting and easy to follow. Instead of being born with gifts this story is about a world where parents choose which gifts to give their children, if any at all. The world of O'Varth is very well realised. With the great prologue, map and fantastic cover art it really captures you as a reader despite this novel being quite short by fantasy standards.
This novel is perfect gateway for someone looking to get into the fantasy genre. If you find all the chunky books with complex magic systems and series-as-long-as-your-arm a bit intimidating I would definitely recommend picking this one up. I would also recommend this to anyone who just wants to read a great adventure/quest story. 
Overall, The Searing Stone was such a blast to read. I am eagerly awaiting the sequel.