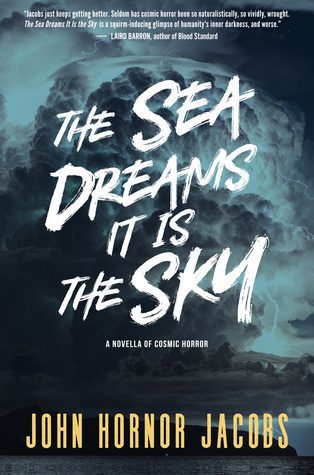 Genre: Fiction/Cosmic Horror
Publisher: Harper Voyager (October 30th, 2018)
eBook: 304 pages
5/5 Stars
First things first: Thanks to the publisher and author for a bound manuscript of TSDIITS in exchange for an honest review. Receiving this advanced reading copy of the novella does not influence my thoughts or opinions on the work.
Note: Prior to TSDIITS, I had not read any works by John Hornor Jacobs, but I had heard many glowing reviews from peers.
Post-read: all of my peers are correct in stating that his works should not be missed. I have since added everything that he has published to my Amazon wishlist and will be starting a fan-club next week. First meeting is on Halloween. Be there or Cthulhu will feast on your marrow.
Isabel has fled to Spain in order to forget the horrors left behind. A brutal dictatorship awaits her if she were to ever return. She befriends another expatriate, known simply as 'The Eye', who is a world-renowned poet with rather troubled past. Though their friendship is unexpected, the two give one another comfort over the mutual feelings of a home lost but not forgotten.
Soon, The Eye receives a note from an unknown sender which emotionally forces him to return home. Left with the keys to his apartment and more money than she could ever spend, Isabel finds herself combing through manuscripts hidden from the eyes of the world. One, a brutal retelling of his capture during the revolution, weaves itself through Isabel's mind and turns her focus to returning home as well.
What she expects to find is anyone's guess. What she does find is more than she could've imagined.
I don't know if going into this novella with 0 expectations, or knowing Jacobs' reputation, was what put it over the top for me, but who cares. In the beginning, you think you are in for one thing, only to be completely blown away around the halfway point. The horror element is very subtle, like a slow burn, but oh so powerful.  And that ending…
The writing is exquisite and the storytelling is impassioned. You will not be unmoved. If you are a fan of JHJ, you probably already have this on pre-order; but if you are like me and have never given him a shot, this is, IMO, the best place to start.
This will go down as the best novella of 2018 and may contend as one of my favorite reads of the year. Beautiful and terrifying, with prose like warm honey dripping over an open flame.
Pre-order your copy today!
Amazon | Barnes & Noble | Google Play | Kobo