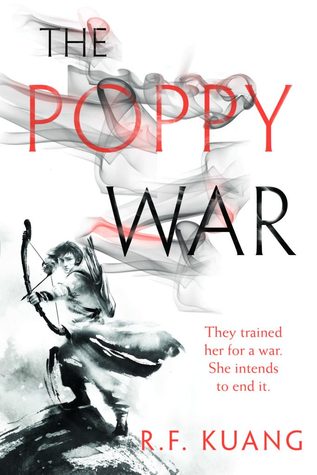 Genre: Fantasy
Publisher: Harper Voyager
Hardcover: 544 pages
Audiobook: 18 hours and 57 minutes
4/5 Stars
Thanks to the publisher and author for an e-ARC of 'The Poppy War' in exchange for an honest review. This ARC being provided in no way influences my review.
And here I thought 2017 was the one-off year for fantastic debuts. Well, I was wrong. The Poppy War has entrenched itself as one of the best debuts of 2018 and is a must-read for fantasy/grimdark fanboys/girls.
This is the story of Rin, a war orphan from Rooster Province, who wants to escape the shackles of her foster family and their drug dealing empire; one that will be made greater seeing her wedded to a man three times her age and having a marriage that will bear much fruit. What Rin wants more than anything is to study for and take the Keju – an exam that sees youths in the Empire with the highest scores training at Sinregard, the most elite military school in Nikan.
But when she passes the Keju with top marks, everyone, including Rin, is baffled by the results.
She is then whisked away to Sinregard where she will train to become a great warrior while the Federation of Mugen sets it's sights on Nikan, a land it held until the Second Poppy War disarmed it's grip. The Federation seems to have the likely upper hand, at least until Rin discovers a hidden power within herself; one that will allow a God to flow through her and use her as a tool for destruction.
While I have seen some comparisons to Anthony Ryan's novel 'Blood Song', a novel which I have not read but have had on my TBR pile for some time, the only thing I have read that I can somewhat compare it to is 'Red Sister' by Mark Lawrence. You have a strong female protagonist from an impoverished background who goes off to a school to become a fierce warrior, is looked upon as an outsider and bullied by her peers, is put through intense/violent academic tests, and has a power hidden just below the surface that is ready to reveal itself.
That is not to say this novel is a rip-off or completely unoriginal. Kuang has created a grimdark and beautiful world that we should all just be happy to be apart of, even if only for 544 pages. Lucky for us, there are more books on the way!
The novel is stunning and Kuang shows off masterful craft in her execution, but it is also the darkest shade of black in terms of violence, rape, torture, and utter destruction of civilization. It is agonizingly emotional and tears at your heartstrings in the most gruesome of ways. A novel inspired by real events that happened in the 1930s in Nanjing, China called the 'Nanking Massacre', which just adds to the overall brutality of the story.
I don't normally give half stars out, but this one most certainly earns a 4.5/5 for my sheer enjoyment of it's characters and world. Rin is one of the strongest female leads I have ever had the opportunity to walk hand in hand with, and one that I became emotionally glued to throughout her journey. I cannot wait to see what Kuang has in store for Rin, especially after that hellishly dark ending she put us all through.
Perfect for fans of grimdark and military fantasy everywhere. A YA book this is not, so do not treat it as such.
Amazon | Audible | Barnes & Noble | Google Play | Kobo
-Review by David