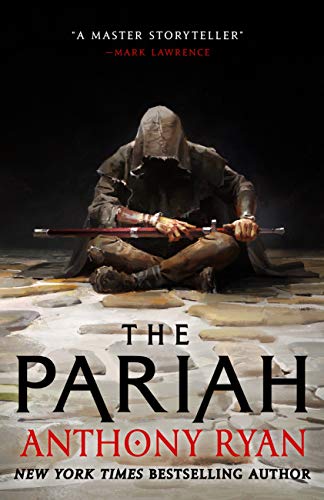 Rating: 9.5/10
Synopsis
Born into the troubled kingdom of Albermaine, Alwyn Scribe is raised as an outlaw. Quick of wit and deft with a blade, Alwyn is content with the freedom of the woods and the comradeship of his fellow thieves. But an act of betrayal sets him on a new path – one of blood and vengeance, which eventually leads him to a soldier's life in the king's army.
Fighting under the command of Lady Evadine Courlain, a noblewoman beset by visions of a demonic apocalypse, Alwyn must survive war and the deadly intrigues of the nobility if he hopes to claim his vengeance. But as dark forces, both human and arcane, gather to oppose Evadine's rise, Alwyn faces a choice: can he be a warrior, or will he always be an outlaw?
Review
The Pariah by Anthony Ryan is the first novel in The Covenant of Steel, an all new epic fantasy trilogy introducing a perilous, yet compelling journey through the eyes of an outlaw.
With a prose and narrative style that is dark, brave and full of spirit, The Pariah features politics, religion, myths, lost treasure, buried history, and exceptionally well written battle scenes. The reader follows Alwyn Scribe on his harrowing journey beyond the dark reaches of the Shavine Marches in search of vengeance.
If you're like me, then you may have an appreciation for first lines. I wanted to share The Pariah's opening sentence because I think it sets the tone for everything this story embodies.
"Before killing a man, I always found it calming to regard the trees."
The Pariah is told in three parts with each part chronicling key moments of Alwyn's life over a span of several years. Things set up in the most treacherous of ways and I found myself loving the gritty, unforgiving narrative set in a medieval-like world.  The pacing throughout the novel is balanced with a mix of fast paced action to slower, personal moments necessary for character development. Battle scenes were written in sharp and efficient detail with no word going to waste.
If you find the beginning a little too slow, I urge you to keep reading! Part one is more of a slow burn with the introduction to our main character during his later years with the infamous band of outlaws.  There is a change in setting and themes during part two and it's where I felt the story really began to shine. Heavy on the religious themes in the second half (which I really love to read in a fantasy, by the way), lower on the magic (arcane) at this time.  It was worth the wait and left me wanting more.  I started flying through pages as I became very immersed in the story.
The plot is connected to Alwyn's quest for justice and vengeance following the betrayal. Sometimes the urgency in which we set out to do things in life becomes delayed or influenced by present circumstances, and it's no different for Alwyn. The places he journeys to are often influenced by others he has met along the way and just like in reality, sometimes things don't work out as expected.
"I've been a constant thief,"  I told him.  "A frequent liar, an occasional fraud and, according to need or rage, a murderer.  But –" I tugged my arm free of his grip" — I've never yet abandoned a friend."  I gave him a thin, lopsided smile, my bruises aching with it.  "I have so few, you see?  So it rarely becomes an issue."
Alwyn is such a well written character who is full of complexity. There is more to him than meets the eye. I loved his narrative voice, adaptability, intelligence, introspection, and wavering morality.  Through a quick line or two, Ryan gives us these present day narrative teasers that I'm hoping will have some payoff by the end.  Despite being an outlaw, I loved how Alwyn was always open to acquiring new (and finer) skills to help aid his survival. He learned as much as he could from others during the months and years he was sometimes forced, and other times voluntarily staying put. It's fascinating to see how a sequence of events and the people who came across Alwyn's path could lead to the unexpected at every turn.
As I was reading, I kept circling back to a feeling of familiarity.  I haven't felt an immediate attachment to a character since I first met Kvothe from The Name of the Wind, and I think that is why Alwyn felt familiar.  Despite being different in many ways,  these two characters have something in common that makes them a favorite of mine.  I haven't been able to exactly nail down what that is yet let alone find the words to express it.
Many of the supporting characters, including the villainous forces, served as a piece for Alwyn's character to develop against. The Pariah didn't feel as robust in the overall growth of the secondary characters and I think that is why I felt a little neutral towards anyone not named Alwyn in the first half of the book. This all changed with the introduction of several interesting characters (looking at you, Sack Witch) and additions to the plot that were deeply satisfying.  I was so bummed when the story ended!  I am invested and anticipate some drastic action coming in the sequel.
The Pariah is a fantastic start to a series. Alwyn is a character who stays with you long after you turn the final page.  To say that I am excited for the sequel is an understatement.  The Pariah is available to buy.