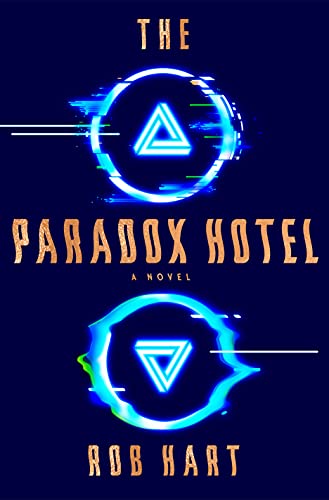 Rating: 7.5/10
Summary:
An impossible crime. A detective on the edge of madness. The future of time travel at stake. From the author of The Warehouse….
"An engrossing and thought-provoking sci-fi mystery that is also an achingly beautiful meditation on grief and the pain of lost love." (S. A. Cosby, New York Times bestselling author of Razorblade Tears)
January Cole's job just got a whole lot harder.
Not that running security at the Paradox was ever really easy. Nothing's simple at a hotel where the ultra-wealthy tourists arrive costumed for a dozen different time periods, all eagerly waiting to catch their "flights" to the past.
Or where proximity to the timeport makes the clocks run backward on occasion – and, rumor has it, allows ghosts to stroll the halls.
None of that compares to the corpse in room 526. The one that seems to be both there and not there. The one that somehow only January can see.
On top of that, some very important new guests have just checked in. Because the US government is about to privatize time-travel technology – and the world's most powerful people are on hand to stake their claims.
January is sure the timing isn't a coincidence. Neither are those "accidents" that start stalking their bidders.
There's a reason January can glimpse what others can't. A reason why she's the only one who can catch a killer who's operating invisibly and in plain sight, all at once.
But her ability is also destroying her grip on reality – and as her past, present, and future collide, she finds herself confronting not just the hotel's dark secrets, but her own.
At once a dazzlingly time-twisting murder mystery and a story about grief, memory, and what it means to – literally – come face-to-face with our ghosts, The Paradox Hotel is another unforgettable speculative thrill ride from acclaimed author Rob Hart.
Review:
After reading and enjoying The Warehouse a couple years ago, I really enjoyed Hart's take on the culture and future that we're digging ourselves into. With The Paradox Hotel, a bit more suspension of disbelief is required of the reader.
The story takes place in the year 'twenty-goddamn-seventy-two' following the hotel 'security' guard January Cole. January has been around the hotel for quite a while and seen some shit. She embodies the no-nonsense, jaded, zero-F's-gven, kind of attitude that results in hilarious exchanges with her all-knowing AI drone Ruby that floats over her shoulder. Also including a wide cast of characters from the rest of the hotel staff to the big-wigs and foreign diplomats wanting to put in their bid for ownership.
The Paradox Hotel mixes up a stew of delicious concepts from time-travel, closed-room murder-mystery, spiraling psychosis, mistrust, raptors running-amok, and lost love. It then sprinkles on top some great humor and perspective from January which makes it go down smooth. The story was intriguing and engaging and there was constant question of the 'who' and 'why'. The concept of January being 'unstuck' in time, the flashbacks, and flash-forward really spun a solid web of intrigue and curiosity.
The complexity of this incredibly enjoyable story leaves readers guessing until the end, chuckling all the way through. I really enjoyed January's character and the wit and humor throughout. I would recommend this for a light sci-fi fan who also enjoys a rich game of Clue.