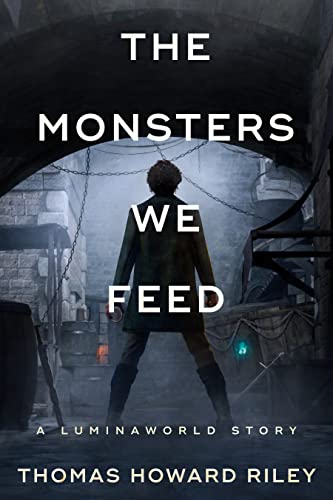 Rating: 10/10
Synopsis
The morning before he found the dead body, Jathan Algevin thought he had his whole life just the way he wanted it.
He knows his city inside and out, and doesn't bother carrying a sword, trusting his wits and his fists well enough to get by, hustling extra coin by ratting out loathsome magi to the law for execution.
He and his sister, Lyra, have watched out for each other ever since the day they were orphaned by a bloodthirsty rogue sorcerer, and now they finally have steady work, good friends, and the freedom to spend every night laughing at the bottom of a bottle.
But nothing lasts forever.
When he stumbles across a brutal murder, Jathan discovers a strange crystal lens that opens his eyes to an invisible world of magick and terror lurking just beneath the surface of his own, making him question everything he thought he knew.
But will gazing into this new arcane realm lead Jathan to save lives, or help destroy them?
With dangerous people hunting for the lens, monstrous lies unraveling his life, and a hidden underworld calling to him, it is only a matter of time before his whole world comes crashing down.
Will he find the answers he is looking for, or will he only find a monster needing to be fed?
Rated-R Dark Fantasy Noir in a city of hope, lust, and brutality, where swords are banned, and magick is just as likely to get you killed as it is to save your life.
Review
Thank you to the author for sending me a review copy of The Monsters We Feed.
In a city that clung tenaciously to the fragile embers of hope, The Monsters We Feed is set in a brutal world of hidden magick and lust fueled memories.
The Monsters We Feed is marketed as a standalone character driven dark fantasy noir and this description is immediately clear within the first few pages. I think it's important for an author to nail down the tone and atmosphere and this is an area that I can easily identify as a strength with Riley's newest novel. This tightly written story immerses the reader within vivid imagery and detailed descriptions. I loved how much care and attention went into building up the city around the characters because the city ended up feeling like its own complete character. I was a few pages in when I knew this story was something special because the world demanded to be heard.
The Monsters We Feed takes place within a city in Amagon, which is the same nation where Riley's debut, We Break Immortals, began. You do not need to read We Break Immortals to enjoy The Monsters We Feed, but if you're like me and love when authors bring in connections to their other work, there are some easter eggs to discover here from We Break Immortals. If you've previously been intimidated by the size of Riley's debut, I recommend giving this one a try. Despite being smaller, it is well balanced.
The story takes off when, Jathan, finds himself in possession of a tool that can be used to see into a hidden world of magick and allow him to trace this magick back to a user.
"Kolcha was a way of life. And the Kolcha people would fight to keep it that way."
How the city embodied its own sense of identity was a highlight for me. The sprawling city of Kolchin was once a place of abundance but has now found itself full of shifty and morally ambiguous characters, corruption, and brutality. What initially felt like one vast network was actually built upon layers of societal influence sprung up within the city providing a multitude of hidden networks. When one layer was peeled back there was another to be discovered and I waited alongside the characters with bated breathe as each was exposed. With its hundreds of narrow streets that are reached by arched walkways, tunnels, and labyrinths, Riley's narrative brought these narrowed, dark alleyways to life and I felt as if the walls were watching my every move, collecting my deepest fears and darkest desires. It was a visceral and immersive reading experience. Living there was hard but to those native of Kolchin, there was a sense of pride in calling it home and I loved these details within the world-building.
"It was a place where everyone knew where they stood, and every position had its rules, and if you followed them you would prosper just enough. It was a place where you were born and you lived and you worked and you stayed and you died."
The magickal system was based on the ability to move objects with the mind. When someone uses magick, there is this sort of residue left behind called afterglow that can not be seen with the naked eye. The author illustrates the various ways magick is used.
Even though Jathan is portrayed to be incredibly unlikable, I found his character journey to be very fascinating. Jathan is a very complicated character, and his characterization was expertly developed. He is quick to anger and enjoys a good tavern brawl yet his encounters with his sister and the secondary characters have a softness to them. He embarks on an obsessional road after obtaining this magical item, initially believing that he is protecting his sister Lyra. Jathan is compelled to look for the afterglow of magic. Riley directs the narrative into Jathan's own direct point of view allowing the reader to observe his increased compulsions to seek out magick, the promises he makes, and the secrets he gathers.
Before I finish my review, I wanted to mention that Jathan finds himself stopping by everyone's favorite chain of taverns that have reached across worlds and books and authors… The Dripping Bucket. I love when this tavern is mentioned and it really does bring me so much joy to see many various authors embrace this idea and include it within their own works. I am looking forward to where the next Dripping Bucket will land.
In summary, The Monsters We Feed is a dark, lust-filled story of magick and murder that doesn't let up until the very last page. I know this was originally supposed to be "just a novella" but I'm so glad Riley Jathan took control and kept the words flowing. Expanding the story and giving it some extra room to develop definitely worked out marvelously in my opinion.