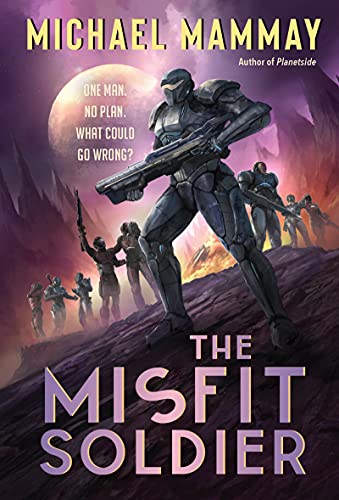 Rating: 7.5/10
Synopsis
Ocean's Eleven meets John Scalzi in this funny, action-filled, stand-alone sci-fi adventure from the author of Planetside, in which a small team of misfit soldiers takes on a mission that could change the entire galaxy.
Sergeant Gastovsky—Gas to everyone but his superior officers—never wanted to be a soldier. Far from it. But when a con goes wrong and he needs a place to lay low for a while, he finds himself wearing the power armor of the augmented infantry.
After three years on a six-year contract, Gas has found his groove running low-level cons and various illegal activities that make him good money on the side. He's the guy who can get you what you need. But he's always had his eye out for a big score—the one that might set him up for life after the military.
When one of his soldiers is left behind after a seemingly pointless battle, Gas sees his chance. He assembles a team of misfit soldiers that would push the term "ragtag" to its limits for a big con that leads them on a daring behind-the-lines mission, pitting him not only against enemy soldiers but against the top brass of his own organization.
If he pulls this off, not only will he save his squadmate, he might just become the legend he's always considered himself. He might also change the way the entire galaxy looks at this war. But for any of that to happen, he has to live through this insane plan.
And charm rarely stops bullets.
Review
Thanks to the publisher for an advance listening copy of The Misfit Soldier for review consideration. This did not influence my thoughts or opinions.
The Misfit Soldier is a fun, explosive military-SF romp with airtight pacing, succinct prose, and plenty of laughs to go round. Those looking for an entertaining sci-fi read with all of the explosions and snark Mammay brought to the table in his Planetside series will be right at home.
Mammay is known for keeping his plot on the straight and narrow while not veering off into massive info dumps or description. His prose has always been straight to the point, but allows ample timing to drop a plot twist at a moment's notice. It certainly continues with this stand-alone story as he doesn't waste time giving you much backstory to go off of and provides more intrigue than the synopsis would have you expect.
I believe this time around, people may take more time warming up to the MC of Gastovsky than they did to Butler in Mammay's previous series. His is more humorous and flies by the skin of his teeth while Butler was the grizzled vet with an edge, but he brings his own style to the table which shows that Mammay is flexing his writing muscles to develop all sorts of characters to work with in the future.
I do wish the world-building had been beefed up a little more but it is hard to pack that stuff in when your focus is on the plot and characters, because let's face it, that is what you are really here for. And explosions. And power armor. Probably some machinations. And a heist.
But really, this is a fun little book that I could see Mammay expanding on at some point in time. I also thought MacLeod Andrews did a great job with the narration if you are into audiobooks. It is a pretty quick listen at 8 hours and 29 minutes in case you need to liven up your work day or commute.