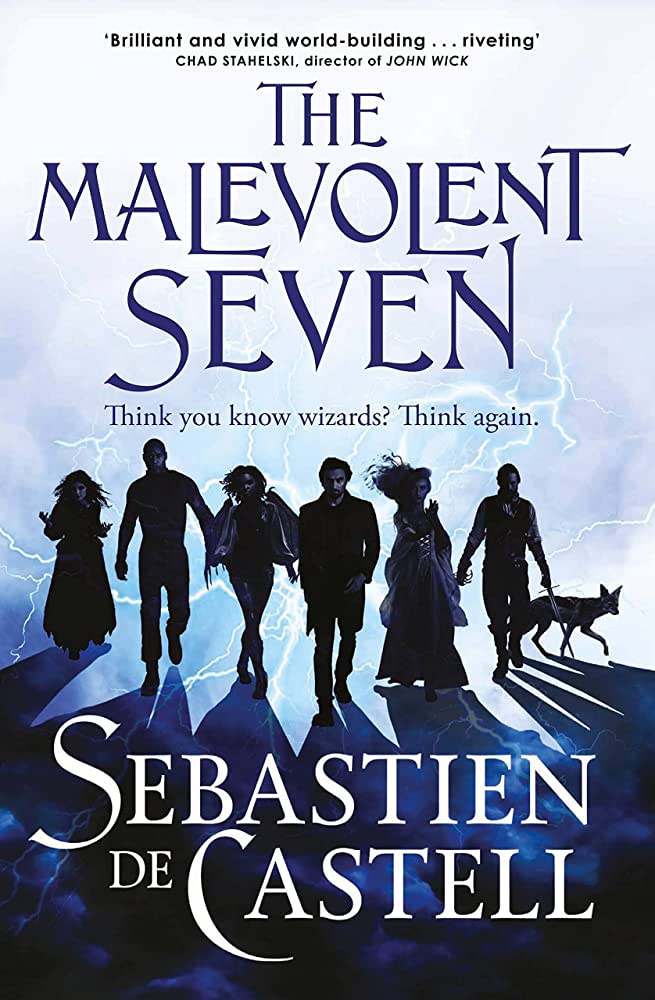 Rating: 9.5/10
Synopsis:
'Seven powerful mages want to make the world a better place. We're going to kill them first.'
Picture a wizard. Go ahead, close your eyes. There he is, see? Skinny old guy with a long straggly beard. No doubt he's wearing iridescent silk robes that couldn't protect his frail body from a light breeze. The hat's a must, too, right? Big, floppy thing, covered in esoteric symbols that would instantly show every other mage where this one gets his magic? Wouldn't want a simple steel helmet or something that might, you know, protect the part of him most needed for conjuring magical forces from being bashed in with a mace (or pretty much any household object).
Now open your eyes and let me show you what a real war mage looks like . . . but be you're probably not going to like it, because we're violent, angry, dangerously broken people who sell our skills to the highest bidder and be damned to any moral or ethical considerations.
At least, until such irritating concepts as friendship and the end of the world get in the way.
My name is Cade Ombra, and though I currently make my living as a mercenary wonderist, I used to have a far more noble-sounding job title – until I discovered the people I worked for weren't quite as noble as I'd believed. Now I'm on the run and my only friend, a homicidal thunder mage, has invited me to join him on a suicide mission against the seven deadliest mages on the continent.
Time to recruit some very bad people to help us on this job . . .
Review:
Hello again dear reader or listener, as always, I hope you are doing well and, if you're one of us unfortunate souls that suffer from them, that your seasonal allergies are not making you feel like a fire breathing dragon as much as they are doing to me. I'm fine, really…
First, a big thank you to Jo Fletcher Books for approving my NetGalley request for an eArc copy of this book. My thoughts remain unaffected and honest.
Now then, what you need to know beforehand, dear reader/listener, is that the gent that is Mr. de Castell is among my few autobuy authors. I see he's got a new book out, I run. This is because, for me, his style perfectly mixes together wit, sass, action and darkness, in one glorious combo that manages to endlessly entertain while also delivering a solid gut punch to your feels from time to time. It hurts so good, as they say. Also, I have a very dark sense of humor, so there's that.
The Malevolent Seven, I was glad to see, continued on in this tradition, by being one deliciously unhinged novel from start to finish, with fast paced action and a snarky narrator called Cade Ombra who, disillusioned with his past life of righteousness, has become a Wonderist, or magical mercenary for hire. He, not really of his own volition, agrees to a doomed job but the alternative is a faster death, so really, it could be worse.
I'm always a big fan of a band of misfits going towards a suicide mission, but I enjoy it even more when the usual tropes don't go as you'd expect, and de Castell subverts them oh so well when you'd least imagine.
The supporting cast is wonderfully varied and each of their complexities only really *begins* to shine through in this first entry of the series, so I cannot wait to get to know them all much better in the future. Corrigan is the one we get to understand the most out of them all since he is the one that Cade has known the longest. However even he is more than meets the eye, given the narrator's own limited understanding of the closest thing he's got to a friend in this hard world they live in. Bombastic would be one way to describe Corrigan though. Or alternatively, Zero Fucks Given.
'Cade?' Corrigan said, interrupting the cosmist's speech. 'Yeah?''Fuck this guy up for me, would you?' I considered his request for a moment. Not a long moment, mind, just enough to let everyone know I was seriously considering my options. 'Yeah, sure.'
If there is one thing that de Castell never fails at, it is writing a bromance, or more in general camaraderie. There's something extra special (and entertaining) about characters choosing some form of loyalty towards each other, when in a world of really abysmal options, the ones you decide to fight alongside with are the ones you find the least terrible.
Through this choice in relationships and how he acts towards each of the side characters, we get to see Cade mature or at least start to develop differently throughout the novel. The Cade we meet at the very beginning, is not the Cade we walk alongside with by the end, even if this change is subtle and only just beginning. I could ramble on about this but I won't for now, both to spare you and because spoilers. Suffice it to say the character work is on point.
Another thing the author excels in, is his opening and closing chapters. Not only are they fantastically badass. There hasn't been a single time I've read one of his first chapters and not said Daaaaaamn, and then in turn, read the last chapter and not pictured literal mic drops. This latest book is no different.
If you are familiar with de Castell's work already, you'll find that while he keeps all his best narrative traits and stylistic mannerisms so to speak, this book is still quite different in some regards to his previous works. His storytelling is familiar yet fresh, allowing for The Malevolent Seven to be a brand new shiny thing that stands on its own, that also scratches the itch you might have from wanting more of the author's work. I even took to Twitter to mention this, when I'd first started reading this Arc! All the good feelings from returning to a comfort author, but with the excitement and intrigue of seeing him try something a little different.
For example, Cade would skip ahead or skim over some action sequences or other "padding" scenes you usually find in this brand of fantasy, and that de Castell has brilliantly written in detail before. It very much added to the speed of the plot but also to the colloquialism of the narrative style as, similarly to his Greatcoats series, the protagonist is veritably talking with the reader. Unreliable narrators are always a fun treat, even more so when they're self-aware.
'This is getting us nowhere!' Galass shouted, shoving me back so she could take up position between me and Corrigan. 'Are you both complete fools, or do you just act like it to mask your lack of any coherent plan to get us out of here alive?' 'A little of both,' I mumbled.
You can just picture a very tired, disgruntled, and mildly disheveled Cade sit in front of you telling you about his misadventure.
Meanwhile, we still had to deal with these three morons who'd apparently decided to muscle in on our gig. That's bad form. That's impolite. That's not how we do things in this business.
This conversational narration style is a bit of a saving grace for the book. In fact, there is a lot of exposition regarding the magic system, as well as to set up this new world, and I do mean a lot. Had it been written otherwise, with a different narrator or without the overall darkly humorous tone, I would've said this book suffers from some heavy infodumps. But de Castell made it work! Cade's asides and overall commentary really do give the whole novel life of its own in a way that really gets you to care for him and you don't feel bogged down by paragraphs of exposition.
That and the feels sneak up on you; they certainly did for me.
I'll stop here, dear reader/listener, but all this to say, if you love dark epic fantasy with a band of misfits, morally grey (maybe make it a very dark grey) characters, unhinged behavior, and grim happenings that somehow still do not make for a bleak read, you need this book in your immediate tbr. The magic system is also pretty dang cool!
Was this first entry in the series perfect? No.
Was it however batshit crazy, unhinged, occasionally emotional, dark but also utterly hilarious? Absolutely.
Now excuse me while I go pace some more to deal with the fact I have to wait for who knows how long till we get a sequel to this gloriousness. It took me a week to gather my excited ramblings into some semblance of coherence for this review as it was.
For now, however:
The Malevolent Seven comes out tomorrow, May 11th and I'm pretty sure you'll want to monkey see monkey do and run to it like I did!
Until next time,
Eleni A.E.