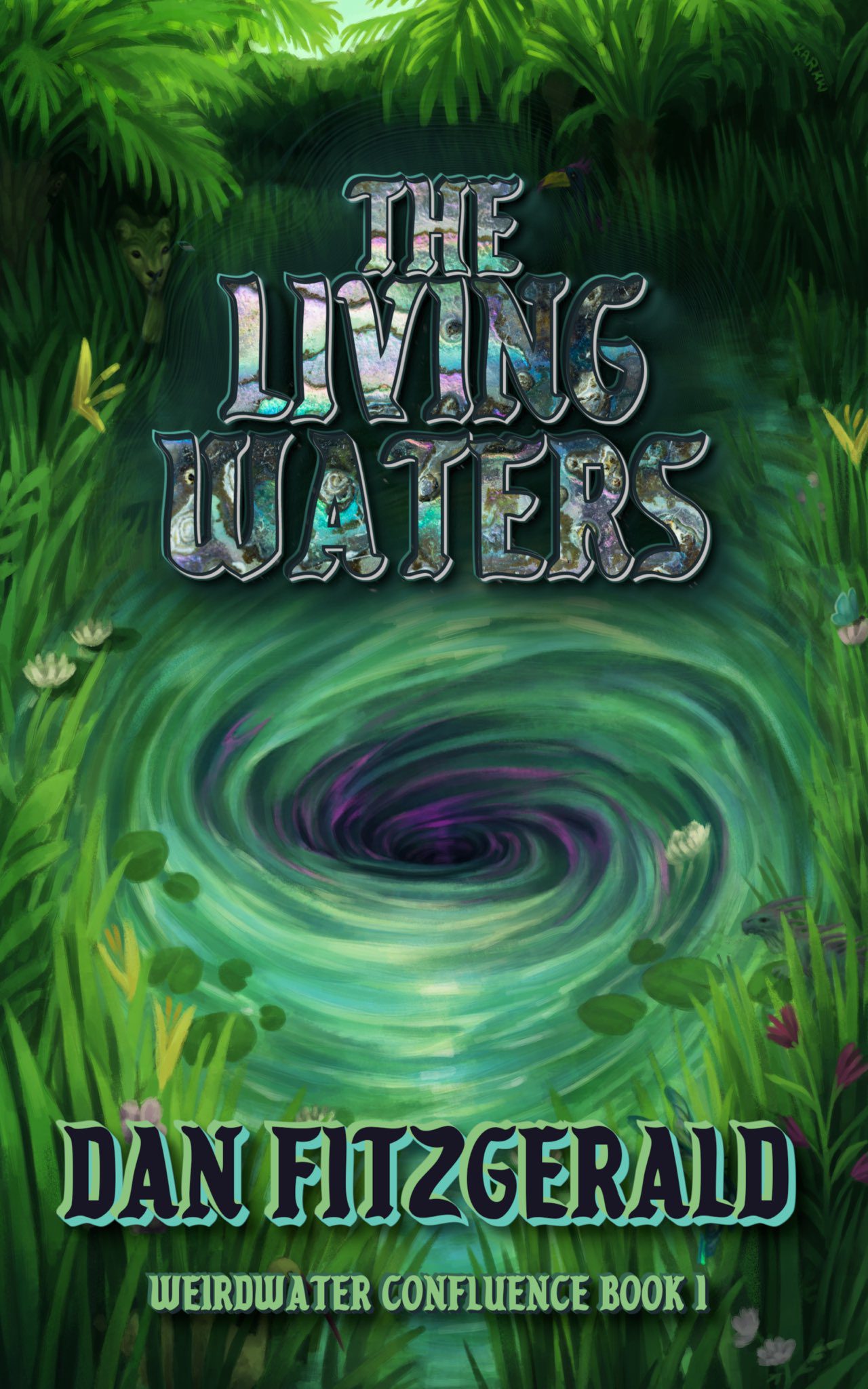 Rating: 8/10
Synopsis
All painted-faced nobles can choose to go on a roughabout at some point when they are young adults to experience life outside of their luxury and comfort. Usually these experiences lead to uncomfortable situations that are short lived and the nobles are well watched over by trained professionals. However, when two nobles, Temi and Sylvan, end up on the same shantyboat taking them upriver with their guide and guardian, what starts out as a routine trip slowly grows into something more when strange swirls in the water begin appearing. These four individuals, driven by their own curiosity about the swirls, take a journey to the Living Waters where they are challenged not just physically but mentally and spiritually as well in a way that they never could have imagined.
In Dan Fitzgeralds' own words that I could not find a way to say myself, "The Living Waters is a sword-free fantasy novel featuring an ethereal love story, meditation magic, and an ancient book with cryptic marginalia." So basically a story unlike any you've read before!
Review
The Living Waters. Even as I type the name I find myself immediately pulled back mentally into a beautiful world that is calming and serine. While this is not a book I would normally have read by my own choice due to the mention of a lack of swords and an ethereal love story, I must say that I am so glad I did read it. Dan Fitzgerald is an amazing story teller who is able to create beautiful and living scenery that fall perfectly behind his character driven story.
One of my favorite parts about this book is the feeling I got while reading it. Up until (you known when Dan!) a certain point in the story there was this feeling of calm and beauty almost like going on a vacation to a private beach or to the mountains. While there were plenty of suspenseful moments throughout, I couldn't shake that feeling. Ultimately it comes down to Dan's prose, which I loved.
This is certainly a character driven story that focuses on four main individuals, two of which are nobles and the other two are hardy world travelers that are hired to guide and protect the nobles on their roughabout. Each of these characters are unique and clearly come from different life situations that are made evident from the start and shine through every action and decision they make. It's difficult not to fall in love with all of them for completely different reasons. My favorite being Leo for sure! (P.S. what you made Leo do Dan.. wow.. how cruel can you be to a character?!)
Some of the major themes in this story are forbidden love, poverty, social divides/classes, nature, stepping out of comfort levels, freedom from oppression both physically and mentally, and probably a hundred more that I can't think of while I type this. Yet, even with so many themes constantly being delved into and explored the book remains open and peaceful and is able to really let you question why can't society be as pure as nature is? What needs to change? Dan does a great job taking the fantasy genre and breaking out of the normal tropes, yet, maintains the lore and mystery that I love from all my favorite fantasy stories.
I only have a few negatives thoughts from this story. Honestly, they're probably just because of what I'm used to reading. I will admit that it took awhile for the story to get to where I knew it had to be heading. I didn't know what would be there when it arrived but I knew something exciting was on it's way for a long time before it actually got there. That made the story read a little slow at times for me but I did understand what he was doing by building up to it so slowly. Secondly, and this is definitely not a real negative, I wanted to see something done with that cool knife Sylvan had! I kept expecting it to come back in after it was used to gut some fish but it never came back. Oh well. We don't always get what we want!
Truly this was a magical tale in a well crafted world that made me want to explore so much more! Not only do I want to spend more time in the Living Waters but I want to explore the cities and cultures that Dan Fitzgerald touched on at all throughout the story. Not to mention I can't wait to find out what happens next in book 2! If you are looking for something totally unlike anything else you've ever read then I would recommend The Living Waters. However, just to warn you, if you are looking for a more fast paced and less contemplative more normal fantasy trope, then this may not be for you.
I can't end this review without saying thank you to Storytellers on Tour for allowing me to participate in this book tour for The Living Waters. It was my first tour to participate in
and I'm thankful for this opportunity! Lastly, and definitely most importantly, I just want to thank the man Dan himself for sending me a copy of his book to read and review. It is a gorgeous book and the additional swag you included was amazing! So thank you sir! I truly enjoyed reading your book.
Here is a link for you to see what others from this tour thought about this book as well! https://www.storytellersontour.online/2021/10/19/book-tour-the-living-waters-by-dan-fitzgerald/