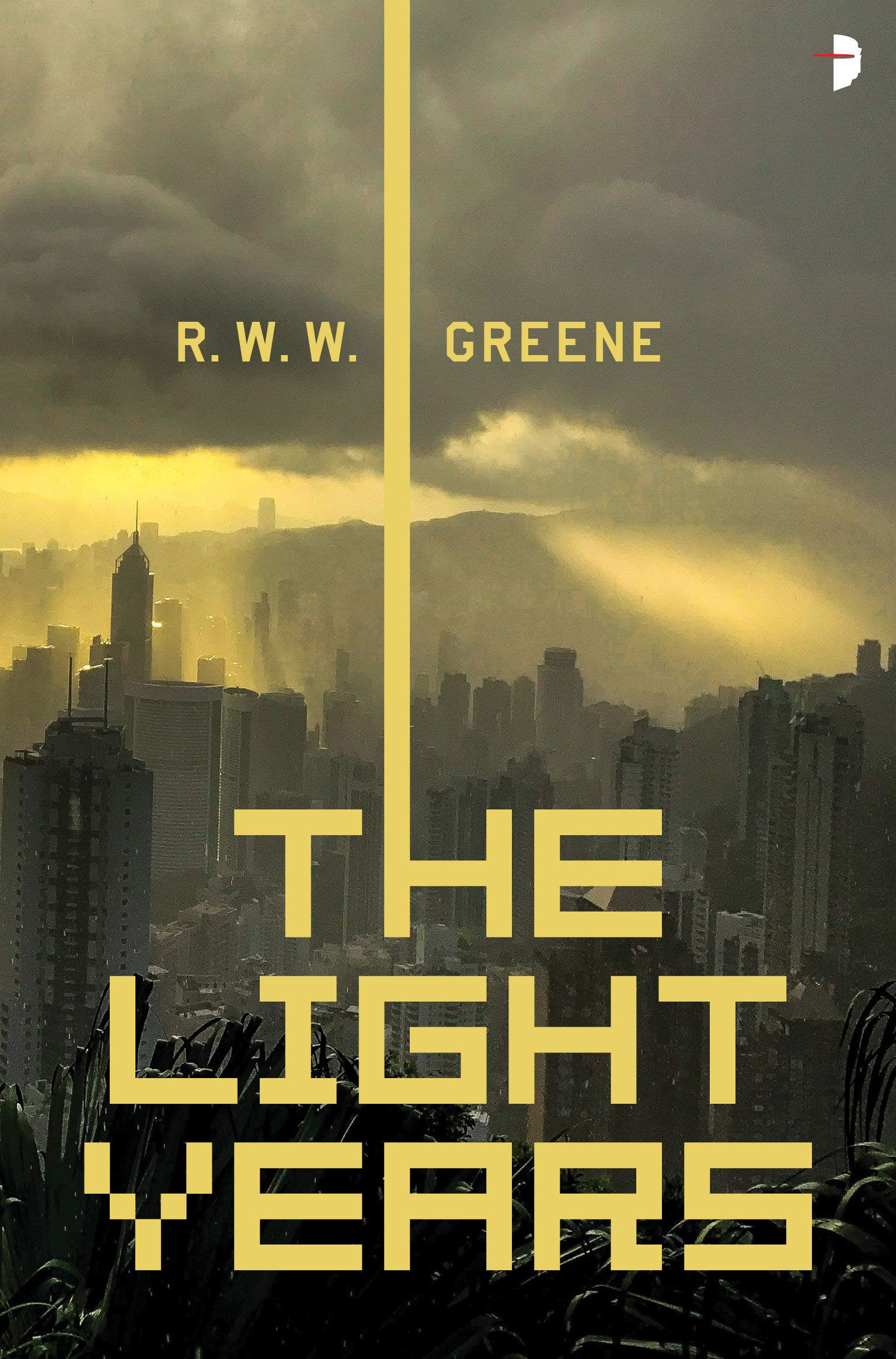 Rating: 8/10
An Amazon 'Editor's Pick' for Best Science Fiction and Fantasy!
Published by: Angry Robot Books (2020)
400 pgs
Audio: 7hs 38 min
Narrators: Roisin Rankin, George Weightman
Synopsis:
A long-lost battleship and an arranged marriage may hold the key to faster-than-light travel and humanity's future in R.W.W. Greene's debut The Light Years

Hisako Saski was born with her life already mapped out. In exchange for an education, better housing for her family, and a boost out of poverty, she's been contracted into an arranged marriage to Adem Sadiq, a maintenance engineer and amateur musician who works and lives aboard his family's sub-light freighter, the Hajj.

Hisako is not happy with the deal. The arcane branch of physics it requires her to study broke off a thousand years before, and she is not keen on the idea of giving up everything she knows to marry a stranger and move onto an aging spaceship.

Onboard the Hajj, Hisako soon learns her dilemmas are overshadowed by the discovery of ancient secrets, a derelict warship, and a chance at giving the survivors of Earth a fresh start.
Review:
I honestly didn't know a lot going into this book (by preference) so right from the get go the story was very intriguing and engaging. This story plays with 2 different POVs and takes place in the 3200s where space elevators are common and trade ships frequent the galaxy. The major metropolis here is saturated with the poor living in shanty-towns bordered by the elite and upper-class.
The first POV is a soft spoken spaceship-born maintenance worker named Adem. Adem lives onboard the Hajj, his family's trading vessel. The story opens up with Adem navigating through one of these shanty-towns (that used to be nice place 50 years prior) to meet a 'matchmaker' to finalize the details to his arranged marriage. Here we learn that in this world, those who traverse space only age a year for every 24 that elapse on-planet. So prior to Adem's next mission with his family aboard the Hajj, he arranges his marriage the parent's of his unborn bride.
The next POV is that of the parents (briefly) and of the child Hisako, and while Adem is traversing the galaxy and investigating the ruins of a legendary ship, we watch at Hisako grows up from a child to a woman, and finally meeting her husband.
I enjoyed Adem's family and their motives. His mother was a very interesting character and his sister Lucy also played a strong role. I really enjoyed the mission they were embarking on and the implications of what they find. It played really well to fill in more of the backstory of this world.
This story was rich in both space-faring excitement, and rich world-building in the town of Versailles City. We watch the coming-of-age of Hisako and how her life is impacted by this arranged marriage and the resentment she harbors for her parents. The author beautifully illustrates the hardships and unease that both parties feel while also providing a strong supporting cast in Adem's family as well as Hisako's rough life lessons in trust and friendship. We also get an homage to the classic music of earth as Adem becomes quite the viral music sensation by posting videos of him covering some Elvis, Johnny Cash, Elton John.
Greene puts together a satisfying storyline of wormholes and space travel all while placing dangers and emergencies through the book to keep the pace up. There are dynamic relationships both sexual and familial through the story as well, and while they're only peppered in here and there, you never get too smothered with the details.
The Light Years a really solid sci-fi read all around; character driven with peppers of action and tense moments. It has the best of both worlds as far as the space-ship based intrigue, and domestic drama spread throughout. It will appeal to many audiences if you're new to scifi or not.
Book Trailer: