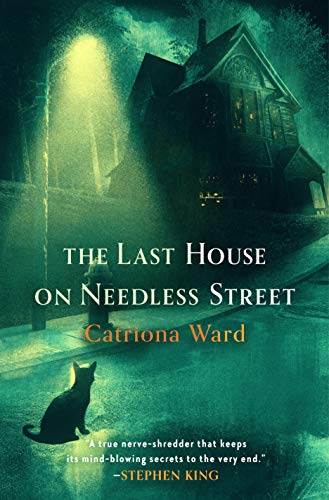 Rating: 9.5/10
Synopsis
Catriona Ward's The Last House on Needless Street is a shocking and immersive read perfect for fans of Gone Girl and The Haunting of Hill House.
"The new face of literary dark fiction." —Sarah Pinborough, New York Times bestselling author of Behind Her Eyes
"The buzz…is real. I've read it and was blown away. It's a true nerve-shredder that keeps its mind-blowing secrets to the very end." —Stephen King
In a boarded-up house on a dead-end street at the edge of the wild Washington woods lives a family of three.
A teenage girl who isn't allowed outside, not after last time.
A man who drinks alone in front of his TV, trying to ignore the gaps in his memory.
And a house cat who loves napping and reading the Bible.
An unspeakable secret binds them together, but when a new neighbor moves in next door, what is buried out among the birch trees may come back to haunt them all.
Review
Thanks to the publisher and author for an advance reading copy of The Last House on Needless Street for review consideration. This did not influence my thoughts or opinions.
The Last House on Needless Street is as good, if not better, than advertised. Believe all of the hype surrounding this novel from names like Stephen King, Joe Hill, Paul Tremblay, Alex North, Sarah Pinborough and a litany of others. It is an absolutely mesmerizing novel; a bone-chilling masterwork of dark fiction that is as disquieting as it is heart-wrenching. A true standout in the genre.
I've been watching the hype surrounding this book for a while now and have been waiting on pins and needles for an advance reading copy so I could absolutely devour it. Not many novels have the ability to instantaneously sink its claws into you, shred every nerve in your body, and leave you a messy puddle on the floor… but this one did. The only others that come to mind are Gone Girl, The Only Good Indians, You, and maybe a handful of others.
I'm sure most of you have already seen the Deadline article where Andy Serkis (yes, THAT Andy Serkis) alongside Jonathan Cavendish will be making a film adaptation (if not, here is the link.) I'm not going to say that is unheard of before a book has even been published world-wide, but it is still a super noteworthy thing. You know, on top of the dozens of other massive praiseworthy articles, lists, etc. it is already making its rounds on.
What I am saying is… READ THIS FREAKING BOOK AS SOON AS YOU CAN.
I found Ward's writing very intriguing, especially in the onset. It is a completely different style than what I am used to which is probably part of the reason I found it impossible to put down. The way in which she wrote the beginning couple of chapters asked way more questions that it answered and had me searching page after page well into the darkest part of the evening. Much like the synopsis on Goodreads…
This is the story of a serial killer. A stolen child. Revenge. Death. And an ordinary house at the end of an ordinary street.

All these things are true. And yet they are all lies…

You think you know what's inside the last house on Needless Street. You think you've read this story before. That's where you're wrong.

In the dark forest at the end of Needless Street, lies something buried. But it's not what you think…
every time you think you have it figured out, you are completely wrong. Like, WAY wrong. Even after finishing, (which in order to read this section, you HAVE TO FINISH. Otherwise, you will ruin the book for yourself) I had to read Ward's Afterward where she explains how she came up with the story idea and all of the research she put into it. Utterly fascinating.
You'll fall in love with the characters, hate them, feel sorry for them, and will end up in a pool of your own tears by the final turn of the page.
Ward is a very new author to me, and probably most of you. I keep asking myself "WHY?" Why am I just now finding out about her? TLHoNS isn't a debut; it is actually her 3rd full-length novel. Why did Rawblood and Little Eve fly so far under my radar? Who knows, but I will definitely be purchasing both by the time I am done writing this review.
Time to end the review. I simply have nothing else to give. Buy the book and thank me later.