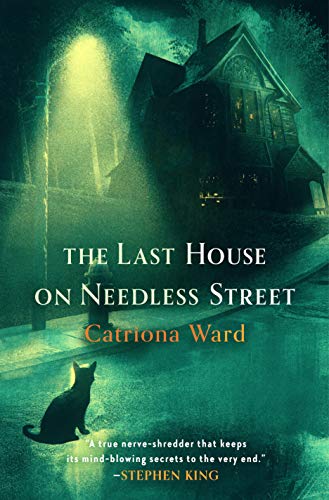 Rating: 9.0/10
Synopsis
In a boarded-up house on a dead-end street at the edge of the wild Washington woods lives a family of three.
A teenage girl who isn't allowed outside, not after last time.
A man who drinks alone in front of his TV, trying to ignore the gaps in his memory.
And a house cat who loves napping and reading the Bible.
An unspeakable secret binds them together, but when a new neighbor moves in next door, what is buried out among the birch trees may come back to haunt them all.
Review
I am so happy to review my second book of spooky season! I want to read more horror/thriller this year, and The Last House on Needless Street is a super creepy book that really hits those Fall vibes right on the head.

I think this book is more thriller than horror, maybe a combination of both (thorror?), though it is more eerie than violent. Which, in my opinion, is much harder to do. Do not get me wrong, I am 100% down with a good slasher (and writing in that styles comes with its own set of difficulties), but making the hairs stand up on someone's arm with just a description of a scene or person is much more challenging, I think. Catriona Ward does an amazing job of bringing those feels to this book, and that is not surprising. While this is my first of the author's books, Ward is an award-winning horror author who has several published novels already out in the world.

I am actually not going to talk too much about the book, because I am in super non-spoiler mode on this one. It is such a trip that you really have to experience it yourself, but know this: I heard the hype pretty loudly before reading, and I am always skeptical; but, guess what? It definitely lives up to fanfare. It is just as chillin and thrilling as is its billing. The plot, the characters, the setting… it all comes together in a near-perfect combination that had me on edge until the last word.

I mean that literally, because one of the aspects of this book I was really impressed with was the fact that it felt like it just kept on going. I often watch shows or movies, or, more often, read books that I just do not want to end. This book, while not long by any stretch, left me completely fulfilled, and I think that is due to the way the author unravels everything at the end. The reveals felt very systematic, which I really enjoyed. Not everything was resolved at once; it came a piece at a time. Completing the story in this way allowed me to ruminate on each fragment and chew it 28 times before taking the next bite. This method also gives the reader a cascade of information, one after the other, at the end versus what could have been more of a data dump.

By the way, not to sound like a cliche, but, yeah, Olivia is my favorite character. I know, everyone loves the cat. Olivia is sassy and smart and weird, and really levels up the story with her spunky attitude. You could read this book for Olivia alone and not be disappointed.

The only reason I am not giving the book a perfect rating is that there was one character whose story I would have liked to see go a little differently at the end. But, you are going to have to read it to find out.

It's spooky season, y'all! Set it off! If you are looking for a great thorror (I have said it twice now, so that officially makes it a thing, right?) to get you in the mood, read The Last House on Needless Street. It has definitely set the tone for me.