Rating: 9.0/10
Synopsis
In this brilliant debut fantasy, a story of secrets, rebellion, and murder are shattering the Hollows, where magic costs memory to use, and only the son of the kingdom's despised traitor holds the truth.

Michael is branded a traitor as a child because of the murder of the king's nine-year-old son, by his father David Kingman. Ten years later on Michael lives a hardscrabble life, with his sister Gwen, performing crimes with his friends against minor royals in a weak attempt at striking back at the world that rejects him and his family.

In a world where memory is the coin that pays for magic, Michael knows something is there in the hot white emptiness of his mind. So when the opportunity arrives to get folded back into court, via the most politically dangerous member of the kingdom's royal council, Michael takes it, desperate to find a way back to his past. He discovers a royal family that is spiraling into a self-serving dictatorship as gun-wielding rebels clash against magically trained militia.

What the truth holds is a set of shocking revelations that will completely change the Hollows, if Michael and his friends and family can survive long enough to see it.
Review
Thanks to the publisher and author for an advance reading copy of The Kingdom of Liars for review consideration. This did not influence my thoughts or opinions.
The Kingdom of Liars is an ingenious and stunning debut fantasy novel. A magic system with harsh consequences, an intriguing array of characters, and world-building that begs for its own stand-alone novel make this a must-read for 2020.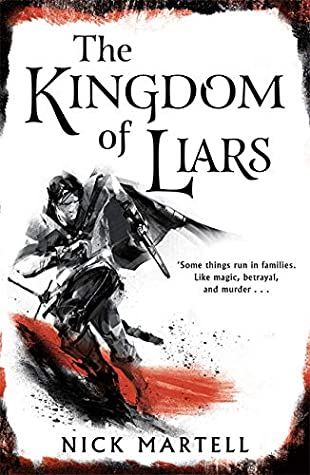 This novel has been on my "need-to-read" list for some time and I am so glad that I finally had the time to sit down and just devour it.
The main thing that really drew me in were the covers themselves, which are absolutely stunning. The US edition was done by Bastien Lecouffe-Deharme (US versions of Mark Lawrence's Book of the Ancestory Trilogy, Jon Skovron's The Empire of Storms Trilogy, among others) and the UK edition done by none other than Richard Anderson (Nicholas Eames' The Band, Brian Staveley's The Chronicle of the Unhewn Throne, Victor Milán's Dinosaur Lords series, among many others). I'm pretty sure I've noted how much of a cover snob I am, especially for anything from these two (2) artists. It is almost a guarantee that I'll get a copy to add to my ever-growing shelves, but 9/10 I'll give it a read, too.
Though there is always hesitation with fairly chunky debut novels, I threw caution to the wind when going into this one due to the Sanderson and Islington blurbs. Funny thing is (and get your tomatoes ready), I've never read a novel by either of these authors (I'M SORRY, HONEST), but I know how much of a following both have and how loyal their fanbases are so to take them at their word is a pretty good bet. To say the bet paid off is an understatement.
Michael Kingman is a bit of an enigma to say the least. He is very difficult to read, root for, and all of the other things you look for in a typical fantasy protagonist; but as the novel progresses, you find yourself in his corner more often than not. If I had to compare him to another character in fantasy, it would probably be Jorg Ancrath from Lawrence's Broken Empire, but a little less grim, dark, and murdery. Morally grey with a mindset on righting a wrong, and not really caring who gets hurt in the process; stopping at nothing to get answers to questions that have tortured him most of his life and attempting to salvage his family's name.
I also really enjoyed the world-building and magic system. The city of Hollow is just brimming with intrigue and I wish there was a map to go and explore in the book (maybe in Book 2, Gollancz?). On top of that, you have a fractured moon that drops pieces fairly consistently, leading to alarm within the populace that there will, one day soon, be no Hollow in existence. Not sure if that is a nod to Majora's Mask, but well done. Back when I had Nick on my podcast, I asked about where he came up with the idea of magic costing memories and he stated that our memories are the worst thing we could stand to lose. And when you stop to think about it, it is a harsh truth. Think about anyone who has had to go through or seen someone go through the stages of long-term amnesia or even Alzheimer's. I can remember my grandmother in the last couple of years of her life dealing with the disease and how crushing it was when she had no recognition of who I was.
All in all, I absolutely loved this novel and I cannot wait to continue this series. Nick is officially an auto-read for me.