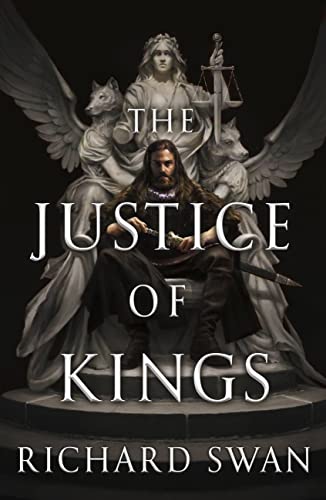 Rating: 8/10
Synopsis
As an Emperor's Justice, Sir Konrad Vonvalt always has the last word. His duty is to uphold the law of the empire using whatever tools he has at his disposal: whether it's his blade, the arcane secrets passed down from Justice to Justice, or his wealth of knowledge of the laws of the empire. But usually his reputation as one of the most revered – and hated – Justices is enough to get almost any job done.
When Vonvalt investigates the murder of a noblewoman, he finds his authority being challenged like never before. As the simple case becomes more complex and convoluted, he begins to pull at the threads that unravel a conspiracy that could see an end to all Justices, and a beginning to lawless chaos across the empire.
Review
This book surprised me in many ways, but especially in that it was completely different from what I expected. The title and the cover picture make you imagine a completely different story, but after reading the book it fit completely. It is always difficult when you have certain expectations of a book and then you get a different story. But this story convinced me completely!
"'The wise man arms himself with knowledge before a sword.'"
This mysterious world gives you a shiver from the first page. This dark atmosphere, which is inherent to the main characters, but also to all the secondary characters, as well as the places, was able to cast a spell over me and never let me go. I felt like I was in the film Sleepy Hollow, where conspiratorial villagers always scare you and you fear another murder behind every door. But it wasn't only the secondary characters that made this atmosphere what this book is, but also one of the main characters – Justice Konrad Vonvalt. For he possesses a dark power that terrifies the inhabitants of this world – the necromancy. This mood, starting from the characters, is then mixed with religious aspects that make this book even darker, as they form their own scary cults. Also, the fact that this book seems to be set in Northern Europe could offer another component of building a mysterious world through the dreary and rainy Europe.
"De jura nietra iznia. No one is above the law."
A story written from the Justices point of view is more than unusual and yet it did not need strong swordsmen or powerful mages here. The author manages to make these rather less action-packed contemporaries seem exciting and interesting.  The question whether the law is right, whether someone breaks the law and whether everyone who breaks the law should be punished is always at the centre of attention. Thus, subliminally, morality and also the state with its legal situation are questioned again and again. So even the justice is questioned, because is he the one who is allowed to decide about right and wrong? It is well illustrated here that everyone has their own feeling for laws and morals and that in times like in this book, but also in our past, there were always disputes about what is "right". And when these legal structures are brought down, how it can destroy a country.
"Well, religion does funny things to your brain."
The complex constellation of the three main characters could give the book another surprising twist. For this mysterious connection of the three, is characterized by secrets and the one past each, as well as the sometimes cranky role system among themselves. It seems to me that Vonvalt takes on the role of a father, a master, but also a friend for Helena. Unfortunately, unlike Vonvalt, I could not get through to Helena, as she is initially only the silent comrade-in-arms and only later gets a bit of her own story. I also couldn't build an emotional connection to Helena due to the doubts about her profession or her short-tempered love story.
"You cannot kill another human being and fail to be affected by it, even if they are an enemy."
This fantasy novel created something completely new and surprising for me. Innovative main characters who pursue an otherwise unusual vocation as "heroes" in books, a mysterious mood that mixes components from different genres and a plot that addresses law and justice and does not focus on big fight scenes. Justice is always in the eye of the beholder, and even the king can rarely dictate a path, which is why a gray world has emerged. The end gives hope for something very big in the subsequent volumes.
"I was a soldier in the Reichskrieg, Helena… I have seen what the world is like without the rules."