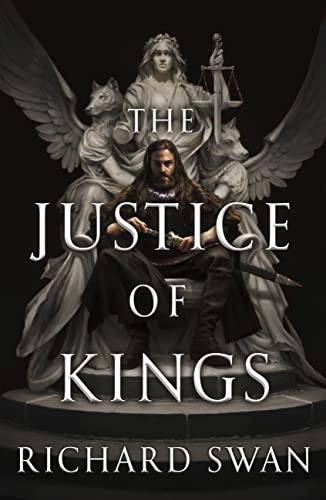 Rating: 9.0/10
Synopsis
From a major new debut author in epic fantasy comes the first book in a trilogy where action, intrigue, and magic collide. The Justice of Kings introduces an unforgettable protagonist destined to become a fantasy icon: Sir Konrad Vonvalt, an Emperor's Justice, who is a detective, judge, and executioner all in one. But these are dangerous times to be a Justice….

"A fantastic debut." – Peter McLean, author of Priest of Bones
The Empire of the Wolf simmers with unrest. Rebels, heretics, and powerful patricians all challenge the power of the Imperial throne.
Only the Order of Justices stands in the way of chaos. Sir Konrad Vonvalt is the most feared Justice of all, upholding the law by way of his sharp mind, arcane powers, and skill as a swordsman. At his side stands Helena Sedanka, his talented protégé, orphaned by the wars that forged the Empire.
When the pair investigates the murder of a provincial aristocrat, they unearth a conspiracy that stretches to the very top of Imperial society. As the stakes rise and become ever more personal, Vonvalt and Helena must make a choice: Will they abandon the laws they've sworn to uphold, in order to protect the Empire?
Review
Thanks to the publisher, author, and narrator for an advance listening copy for review consideration. This did not influence my thoughts or opinions.
The Justice of Kings is a sensational fantasy debut. It is The Witcher meets Judge Dredd with a little bit of Ned Stark thrown in for good measure. I would liken it to Peter McLean's War for the Rose Throne as it is a gritty, low fantasy romp rife with political intrigue and plenty of violence to go round. Sir Konrad Vonvalt is going to be a character you'll hear about for years to come.
With several in the FFA family having already read and enjoyed TJoK, I figured it was time to throw my hat in the ring and see what all the fuss was about. While this isn't necessarily Swan's 'debut' novel, it is his first fantasy novel as he wrote and published an entire self-pub sci-fi trilogy called 'The Art of War' back in 2015-16. I do have to say that the hype is real and Swan has the beginning of a phenomenal series here.
If you go into Justice without having read the blurb and just going off the cover, you will probably expect something completely different than you get. Yes, this story is about Sir Konrad Vonvalt – the foremost of the Emporer's Justices – but it isn't told from his perspective. It is actually a tale from the POV of his clerk, Helena Sedanka, whom he pulled out of poverty and brought alongside him in order to bring her into the fold. Also, it isn't even told in the present tense; we are actually hearing Helena recount the tale as she lived it, many years into the future.
I found this to be a very intriguing way in which to tell this story because you have a sense that you already know the way the story is going to end, but the way in which it unfolds tends to keep its secrets hidden well enough to keep you engaged. While there is also Vonvalt's bodyguard, Dubine Bressinger, who makes his appearance known, Vonvalt and Sedanka steal the show throughout the entire novel. Even with no POV chapters, Konrad's pains and woes will sink deep into your marrow and make you want to fight right alongside him. Then you have Helena; still young, naïve in a sense but really comes into her own when it is required.
The world-building, while at times fairly minimal, does enough to sink you into the setting and provide backdrop to the goings on within the towns and cities the company ventures through. Again, it is a low fantasy novel but the magic that does seep through when it comes to Vonvalt, Resi August (another of the Emperor's Justices that makes a few appearances), and a few others whom won't be named <.<.
All in all, I highly recommend picking up The Justice of Kings if you have a bit of a hangover after watching Season 2 of The Witcher or you are a big fan of Ned Stark with magical abilities. But in all seriousness, it is a fantastic read and the audiobook with narration by Lucy Paterson is phenomenal. She really dove right into Helena's character and nailed it IMO.