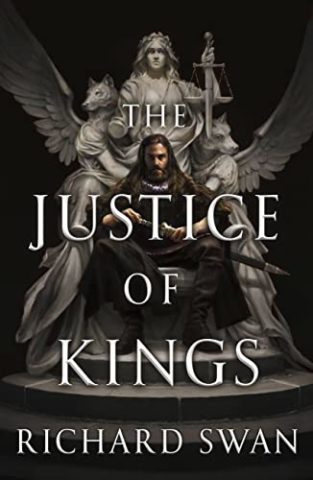 Rating: 11/10
Synopsis
The Justice of Kings, the first in a new epic fantasy trilogy, follows the tale of Sir Konrad Vonvalt, an Emperor's Justice – a detective, judge and executioner all in one. As he unravels a web of secrets and lies, Vonvalt discovers a plot that might destroy his order once and for all – and bring down the entire Empire.
As an Emperor's Justice, Sir Konrad Vonvalt always has the last word. His duty is to uphold the law of the empire using whatever tools he has at his disposal: whether it's his blade, the arcane secrets passed down from Justice to Justice, or his wealth of knowledge of the laws of the empire. But usually his reputation as one of the most revered—and hated—Justices is enough to get most any job done.
When Vonvalt investigates the murder of a noblewoman, he finds his authority being challenged like never before. As the simple case becomes more complex and convoluted, he begins to pull at the threads that unravel a conspiracy that could see an end to all Justices, and a beginning to lawless chaos across the empire.
Review
The Justice of Kings is a triumph, a marvel that has placed courtrooms and wordplay as epic a battle as legions of men versus beasts ever were; with intrigue laced into every word of Helena's tell-all tale of justice, and the lengths a single man will go to mete it out, the Justice of Kings is a tale above them all. When I say I enjoyed this book, it is the biggest understatement I've made this year.
Okay, I couldn't wait for the release to talk about this book. As for the rating, well, David started it? If there's a book I would afford a 'break-the-ceiling' rating each year, The Justice of Kings is my pick for my 2021 reads.
The only way I can describe it accurately in comparisons is the Witcher X War for the Rose Throne. Vonvalt is deadly in his own right, powerful as Geralt, but with the confident, commanding aura of Tomas Piety. It may not quite fit, but these are the two characters that came to mind when I first met Konrad, before I realised he was a force of nature all on his own.
Konrad Vonvalt is such a presence to behold, and it speaks of the writing when this presence is a miasma that seeps out of each page. He's charismatic, magnetic, and undeniable. There's also the mystery that this type of first-person narrative creates where it's told from a character that follows the main character. It's so brilliantly done here and so right, for to know what is going on in Vonvalt's head exact would be to spoil a good meal by having eaten right before it. The first-person narrative here which acts as a third-person narrative for Justice Sir Konrad Vonvalt is a work of genius, it shows you just enough about the man to intrigue you, but then he's gone again and separated from Helena when you want to know more.
This also plays into the character development between Helena and Konrad as the story progresses; where we see Helena rise to the challenge, chose a path for herself, and get into the thick of what it means to skirt the straight lines of justice in the Empire of the Wolf, we see Konrad's as much of a descent. Into what, I will leave the rest for you until you read the book as it is certainly not a development to be spoiled. But the point here is that it allows itself to muddy the waters of what character development is and create a distance between the reader and the main character that otherwise isn't there in narratives that follow direct first or third POV.
Worldbuilding in this book is something of a delight – Séances, necromancy, entanglement, and chains of causation, this novel is full of food for thought, of horror and intrigue. It walks between deep philosophical writings and histories that stretch eons behind the prose that's written in the books, to downright horror involving Aegraxes and demons and the Neman Pantheon of Gods. One particular story that gripped me, despite the pages and words it was afforded was the Great Plague of Gvòrod and Justice Kane, who formed the orthodoxy for the Order. Given the depth it breathes into the world at that point, and the ramifications of the story, it is a tale of tremendous magnitude. It sets the story on an entirely different path or moves the characters in a different direction. Now that, given how brief it was, is worldbuilding supreme.
All in all, I cannot recommend this book enough; I cannot give it a higher rating. I cannot really put into words how much I love it … it is just my hope that what is down here encourages you to read it. Heck, if you've enjoyed the book, please speak to me about it.